Beirut blast warning
Lebanese govt had received a letter on July 20 warning the Prime Minister and President of the danger the stored explosive chemicals posed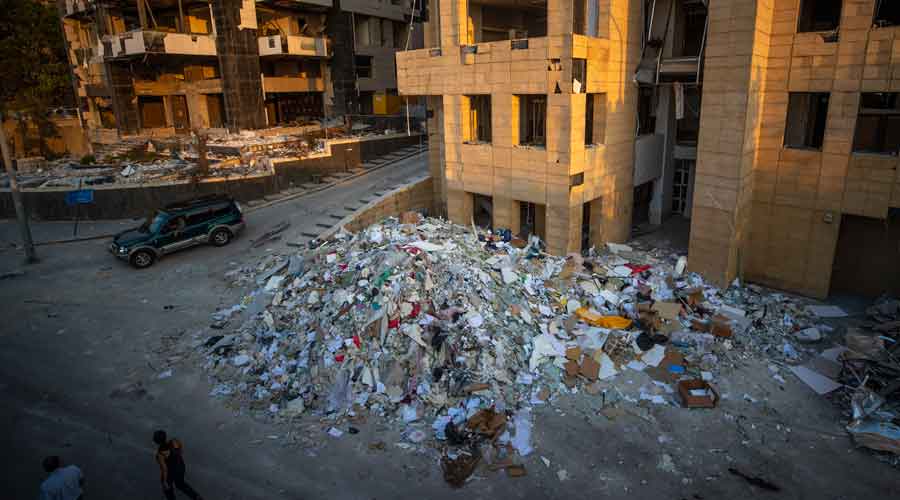 People walk next to debris from destroyed buildings near the site of last week's explosion that hit the seaport of Beirut, Lebanon
AP
---
Beirut
|
Published 13.08.20, 05:33 AM
|
---
Lebanon's Prime Minister and President were warned that 2,750 tons of ammonium nitrate stored at Beirut port could explode just weeks before the blast, documents show.
As the Lebanese capital observed a minute's silence at 6.08pm local time on Tuesday to mark a week since the blast that killed at least 171 people and left dozens more missing, documents obtained by Reuters painted the clearest picture yet of the warnings issued to the highest levels of government.
A private letter sent to Michel Aoun, the President, and Hassan Diab, the Prime Minister, on July 20 warned of the danger the stored explosive chemicals posed, according to a report by the general directorate of state security. 
An official involved in drafting the letter said that it warned the ammonium nitrate needed to be safely secured immediately. Two weeks later, the chemicals, stored at the port since 2014, did explode, destroying 6,000 buildings and wounding 6,000 people.
"Prosecutor general (Ghassan) Oweidat prepared a final report which was sent to the authorities," the official said, referring to the letter sent to the Prime Minister and President by the general directorate of state security. 
"I warned them that this could destroy Beirut if it exploded," said the official. The Prime Minister, who quit on Monday, and the President did not respond to questions about the July 20 letter. But, last week, they admitted knowing of the presence of the chemicals.
Diab acknowledged knowing the chemicals had been stored in a depot for six years, while Aoun told reporters he had instructed officials to take care of the issue. 
"I am not responsible. I don't know where it was put and I didn't know how dangerous it was. I have no authority to deal with the port directly," Aoun said. After the cabinet resigned on Monday, Aoun asked it to remain in a caretaker role until a new government could be formed. 
On Tuesday, protesters continued to vent their fury despite the resignation of the cabinet. "He knew," read a poster bearing Aoun's picture carried by a marcher in the suburb of Gemayze.