The political showdown over the delivery of aid to Venezuela turned deadly on Friday when its security forces fired on protesters near the country's Brazilian border, killing two and wounding a dozen in a confrontation that could signal a more violent and destabilising struggle over who can claim to be the country's legitimate leader.
A critical moment loomed on Saturday, when Venezuela's opposition, led by Juan Guaidó, vowed to deliver tons of donated humanitarian aid from abroad, against the orders of President Nicolás Maduro.
The protesters killed on Friday, members of the Pemón indigenous group, opposed Maduro's decision, saying the population needs the food and medication. They were shot after closing a road to prevent security forces from passing. Outraged fellow protesters were reported to have seized a Venezuelan national guard commander and his deputies in retaliation.
The bloodshed came as the presidents of Chile, Colombia and Paraguay flew to the Colombian border town of Cúcuta in a display of anti-Maduro resolve — and were joined by Guaidó, who defied a travel ban. Crowds converged in the town, where tons of aid have been stockpiled, cheering Latino pop stars in a pro-Guaidó show arranged by Richard Branson, the billionaire entrepreneur.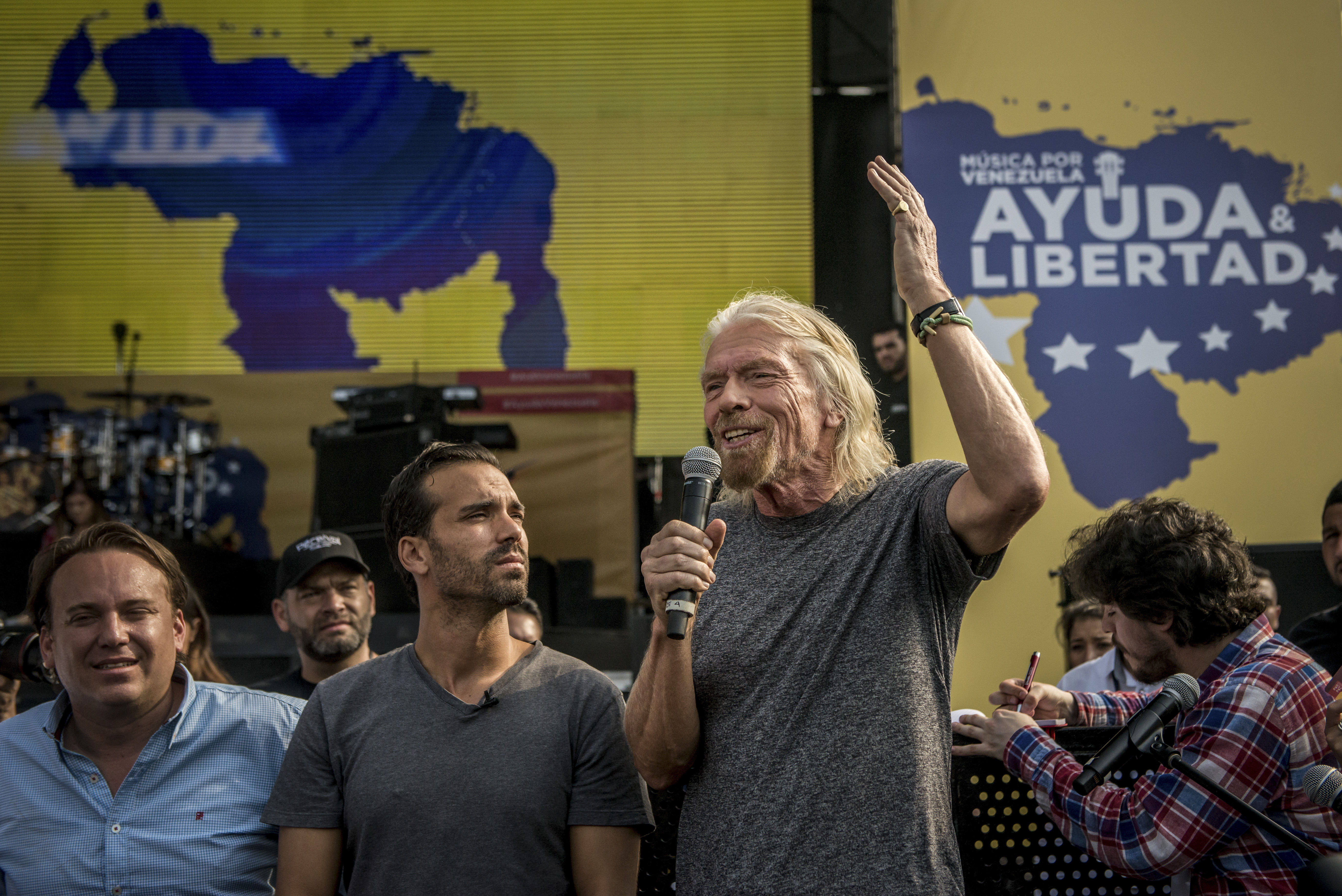 British billionaire Richard Branson (right) speaks to reporters at the Venezuela Aid Live benefit concert on Friday. The New York Times
By Friday night Venezuela's government said it was temporarily closing the three main border bridges between Cúcuta and Venezuela.
In recent weeks, it has become clear that the standoff at the border is about much more than food and medicine.
The Opposition sees a chance to break through Maduro's blockade on the shipments, establishing Guaidó, whom they and more than 50 countries call Venezuela's legitimate president, as the one who can provide the country food.
President Donald Trump said he views this moment as the "the twilight hour of socialism" in the hemisphere, a turning point where the Venezuelan military would abandon its president and hand Trump a foreign policy victory.
Maduro sees the pretext for a foreign invasion, which led him to shut the borders to Brazil and the Caribbean island of Curacao while calling the aid shipment a Trojan horse meant to destabilise him.
And Venezuelans, who have suffered from years of deadly shortages of food and medicine, wonder if this is the end of the crisis that has engulfed their country — or the start of a bigger, perhaps more violent, struggle that would begin on the border.
"We are tired," said Jesús Sánchez, a 26-year-old who left the Venezuelan port town of Puerto Cabello and said he would march with the aid Saturday against Maduro. "If he goes against us, who are coming disarmed, it is going to get ugly."
The morning began with C-17 military planes revving up in the United States to complete a last airlift of supplies to the border, followed by the arrival of Trump's special envoy to Venezuela, Elliott Abrams. As the day progressed, a string of Latin American leaders landed at Cúcuta's airport as well.
"They must put themselves on the right side of history, for the good of the people," said President Iván Duque of Colombia, referring to the Venezuelan soldiers blocking the aid on the other side of the bridge. "To get in the way of aid is a crime against humanity."
Yet the international pressure only left Maduro digging in and laying blame on Trump. "The people of Venezuela are saying: 'Trump, hands off Venezuela!'" he wrote on Twitter.
Near the Tienditas Bridge, which links Colombia and Venezuela and where much of the aid sat in a warehouse, a crowd of many thousands came to the concert organized by Branson. Part Latin pop spectacle, part political protest, the event quickly became a stage where artists and concertgoers took the microphone to air their grievances against Maduro.
"I came because they've destroyed my country," said María Alejandra Machado Méndez, a 29-year-old teacher from Venezuela, as she stood listening to the singers, which included Maluma and Luis Fonsi. "There's nothing left for us because they've robbed it all. I want to tell my students in the future that I came out to fight."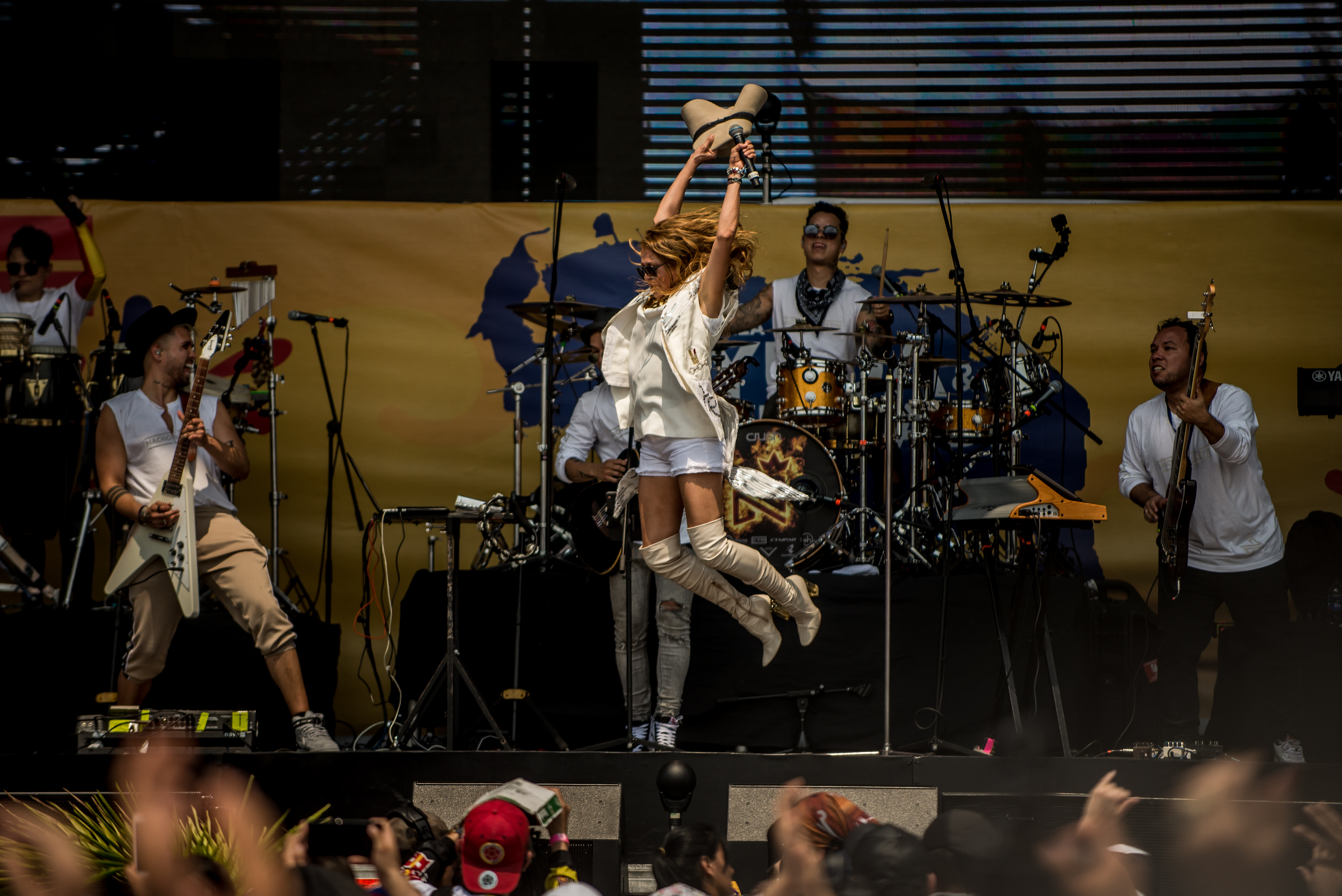 Paulina Rubio performs at the benefit concert in Cúcuta on Friday. The New York Times
Despite an international travel ban imposed on Guaidó by Venezuelan authorities after he proclaimed himself president last month, he attended the concert and was photographed standing with the presidents of Colombia, Chile and Paraguay as fans cheered.
It was unclear whether Maduro would order border authorities to prevent Guaidó from re-entering Venezuela or have him arrested if he sought to return.
Whether events would proceed more peacefully or erupt into more violence Saturday was anyone's guess.
Opposition leaders said they planned to take on Maduro's forces directly rather than smuggle in the aid through border routes used by contraband traffickers.
The main point of entry would be the Tienditas Bridge, where a shipment would pass surrounded by protesters who would join them from the Venezuelan side. Others would take smaller packages over pedestrian foot bridges.
"We've faced tear gas before," said Laurence Castro, an opposition lawmaker from Caracas.
In Venezuela, several thousand government supporters, mostly public workers, militias and pensioners, gathered on their side of the Tienditas bridge for a counter concert.
Organisers divided into groups and filed in lines facing the stage, a strategy used in the past by the ruling party to create the appearance of a continuous sea of people when seen from a particular angle.
"What aid are they talking about when they rob us of billions of dollars in sanctions?" said Gonzalo Ceballos, a retired schoolteacher and ruling party activist who came by bus from the city of San Cristóbal. "We're congregating here to prevent an aggression that seeks to take control of Venezuela's strategic resources."
Some said they came to the event in search of free food, traveling from as far as Caracas. One young couple with a child was reduced to begging on the outskirts of the event when they realised no food was being distributed.
Among those who had traveled to the Colombian side of the border were a number of former Venezuelan military officers who have repudiated loyalty to Maduro. Some spoke openly about armed rebellion.
"The eyes of the world are here," said Carlos Guillén Martínez, an army lieutenant who fled the country last year and who has vowed to take up arms against Maduro.
c.2019 New York Times News Service