At least 2 stabbed in London 'terror' attack
'Terrorist-related incident': Scotland Yard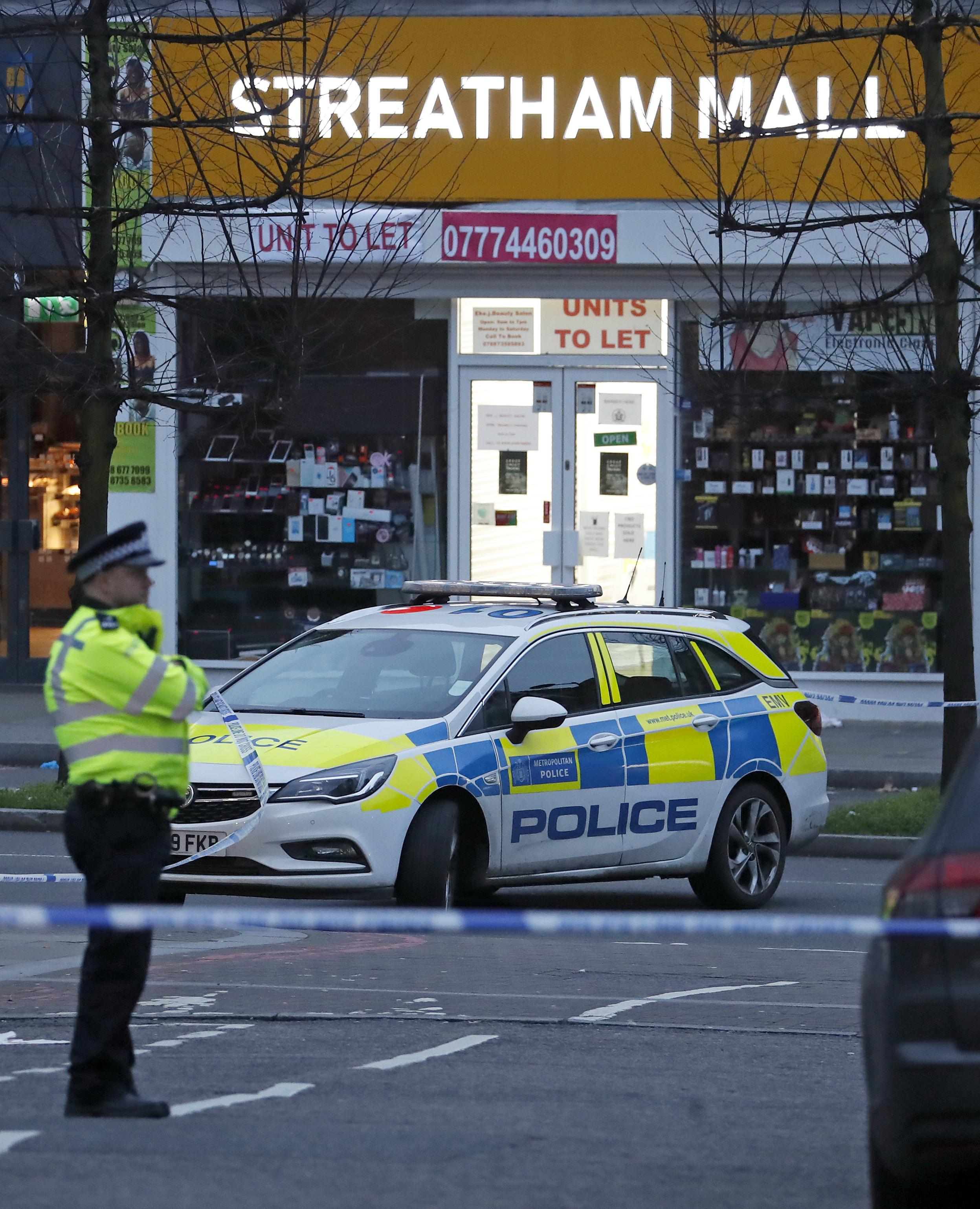 Police secure the area in Streatham London, England, after a stabbing incident.
(AP)
---
London
|
Published 02.02.20, 06:43 PM
|
---
A man who went on a stabbing spree in London and appeared to be wearing canisters around his body has been shot dead by armed police in what Scotland Yard called a "terrorist-related incident".
Streatham in south-east London was swarming with armed police just before 2pm on what had been a quiet Sunday afternoon. Images on social media showed a body outside the chemists, Boots.
Scotland Yard said in a statement: "A man has been shot by armed officers in Streatham. At this stage it is believed a number of people have been stabbed. The circumstances are being assessed; the incident has been declared as terrorist-related."
It added shortly afterwards: "We can confirm that the man shot by police around 2pm in Streatham High Road has been pronounced dead."
In a third statement it said: "We believe there are two injured victims. We await updates on their conditions. The scene has been fully contained."
A spokesperson for London Ambulance Service said: "We were called at 1.58pm today to reports of an incident in Streatham High Road. We are working closely with the other emergency services and are treating a number of patients at the scene."
There were several eyewitness accounts, including one from Gulled Bulhan, a 19-year-old student from Streatham, who said: "I was crossing the road when I saw a man with a machete and silver canisters on his chest being chased by what I assume was an undercover police officer — as they were in civilian clothing.
"The man was then shot. I think I heard three gunshots but I can't quite remember. After that I ran into the library to get to safety."
Local resident Alanah Murphy also described the scene: "We saw a helicopter circle above us. It landed in front of us and ambulances began to swarm.
"As we walked further... we saw armed police arrive and begin to instruct buses to move around to hide a car. The police started screaming at everyone to get back and pushed the crowds back. A number of police and paramedics... began crouching in a circle, which we then believed was (round) a body."
Duncan Kennedy, a BBC reporter, said: "It looks like a man went into a shop with a knife and started stabbing people. The reports then go on to suggest that the man came out of the shop and stabbed a woman — possibly on a bicycle. At that point it seems the alarm was raised and the police arrived incredibly quickly. It seems to be pretty clear three shots were fired by the police to bring this incident to a halt."
Prime Minister Boris Johnson tweeted: "Thank you to all emergency services responding to the incident in Streatham, which the police have now declared as terrorism-related. My thoughts are with the injured and all those affected."
Commenting on the incident, London mayor Sadiq Khan said: "I am in close contact with the Met commissioner and local representatives, and want to thank our police, security and emergency services staff for their swift and courageous response. They truly are the best of us.Terrorists seek to divide us and to destroy our way of life — here in London we will never let them succeed."