Zoo-born red pandas released into wild
The Darjeeling zoo was the first one in the country to release captive-bred animals into the wild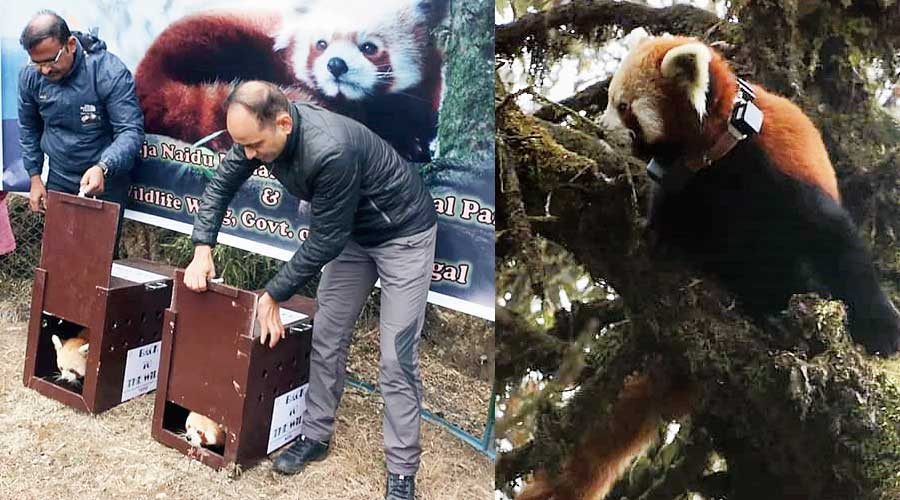 Two red pandas being released into the wild on January 15; (right) one of the animals in the Singalila National Park after the release.
Pictures courtesy: The Darjeeling zoo
---
Darjeeling
|
Published 19.01.22, 02:11 AM
|
---
The Padmaja Naidu Himalayan Zoological Park here has released four captive-born red pandas into the wild after a gap of almost 17 years.
The Darjeeling zoo was the first one in the country to release captive-bred animals into the wild. It had released two female red pandas into the Singalila National Park in 2003.
"After that project, no red pandas had been released until Sunday when we soft-released two pairs of pandas at Gairibas (within the Singalila park)," said Basavaraj Hulaichi, the director of the Darjeeling zoo. 
The soft release entails leaving the animal in a section of the park where it can be monitored and protected. This is basically done to help the animals, which had so far been living in captivity, acclimatise themselves to the life in the wild.
The pandas are christened Smile, Shifu, Noel and Yeshe,  and aged between four and nine years. They will be fully left out in the wild after "one or two months".
"Two pairs of male and female will be radio-collared so that we can track their movements in the wild," said Hulaichi.
The project is part of the Darjeeling forest division and the zoo to restock the red panda in the wild. It was earlier estimated that there were 60-odd red pandas in Singalila and in the Neora Valley National Park but it is largely believed the population is dwindling.
Across the world, the population of the red panda is estimated to range between 15 and 16,000 and has been listed as endangered under Schedule I of the Wildlife Protection Act.
The release of the two pairs by the Darjeeling zoo is a culmination of Project Red Panda, which had started in 1986, in an attempt to reintroduce captive red pandas in the wild.
Darjeeling zoo has 23 red pandas after the release of the four animals.
Prior to the release, genetic analyses of the animals are done to know their ancestry to ensure that they are as distant as possible to their lineage.
The Darjeeling zoo is classified as a co-ordinating zoo for the breeding of red pandas and other animals like Tibetan wolf, Satyr tragopan, grey peacock pheasant, snow leopard and Himalayan salamander.
The animals born at a co-ordinating zoo will be exchanged with participating zoos, which will act as a backup for the species (in case of epidemics) and also to ensure their healthy genetic strain.