1 core people affected, says Mamata
Yaas effect: Sea water touches coconut tree-tops, large parts of coastal Bengal inundated
15 lakh people evacuated in Bengal, Mamata to visit affected areas on Friday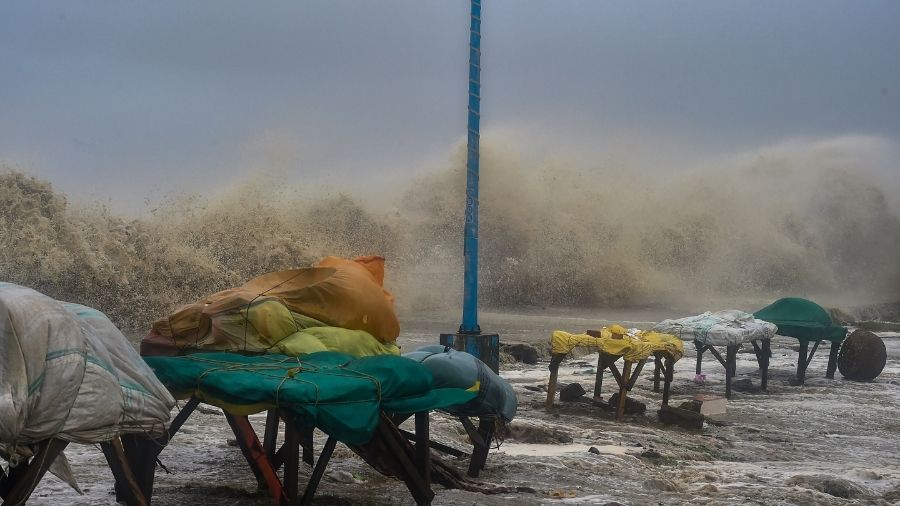 Waves crash at the shore as Yaas makes landfall near Bay of Bengal in East Midnapore district on Wednesday.
PTI
---
Calcutta
|
Published 26.05.21, 01:32 PM
|
---
Yaas weakened into a severe cyclonic storm on Wednesday afternoon after pounding the beach towns in north Odisha and Bengal with a wind speed of 130-145 kmph, inundating the low-lying areas amid a storm surge even as the two eastern states battled the Covid crisis, officials said.
Yaas, which was earlier classified as a very severe cyclonic storm, hit the coast north of Dhamra in Odisha's Bhadrak district and 50 km south of Balasore, close to Bahanaga block, around 9 am, they said.
The landfall process was over around 1.30 pm, they added.
Rising river water levels after the landfall of the cyclone inundated large parts of Bengal's coastal districts of East Midnapore and South 24-Parganas as sea waves touched coconut tree-tops and cars floated in floodwaters.
The seaside towns of Digha and Mandarmoni in East Midnapore and Fraserganj and Gosaba in South 24-Parganas were among the areas affected by a storm surge of more than 2 metres above the astronomical tide level.
The surging waters have breached embankments at several places in the two coastal districts, inundating many villages and small towns, officials said.
Water levels of several rivers including Bidyadhari, Hooghly and Rupnarayan have risen owing to Yaas and the accompanying storm surge.
Bengal Chief Minister Mamata Banerjee said that at least one crore people in the state have been affected by rough weather conditions and high tides arising due to the cyclone, while over 15 lakh people have been evacuated to safe places.
"Around three lakh houses have suffered damage due to Yaas. I will visit the affected areas in East Midnapore, South and North 24 Parganas on Friday," the chief minister said, addressing a press conference after the landfall process was completed. 
The government has sent relief worth Rs 1 crore to areas affected by cyclone and high tide, she informed.
Army, National Disaster Response Force (NDRF), State Disaster Response Force (NDRF) and state police and civil defence volunteers were working round-the-clock to move people to safety.
The Army has deployed 17 columns to assist the state administration, of which one rescued 32 stranded civilians at Digha, a Defence official said.
The MeT Department has forecast extremely heavy rainfall on Wednesday in East and West Midnapore districts and heavy to very heavy rainfall in Jhargram, Bankura, South 24 Parganas districts.
Heavy rain will occur at isolated places in Purulia, Nadia, Murshidabad, Purba Bardhaman, Howrah, Hooghly, Calcutta, North 24 Parganas, Darjeeling and Kalimpong districts owing to the effect of 'Yaas', the weatherman said.
In 24 hours till 8.30 am, Digha received 5.5 cm rainfall, Diamond Harbour got 3.3 cm rainfall, Haldia 3.2 cm rainfall.
Calcutta got 2.24 cm rainfall, Salt Lake received 3.05 cm rain, Contai got 5.42 cm rain and Kalaikunda received 2.2 cm rainfall.
The Bengal government has evacuated over 15 lakh people from vulnerable areas to safety so far.
The landfall process of Yaas began at 9 am on Wednesday near the Dhamra port in Odisha's Bhadrak district, an official said.
The location of the landfall is north of Dhamra and south of Bahanaga, close to Bahanaga block, on the coast, around 50 km of Balasore, he said.
The wind speed during landfall was at 130-140 kmph, gusting to 155 kmph, as per Doppler radar data.
Landfall process delayed
The India Meteorological Department (IMD) earlier predicted that the wind speed during the landfall would be around 155-165 kmph, gusting to 185 kmph.
The landfall process was delayed for some hours with the system's velocity decreasing to 12 kmph from 15-16 kmph, Jena said.
The cyclone did not intensify any further after 2 am, he said.
"Since there has been a fall in intensification, the wind speed was around 130-140 kmph at the time of landfall instead of 165 kmph," he said.
High-tide warning
The Met department also warned of tidal waves of two- four metres height above astronomical tide to inundate low- lying coastal areas of East Midnapore, and of two metres above astronomical tide in low-lying areas of South 24 Parganas.
Most parts of Odisha also received rains, said Umashankar Dash, a scientist at the Regional Meteorological Centre in Bhubaneswar.
Chandbali in Bhadrak district received 273 mm rainfall, the highest amount of rainfall in the last 24 hours in the state, followed by Paradip (197 mm), Balasore (51 mm) Bhubaneswar (49 mm).