Women's writing on wall
School offers wall as canvas of protest against violence
---
Calcutta
|
Published 25.11.19, 08:38 PM
|
---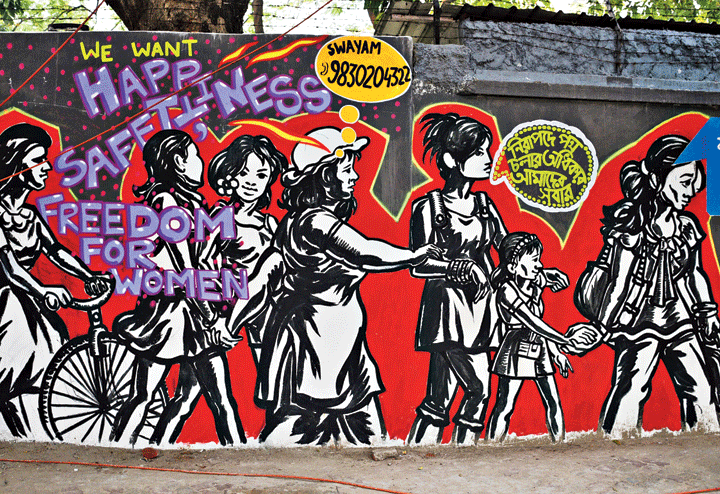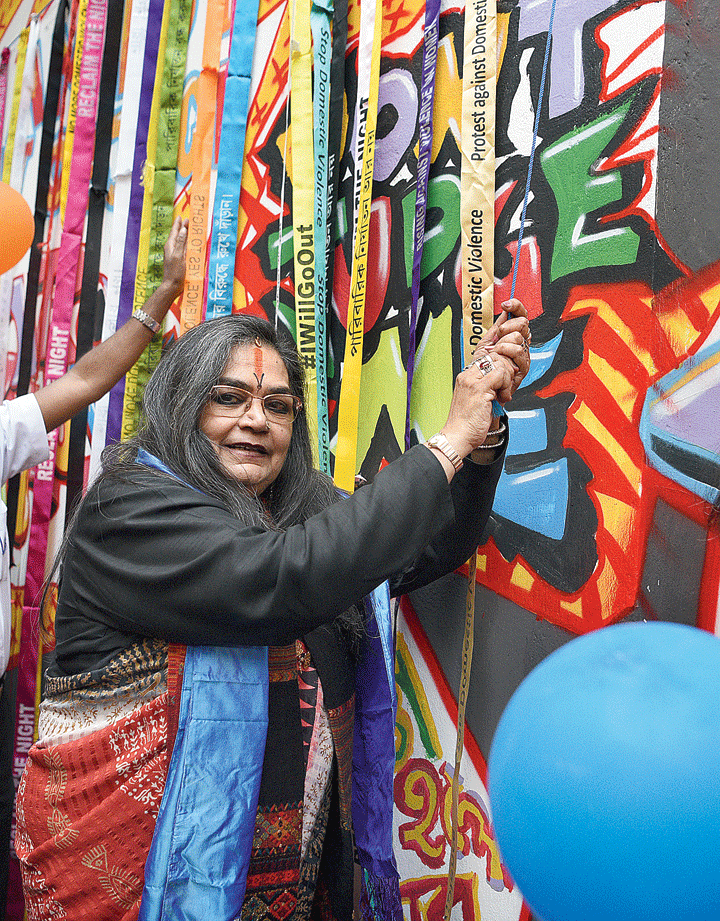 A woman in her 20s walked out of her home in the slums of Metiabruz with her newborn daughter after her husband assaulted her and tried to force her into prostitution.
A school student in her teens said she often felt unsafe travelling by Metro.
The boundary wall of La Martiniere for Girls turned into a canvas for the expression of a fight against violence as the school, along with women's rights organisation Swayam, unveiled a mural on women's safety on Monday.
As many as 200 women who have survived violence in some form and 25 students of La Martiniere for Girls took part in workshops where they spoke about "unsafe spaces", what they want for a safe environment around them and how it can be brought about.
"We participated in workshops to help us talk about the spaces around us where we feel unsafe and insecure. When I travel in a crowded Metro, there are people who make you feel uncomfortable by their weird glances or take advantage of the crowd," a Class XI student said. "The workshops were open to anybody from classes VIII to XII and I wanted to be a part of it to create some kind of social impact on an issue that affects me and other women."
While the 16-year-old wanted to bring about social change, a 28-year-old fighting a case against her husband who allegedly assaulted her was there to draw strength.
"He has disowned our daughter. I work as a help but that is not enough. I am fighting for my child's rights so that I get some money to bring her up. I came for this programme because it would help me draw strength," she said, her toddler tucked in her arms.
November 25, International Day against Violence against Women, and December 10, International Human Rights Day, were chosen to symbolically link violence against women and human rights, and to emphasise that violence is a violation of human rights.
"This afternoon we have gathered for a programme where we stand side by side to raise the cause of a human issue that is to be safe, to be happy and to exist in a manner that will give dignity to each one. When people travel by, they will read the messages and we hope it will raise a consciousness. I hope they will talk about it," said Rupkatha Sarkar, the principal of La Martiniere for Girls.
Adequate street lights on every road, women cops at street crossings and proper display of helpline numbers were some of the demands.
"When we talk about violence against women or sexual abuse we tell the woman that if she had conducted herself properly, it would not have happened. But we have to raise our voice against this blame game. Safety of women is everyone's responsibility," said Anuradha Kapoor, founder and director of Swayam.
"In this one hour (that the programme lasted) 12 women will be facing violence from their husbands or in-laws, one woman will be killed because of dowry, 13 women will be molested or sexually harassed, four women will be raped and about 12 will be subjected to cyber crime," Kapoor said, quoting statistics from the National Crime Records Bureau 2017.