Women unsafe in own homes in Calcutta
Survey on abuse conducted in city pockets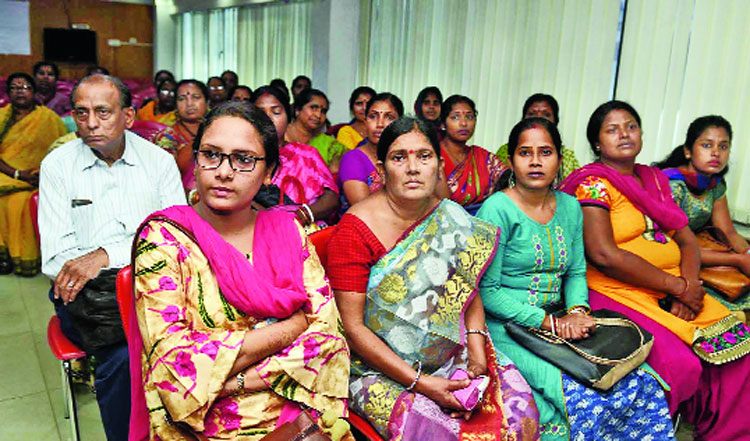 Participants in the discussion in Anandapur on Friday afternoon.
Picture by Gautam Bose
---
Calcutta
|
Published 23.02.19, 11:28 AM
|
---
Nearly 90 per have been subjected to physical abuse by their husband
More than 93 per cent were forced to have sex with their husband against their will
A survey by an NGO in some lower-middle class pockets of the city has shed light on the plight of women in their homes.
The survey was conducted across nine wards of south Calcutta in Anandapur, Bosepukur and Lake Gardens, among others, and some areas on the southern fringes like Sonarpur between 2017 and 2018. The findings were shared by Parichiti, which works to empower women, at an auditorium in Anandapur on Friday afternoon.
"We worked on a small sample group (118 men and 90 women) because of logistical issues. The objective was to highlight how early marriage, dowry, violence and harassment affect women," Kakuli Deb of Parichiti said.
Most of the respondents work as domestic help in residential complexes on and off EM Bypass. The rest are homemakers.
Asked if they have ever been slapped or hit by their husbands, 88 per cent of the women said yes (see chart), while 96 per cent said they were taunted for not meeting dowry demands.Twelve per cent of the girls who got married in 2016 were under 18, according to the survey.
Some of the women the NGO works with shared their stories on Friday. A 39-year old help said she got married at 17. Her husband left her with two children after eight years of marriage. The Ajoynagar resident said she has to ward off unwanted male attention even today.
"People have tried to molest me on multiple occasions. But I can't stop working because of my children," she said.
Another domestic help said she sent her teenage daughter to her sister in West Midnapore's Ghatal because some local youths would harass her. "My daughter would be taunted every day. When she confronted them, she was threatened with acid attack," said the Baghajatin resident.
Most victims are wary of filing police complaints and think legal proceedings will be a costly affair.
An elderly woman said her daughter was beaten up by her husband and in-laws. "But when we went to the police, they said it was a petty domestic issue and advised us to settle it amicably."
Aparna Dutta Roy, the protection officer of South 24-Parganas, said women should approach the nearest police station and file a report after the first instance of domestic abuse.
"If the cops are not cooperative, write to the officer-in-charge detailing what has happened. Send the letter by registered post AD or speed post. It will reach the police station within 24 hours. You will be given a copy for record," Dutta Roy said. She also advised victims of abuse to get a medical certificate from a government hospital.
Protection officers, who operate under the Protection of Women from Domestic Violence Act, 2015, are the government's guides for women.
"You are entitled to free legal counsel if the issue moves to court," she told the women.