Women march for change
Women want change. From war, violence and hate, but the starting point seemed to be the recognition of their many identities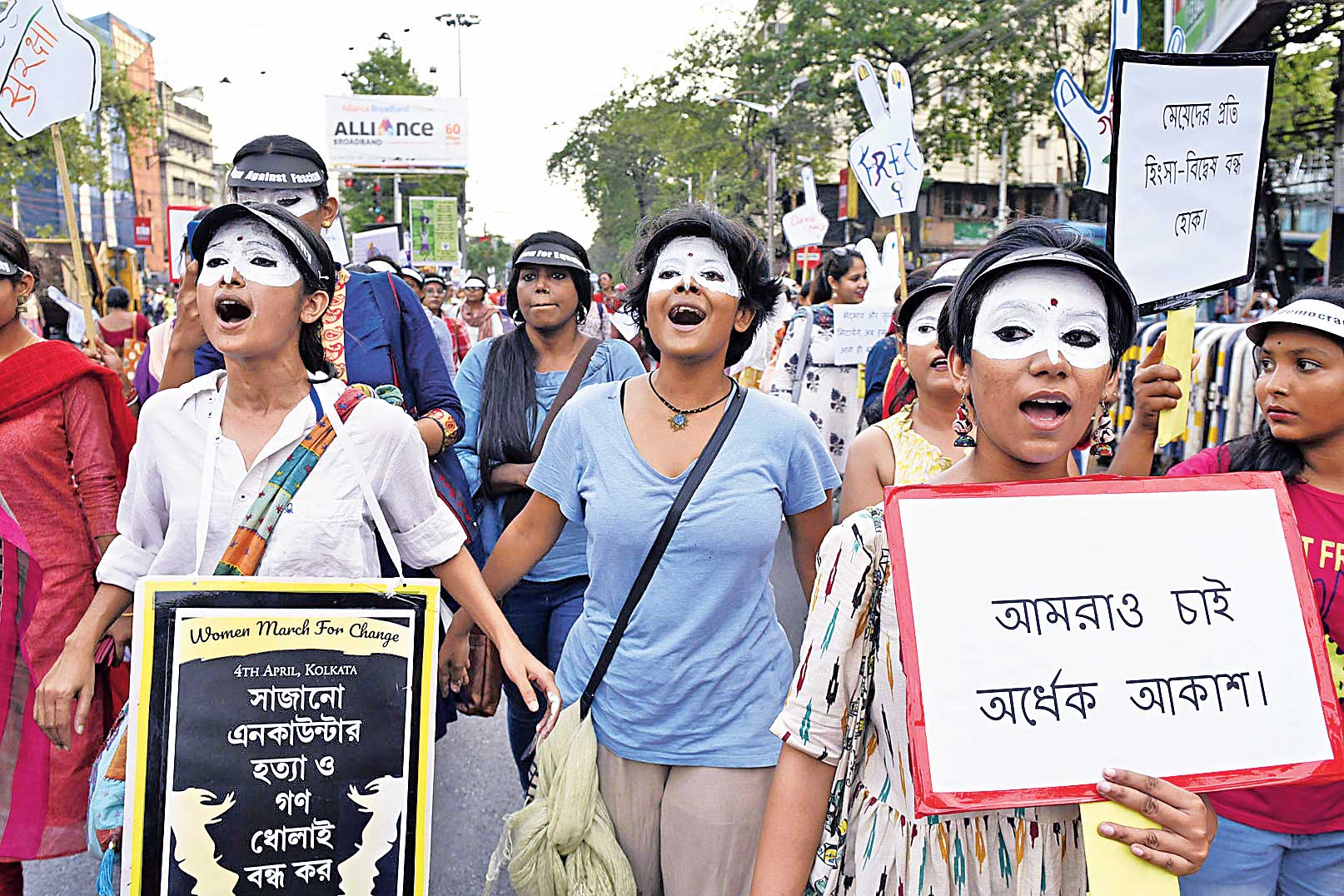 ---
|
Calcutta
|
Published 04.04.19, 09:01 PM
---
Not many people gather on sultry afternoons on a working day to march together. But that is what happened on Thursday when hundreds of women met at Ramlila Maidan in Moulali and set off for Shyambazar, raising their voice about what women want from these elections.
What do women want?
Women want change. From war, violence and hate, but the starting point seemed to be the recognition of their many identities.
Before the march started around 3.30pm, some of the women spoke about what prompted the march.
"Who are we? We are a gathering of transgendered, transsexual, working class, Dalit, Muslim and disabled women," said the first speaker, who remained invisible surrounded by the crowds. If that sounded like a roll-call of identities, it was important, said a participant in the rally, "because inclusiveness is meant to break down the monolithic, homogeneous, mainstream idea of anything". In this case the idea of a woman, passed down socially and culturally without any questioning.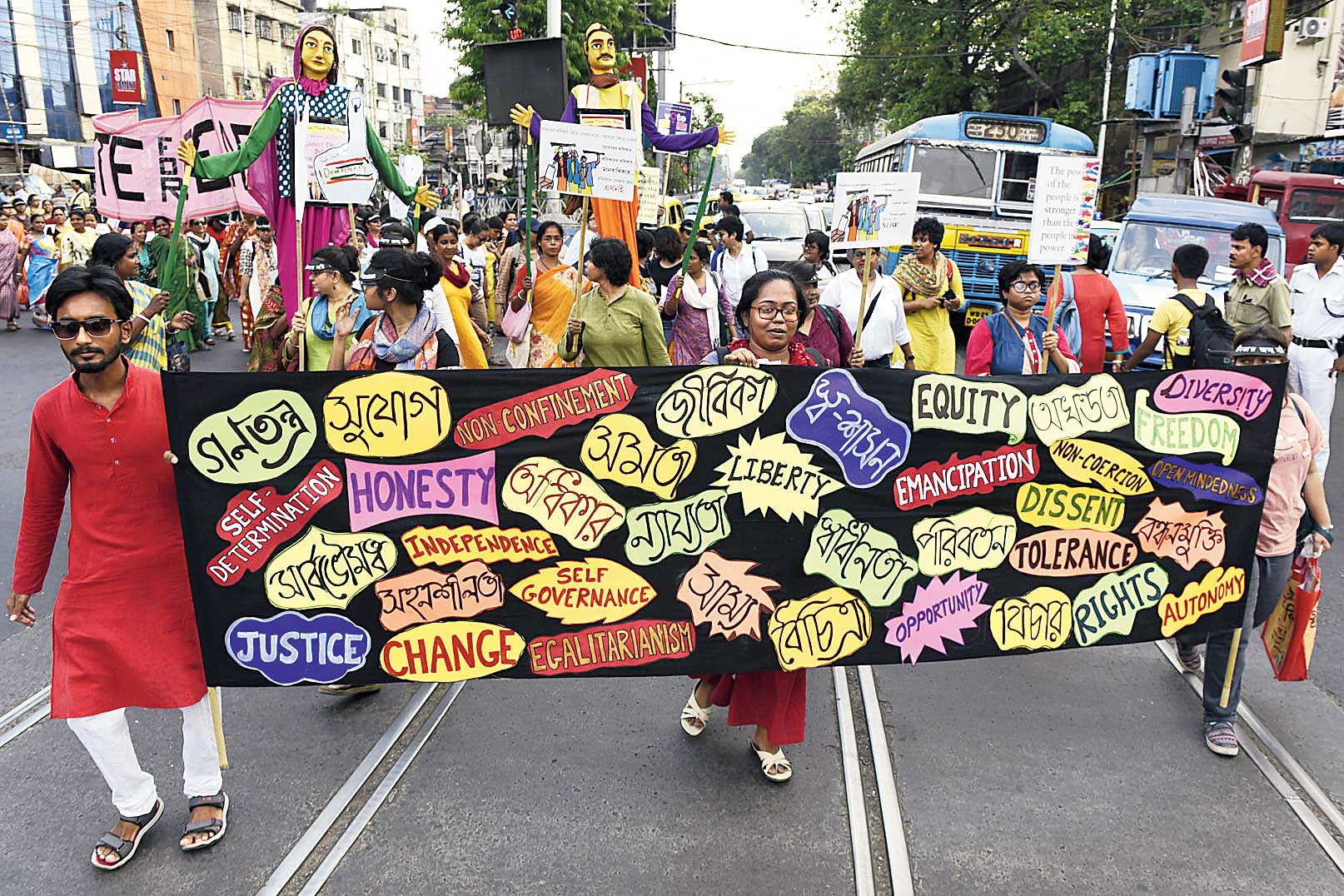 Filmmaker and actor Aparna Sen, who spoke at the start of the march, stressed the point. "Women of all identities should find equal opportunity of work and livelihood," she said.
The participants had come from the city and neighbouring districts. They were all there as individuals and not representatives of any organisation. But they carried posters, banners and sometimes entire saris, on which were inscribed messages for the powers that be.
Not that they only stood for the messages they were carrying.
Nargis Ara from Diamond Harbour, a grass-roots activist who works with a support group for women who have experienced domestic violence, for example, was carrying a poster that spoke for the rights of the disabled woman. But Ara spoke about her work and what she considers are the most important issues of women.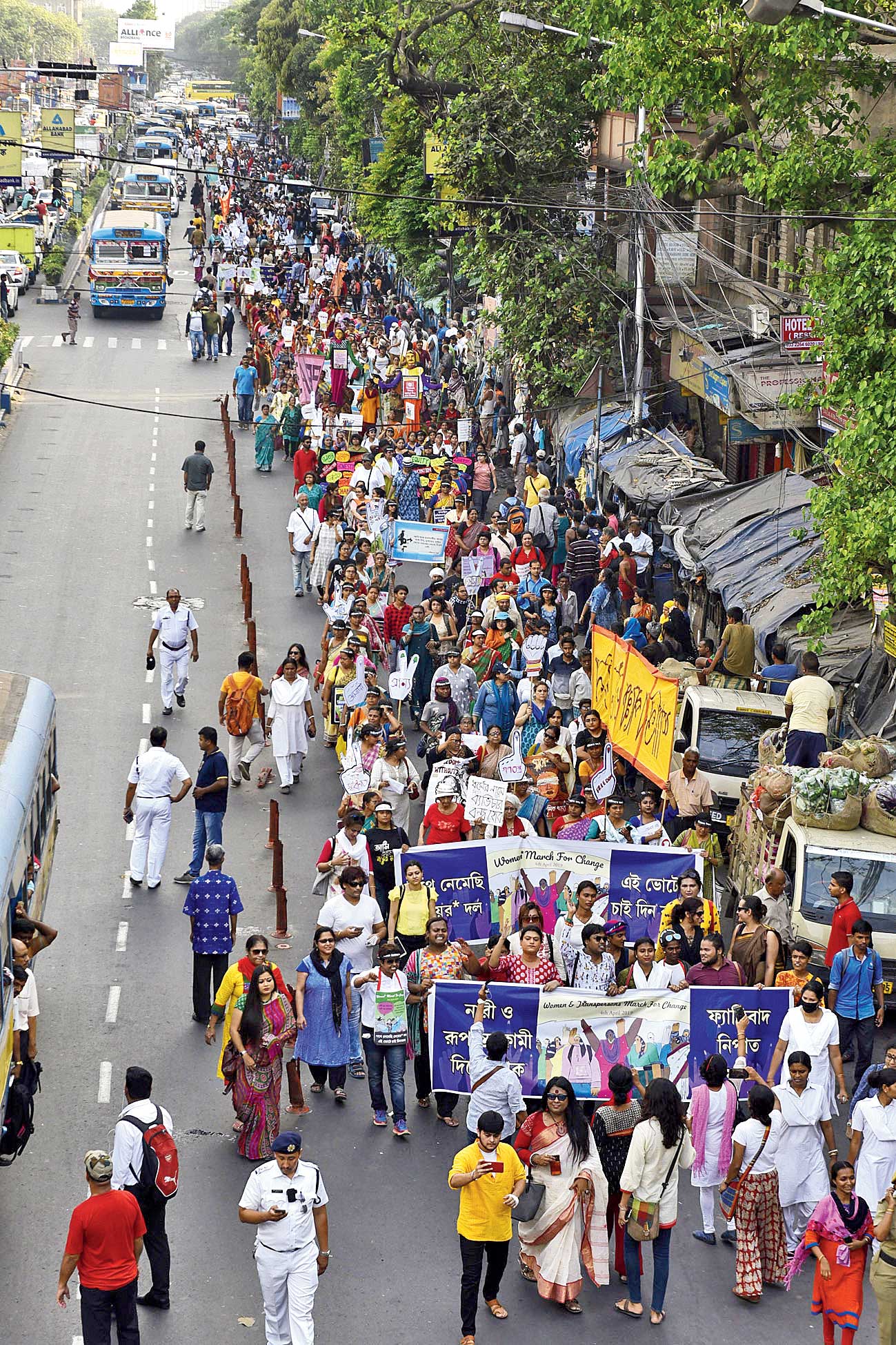 After working with her organisation for almost a decade, she feels that women speak about it more now. But domestic violence continues unabated; its nature may have changed, but its extent remains undiminished.
She wants the new government to bring in an environment where there will be no further polarisation along the line of religion. "The new government should also address what the Muslim woman feels about triple talaq. Many of us feel that it should come under the jurisdiction of civil law and not criminal law," said Ara, her voice often drowned by the sloganeering going on, demanding liberty, equality and justice.
By the time the march winded up at Shyambazar around 6pm, the cry had become one unanimous one for change, "badal". Change from the climate of war and violence to one of peace, democracy and the right to dissent.
"As women voters, we want to tell our politicians that our vote will be for issues that matter and we will vote for democracy, peace, justice and harmony and against fascism, hate and divisive politics," said Anuradha Kapoor, an activist.
The Calcutta march was part of a nationwide protest taking place almost simultaneously in 15 states and 146 cities of India. It was a rare sight.
Men and women lined up along the sides of the road along Moulali, Sealdah and Maniktala areas to watch the procession. A woman's face lit up when she was handed a leaflet listing the women's demands. But another woman, who had arrived at Sealdah from Burdwan, said she did not know what to think of it.
In many men, the march produced bewilderment. "Please tell me what to think of it," an elderly man said, when asked what he thought of the march. "Women already have the vote," he added.
At the same time, a young man came and asked for several leaflets, saying he would distribute them among his friends.