Woman killed, 2 hurt in West Midnapore elephant rampage
Eyewitnesses said the deceased had been working on a field in Anandapur's Kharaberia around 8am when she was 'ambushed' by the animal and tossed onto the ground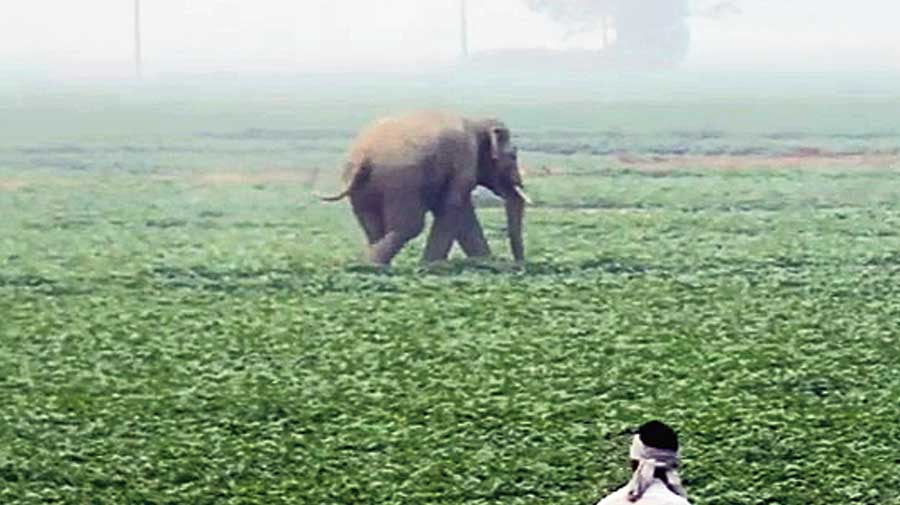 ---
---
One person was killed and two grievously injured when an elephant in West Midnapore's Chandrakona and Anandapur went on a rampage of local paddy fields, and then the village, on Wednesday morning.
Eyewitnesses said the deceased, Gita Ghosh, 45, had been working on a field in Anandapur's Kharaberia around 8am when she was "ambushed" by the male elephant and tossed onto the ground "killing her on the spot".
"A group of villagers chased the tusker, but that enraged him even more. He stormed into the town area causing a panic and injured two persons seriously in addition to smashing several motorcycles," said villager Abani Gyne.
"Initially, the villagers were successful in chasing him away, but at one point the tusker made a turnaround and chased us," Gyne added.
Sources said Gajanan Das, 49, from Chandrakona's Tukunia village was grievously injured after being "hurled by the trunk" like the deceased victim earlier in the day.
Sources said the tusker was estimated to have roamed the two areas of West Midnapore for over 10 hours on Wednesday before being herded back into the forest.
Gyne claimed that the forest department, who were contacted immediately, "enraged" the tusker with their tactics, causing him to storm the village. The forest department had tried to scare away the elephant by beating drums but the strategy had backfired, villagers said.
Asked, forest department officials said the claim was "baseless" and that all protocol for an attack on humans had been followed.
"The tusker reacted angrily and violently but we followed all the rules for containing an attacking elephant. The tusker has been returned to its wild habitat as of Wednesday evening. The death was definitely a tragedy," said additional divisional forest officer (Midnapore) Bijoy Chakraborty.
"The tusker is residential, and for some reason roamed 7km out of its habitat this morning. He also trampled several hundred acres of paddy first," he added.
Sources said the family of the deceased will receive Rs 3 lakh in compensation and that the two injured persons were being treated at hospital.