With Didi till last day in politics: Thapa
Anit told the crowd he was working under the guidance of Mamata since 2017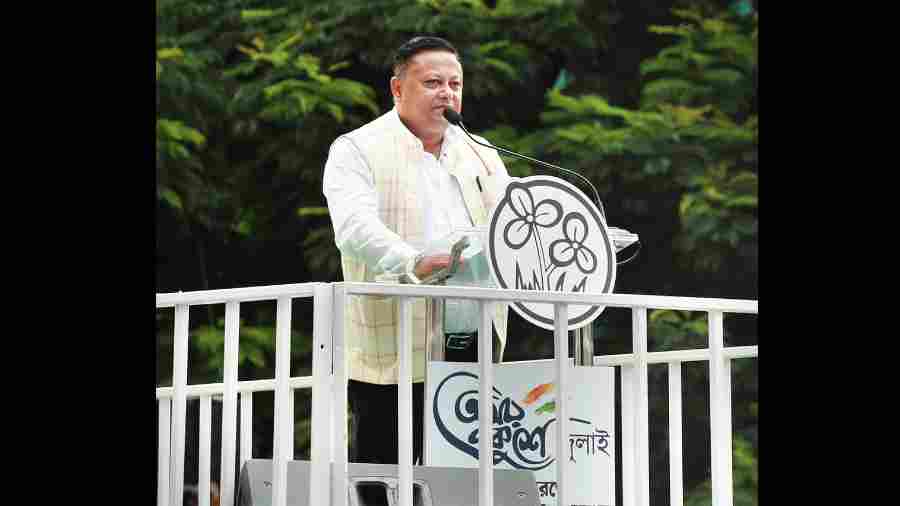 Anit Thapa at the mega rally of Trinamul in Calcutta on Thursday.
Gautam Bose
---
Darjeeling
|
Published 22.07.22, 01:20 AM
|
---
Hill leader Anit Thapa, the president of the Bharatiya Gorkha Prajatantrik Morcha and chief executive of the Gorkhaland Territorial Administration, on Thursday vowed to work with Mamata Banerjee for as long as he was in politics.
Thapa made the pledge while speaking at the Trinamul Congress's Martyrs' Day rally in Calcutta."In the days to come, I will take the hills forward, staying alongside Didi (chief minister Trinamul chief Mamata Banerjee). I promise to stay alongside Didi and work till the day I am in politics," said Thapa.Though the BGPM and Trinamul did not announce a formal alliance in the GTA election in June, it was common knowledge that they had an "unannounced" alliance.The hill elections also yielded political dividends for Trinamul with the party winning an unprecedented five GTA constituencies.
Thapa told the crowd he was working under the guidance of Mamata since 2017."I have come from GTA Darjeeling. You may not know me closely but since 2017 I have been working on Didi's guidelines. When the hills were in destructive politics I struggled with Didi for five years for constructive politics," said Thapa.
In 2017, when the hills were observing a 104-day strike to back Gorkhaland, Binay Tamang and Thapa formed a splinter group of the Gorkha Janmukti Morcha, known as the Morcha's Tamang faction. Last year, after Tamang quit as the chief of the faction, Thapa formed his own outfit.
Tamang is now with Trinamul.Thapa, pitching for the "politics of reality", dubbed the 1986-2017 period of agitation for Gorkhaland as an era of "destructive politics"."Since 1986 to 2017, we in the hills were in destructive politics. We were shown a dream of lies but I am proud to say that we along with Didi are now in politics of truth," said Thapa.
The Gorkhaland agitation was first started by GNLF leader Subash Ghisingh in 1986, which culminated in the formation of Darjeeling Gorkha Hill Council in 1988.Bimal Gurung of the Gorkha Janmukti Morcha once again renewed the statehood agitation in 2007 but it ended in 2012 with the formation of GTA.
Gurung, however, organised two rounds of the statehood agitation in 2013 and 2017. In 2020, he parted ways with long-time ally, the BJP, to support Trinamul. After his address in Calcutta, Thapa took to social media to say it was a proud moment for him as a Gorkha leader to get "an opportunity to address the 10 lakh-plus gathering" in Calcutta."I said that with the politics of positivity and reality I will lead the GTA hills," he said.He will also meet Bengal's chief secretary H.K. Dwivedi on Friday to discuss issues related to the hill body.