Wheels that can carry the city into the future
Lives Of Others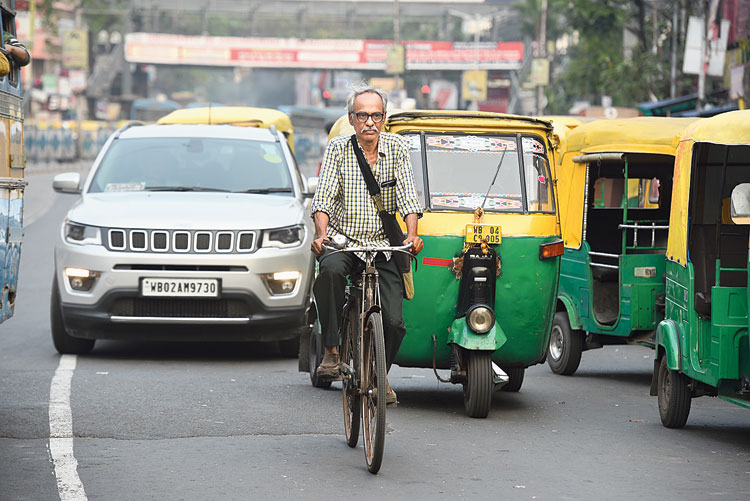 Raghu Jana rides his bicycle through a city road.
Picture by Subhendu Chaki
---
Published 15.03.20, 07:20 PM
|
---
It all started for Raghu Jana on a not so fine day in January 2009. Jana, a private tutor by profession, was crossing Central Avenue on his bicycle to attend a little magazine fair at Presidency College, when police stopped him and took his bicycle away.
He was fined Rs 80, but did not have the money. So the police kept his bicycle at the police station.
Jana went to the book fair in a very agitated state. "I was feeling angry, resentful, humiliated. I had not hurt anyone. I was just riding my bicycle. What was wrong with that?" asks Jana, or "Raghuda", a trim, energetic, passionate man who cannot stop talking on the subject of bicycles. He is now 60 and known in the city as the redoubtable convener of Kolkata Cycle Samaj, an organisation that leads a robust campaign to bring the bicycle back.
But something was "wrong" that day, and Jana knew what it was. A circular issued by the police commissioner on August 19, 2008, had banned bicycles — categorised as "slow-moving vehicles" that created traffic snarls — from 38 Calcutta streets and areas between 9am and 7pm every day. The Central Avenue stretch which Jana was crossing was one such "no cyclist" stretch.
"So when I reached the Book Fair, standing on the street, my friends and I decided that we will take the fight to the streets," says Jana. We have met at an old, busy café on Hazra Road. He has parked his bicycle at Girish Park Metro station and taken the Metro to Jatin Das Park.
So Jana and his friends, who then brought out a little magazine called Manthansamayiki, a journal of social and political ideas, came together to launch the "bicycle movement" as well. They started off with a signature campaign.
"The idea was as much to protest against the ban as to start a conversation with fellow cyclists," says Jana, who had participated in the Naxalite movement, and later, in trade union movements.
And who are the cyclists? They are an invisible lot.
In an Indian city like Calcutta the bicycle is the symbol of the poor, and shares the invisibility of the poor. At best, like their riders, the bicycles are tolerated on roads that are dominated by cars, and more often than not, as by the 2008 Calcutta ban that was followed by similar bans later that still stay, pushed off even the margins of the roads that they are grudgingly allowed. Roads are broadened to make room for more cars.
Cyclists in the city also complain that the police fine them in an arbitrary manner.
Even though elsewhere in the world, bicycles are being looked at as the future. They are self-driven, fuel-free, non-polluting, a healthy form of exercise — and empowering, also historically. The bicycle was the vehicle of the Suffragettes and at the same time also led to bloomers, the precursors of ladies' pants, and therefore was the single instrument for no less than two women's revolutions. Look at the Sabuj Sathi now, the West Bengal government scheme that awards bicycles to school students. It has set so many young girls on the path to a freer life, in so many ways.
The bicycle seems to be the one solution for so many of the big problems of the contemporary world. And riding it costs nothing.
Yet, points out Jana, interestingly, Sabuj Sathi is not implemented so much in Calcutta. The bicycle is not only considered a hindrance in Calcutta, but also not urban enough. The 2008 ban was extended in 2013 to 174 streets in the city, to be finally settled on 62 streets in 2014. Ironic.
On some streets, though, the ban is not enforced so much and in 2019, the Kolkata Metropolitan Development Authority (KMDA) put up tender notices for a road map for cycling infrastructure. At the same time police put up "no cycling" signs on streets not on the ban list, says Jana.
The biggest misconception about bicycles is to call them "slow-moving vehicles", says Jana. "It is the fastest form of transport in the city. When my daughter used to study at Presidency College, I could drop her there from my Ultadanga Road home in 18 minutes," says Jana. "I would drive my bicycle, like Hema Malini in Sholay: crying chal Dhanno, chal Dhanno…", and always reach on time, says Jana.
It takes him five to seven minutes to reach Kankurgachhi from Ultadanga and 10 minutes to reach Kadapara.
At this point one of Jana's younger colleagues at Kolkata Cycle Samaj, Satanjib Gupta, arrives. He has come all the way from Tollygunge, on his bicycle, which he rests against a side of the Jatin Das Metro station. He has another identity: he is the Bicycle Mayor of Calcutta, having been nominated so by BYCS, a global organisation that advocates the economic, health and enviromental benefits of bicycles.
Gupta agrees wholeheartedly with "Raghuda". "We reach the fastest because we do not take the main roads so much. We take lanes and bylanes. Our routes are different," adds Gupta.
Under the cyclists's feet, another city comes into being.
But cyclists also cause trouble for other forms of transport, by being erratic. "That is true," says Gupta, "but that is because they have no space. The whole question is of infrastructure."
Kolkata Cycle Samaj, with about 30 active members and hundreds of supporters, also on Facebook, has three main demands: the ban has to be lifted, cycle lanes have to built and the priority has to be shifted from cars. With these aims in mind, it has organised an annual rally every year from 2014. From 2017, it has organised a rally on the EM Bypass, asking for cycling lanes there. The lanes were part of the original plan for the bypass.
The organisation believes strongly that everyone, especially women, should take to cycling. Which is why it holds teaching classes in many parts of the city. The most wonderful stories are about women who have learnt to cycle, some of them after 50.
"But whatever we do, we do with love. Because cycling, apart from everything, gives us joy," says Jana. If it is a picnic that the group wants, off they go. If it is celebrating Diwali with fitting LED on the wheels and going out into the city, that is most welcome.
"We are a comfortable, open-minded group. I have learnt from my previous political experience the limitations of a partisan, rigid, hierarchical movements," says Jana. He pauses. "This is the 'cycle andolan'. If there is anything that I want most, it is the visibility of the bicycle."