What Mamata Banerjee said at SSKM hospital
The following are excerpts from chief minister Mamata Banerjee's statement at SSKM after she reached the hospital on Thursday afternoon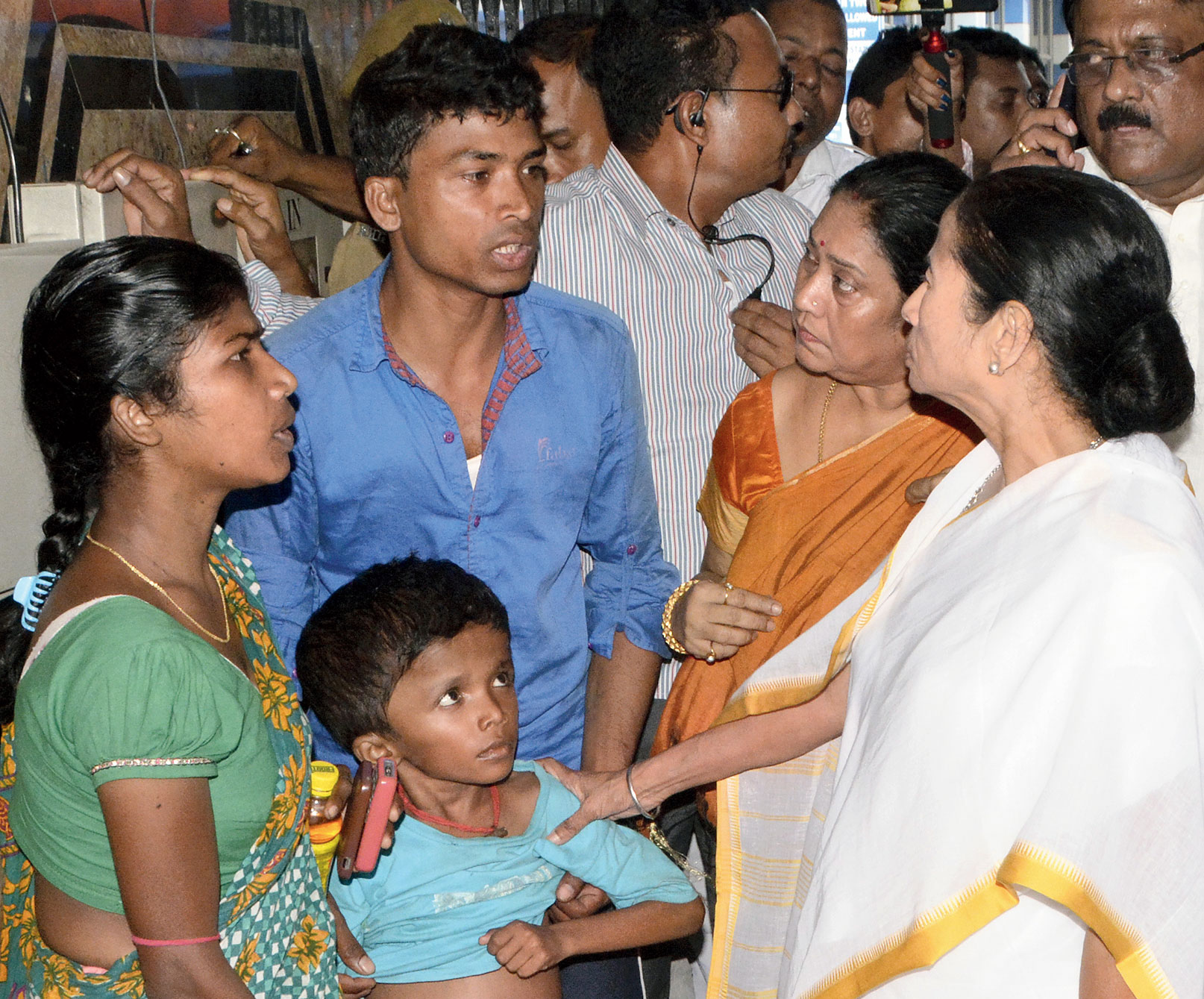 Chief minister Mamata Banerjee speaks to relatives of a boy from Purulia with a tumour in his stomach during her visit to SSKM Hospital on Thursday afternoon
Telegraph picture
---
Calcutta
|
Published 14.06.19, 01:19 AM
|
---
(Amid loud shouts of slogans such as "shame, shame" and "we want justice" by the agitators, Mamata Banerjee spoke at the top of her voice. Although she used a microphone, her voice was sometimes drowned by the slogan-shouting)
Mamata: No shame, those who do this, I condemn. These are outsiders. Outsiders are coming here and launching assaults….
Take strong action, evacuate the hospitals, evacuate the hostels, none other than the patients will stay in the hospitals, only those working will stay in the hostels.
Those resuming work within today (Thursday), they will continue, those who won't will no longer get any government assistance.
Get all your netas here, nothing will happen. Service must. Without service, one cannot be a doctor.
Hurl 10 political abuses at me, I don't mind. Service must.
Within four hours, those who do not resume work, I will take strong action.
I request the senior professors, see, despite all action, they are doing politics here.
(Mamata then interacts with journalists)
The work of doctors is seva, service to the people. A terrible incident took place, it was spontaneous, nobody taught them. Later, they can understand that it was not correct. Accidents, sometimes people react with arson, brick-bating the police, not correct. But sometimes they happen. These things were happening once, then I had placed police pickets everywhere.
During the elections, the CP, Rajesh Kumar, withdraw everything. I don't know if it was under BJP's instructions, whose instructions I do not know. When the BJP's Election Commission conducted elections, everything was withdrawn.
Yesterday, I spoke to Anuj Sharma (Calcutta police commissioner), to restore them and be active they will have power. I sent the CP after the Vidyasagar programme (on Tuesday) myself, thrice. Three hours he sat with them. I sent (minister of state for health) Chandrima (Bhattacharya) to the hospital to see the boy (Dr Paribaha Mukhopadhyay), meet his parents. All expenses to be taken care of by the government, principal secretary met. I sent Chandrima to NRS to request.
'Did not talk to me'
None of you know this, I told Chandrima on Tuesday, that those agitating, I will speak to them, I will hold, give them the phone, I will talk to them. They did not talk to me. Know this. Before I went into the Vidyasagar programme (at Hare School), I kept waiting on the phone, such audacity. The work of doctors is to give seva, the police have acted against the incident, every action taken. Repeated appeals for four days. Nothing is being heeded.
BJP role
In the middle of all this, the BJP got in and did Hindu-Musalman. Part of the CPM also in this. I am ashamed and astonished seeing such BJP prem in the CPM.
Domicile seats
Now junior doctors, not everyone is bad, those from Bengal love Bengal and work well. But remember a lot of them get chance, Rs 25 lakh the government spends to create a doctor. When they become, in two-three years, they leave. We create doctors for four years, but don't get them after that. They leave after internship, for private hospitals or outside. The system must be changed. Previously, everything used to happen locally. Now, everything is being given to those outside. They don't know the language, nor speak to patients. We accepted everything.
Why should this happen? If tomorrow I start Domicile A, Domicile B not there, at least 20 per cent more of our boys and girls will get chance. I will do it. I will get that enacted, I have already said yesterday.
Patients
Giving service to the people is the duty, I am a layman, I understand nothing. I came here and saw an accident case lying, could die any minute, head injury, I felt so bad, four days, that he is still alive and has not bled out, no saline, God's mercy. He is from Bankura, I sent him to Belle Vue. A child, from Purulia, a tumour in his stomach, could burst. No mercy? Seniors want to work, they are not allowing. Today, seniors opened the OPD and distributed over 700 cards. After that, it was shut. Another kid, I sent to a children's hospital.
Amra toh action niyechhi, tomra kyano inaction korchho political purpose ey?
If doctors now start asking, before seeing patients, what is your last name, I will see you then. The fire brigade starts asking for last names before dousing fires. If the army asks for last names and only then allow people to work in the armed forces. The country will cease to exist.
Ei ugro dhormiyo maulo unmadona, sontrasheyr chita jwalachhey kichhu lok eder ushkani diye, we hate it. (This ultra-religious, fundamentalist madness is lighting pyres of terror, some people are provoking them.)
Will do everything
Four days, we tolerated. Nobody can do this in a hospital, a crime…. Those doing it are doing it with the buddhi of outsiders. Let good sense prevail. Let them rejoin work, everything else, I will see.
I have already sent (representatives) twice (to see Paribaha Mukhopadhyay). I do everything that is decent. I have been taking updates time to time. The expenditure at the private hospital, we are bearing. Our secretary went and saw, our minister went and saw, did everything, enough is enough. The patient family was very happy because they are taking all care, he is stable now. He is absolutely okay. He is stable.
Deadline
(Asked if she would meet junior doctors) Aar hobey na. No sir, no sir, please mind it, the behaviour meted out by them today, not fit for doctors. I am sorry. Not all, one section.
We have the ESMA (Essential Services Maintenance Act), especially applicable to hospitals, Supreme Court orders. Doctors cannot strike. All orders will be examined. As per law, the law will take its own course. After 2pm. In every hospital, the way police pickets were there, I will tell them to do it.
Action that remains pending will definitely be taken, from both sides, both sides fought. CCTV. I will have a probe conducted. Why they fought over that incident and why the person died. Whether their information is correct, I have to see. One person complained that one injection was administered and he died. It has to be seen whether that complaint was correct. I will have both sides probed. The probe report, I will make it public.
Protection
Whatever happened, happened, unfortunate, we don't support it, but we are giving all the protection. Now what happened, before this, sometimes when patients die, patient parties get agitated sometimes. We can control 99 per cent, one per cent we cannot control.
Even I appealed to them. Lakhs of people are coming, we give free treatment to the people. Accident cases, cancer cases, kidney dialysis cases, patients get time sometimes after eight nine months, for heart surgery. There are so many. People are looking here and there. I will congratulate the people of this state. Now also they are very peaceful, they are maintaining peace, thank you. But one sided.
(On junior doctors wanting to meet her) They never said to me, I did not get any feeler like this. I wanted to, tried to talk to them day before yesterday. They did not talk to me.
Of course, the BJP is trying to create communal tension, that doctors should not see Muslim patients, doctors should not see other patients, doctors will only see BJP patients.
I am telling you, they have become mad now. The people, some people, I don't know whether they voted or not, but whom are you voting for? They don't allow treatment for the people also. If you see, the fire brigade doesn't go to shut down fires, in the army, so many people died in Pulwama, but did they say at any time that we will not work? They cannot say.
They have killed so many police officials, even in my state. But police never said we will not work. Day before yesterday, the BJP attacked two of my senior officials, serious condition, they never said so.
Peaceful state
Bengal is a peaceful state. It is the Union home ministry. Amit Shah, the party president, he is trying to encourage his cadres to create confusion, communal tension and give good propaganda through Facebook.
They have thousands of crores, they spent thousands of crores during the election. But I am telling you, if junior doctors have a community, public have a much bigger community. If the public agitate, where will they go? I have given time till 2pm, after that there will be action. Some patients are very serious, I have said send them to private hospitals, we have already sent some.