Bengal Polls 2021 | Wish list: Jobs, investment and health care
Young voters of Siliguri share what they want from the new government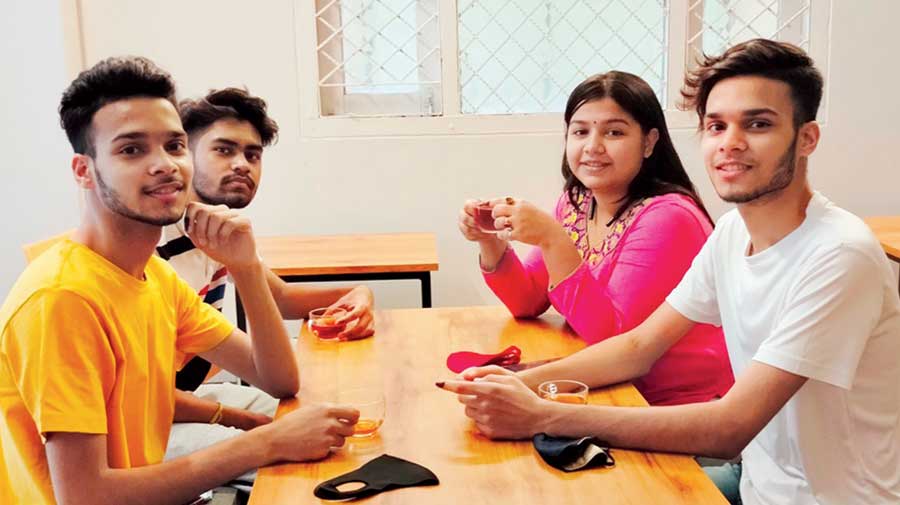 Twins Gourav and Sourav (in yellow and white tees), Dipannita and Subham at a cafe in Siliguri.
Passang Yolmo
---
Published 02.05.21, 01:37 AM
|
---
Voting over, all eyes are now on counting on Sunday for the big reveal. Waiting with bated breath for results are a group of five Siliguri youths, including two first-time voters, who are hoping their votes make a difference in one of the most bitterly contested and high-profile state elections in recent times, that too amid the second wave of the pandemic. 
Twin brothers Sourav and Gourav Sikdar, a BBA graduate and an engineering student, respectively, and both aged 19, Subham Pal Choudhury, 23, and an employee in a private bank, Sanjay Choudhury, 26, who runs a business and Dipannita Sikdar, 23, a postgraduate student of zoology, spoke animatedly over cups of tea on their concerns and their hopes from the new government. The Telegraph tuned in
Sourav: Voting for the first time was a completely new experience. It feels nice to feel my vote would help elect a government.
Gourav (laughs): I was a bit nervous but eventually, all went well. Those at the booth were very helpful. 
Dipannita: Good. But at times, I wonder if those we elect really think of what we, the youths, want from them. Like in Bengal, job opportunities, both in government and private sectors, are lacking for years now. 
Subham: No, not entirely true…. Many private companies in financial and IT sectors have come up. Also, jobs are available in MSME units. In north Bengal, the tourism industry has flourished in thepast one decade with many new jobs.
Sanjay: But what we need is major industrial investments…. Only the MSMEs and service sector won't do. That is why thousands of qualified youths leave Bengal. 
Dipannita (sips tea): Obviously, employment is the most important issue on our minds. We hope first-time voters like Gourav and Sourav have voted logically.
Sourav: True. What worries us in these days that even after an MBA or a BTech degree, the chances of getting good placements in Bengal is tough. One has to move out…. Recruiters don't look beyond certain top-level engineering colleges in Bengal.
Subham: Another issue that hits young earners like us are rising fuel prices. Also, household expenses have increased because of rise in prices of essential commodities, right from grocery items to LPG. The BJP in power at the Centre is silent on these issues and often passes the buck to the states. This is just not done.
Sanjay: I believe the new government in Bengal should also draw up a comprehensive plan to develop health infrastructure… keeping in mind the steady spike in Covid-19 cases. In our city (Siliguri) alone, we are having 250 to 300 cases a day and over 10 deaths. We need a much more robust infrastructure to handle the situation.
Gourav: Right you are. At this point of time, the first priority of the state government should be Covid. In the state, around 17,000 people are getting infected in a day, and in Calcutta and adjoining places, we can perceive the shortage in beds and oxygen supply. Setting up oxygen plants should be done on a war footing.
Dipannita: We cannot afford to have yet another complete lockdown. We have seen the consequences of last year's lockdown when millions lost their jobs. 
Subham: I also feel that the state needs to draw up a proper plan for social welfare schemes….. a lot of government money is spent for such schemes, but some are extended to an economic class which doesn't need them. I have seen families where students ride scooters but have received free bicycles and have sold those… Also, no point in giving free health insurance to affluent families. 
Sourav: Another pertinent issue on which we believe the new government should work is drafting a proper land policy to attract private investments.
Sanjay (nods): Yes. There had been major infrastructure development…but a clear policy on land usage is necessary. Also, equally important is the law and order situation…..we are far better off than a number of other states and it can help us.
Dipannita: This time, widespread violence could be averted during the elections,  but there have been deaths. This must stop. 
Gourav: Also, peace and amity should be preserved in Bengal. People here have never encouraged radicalism and polarisation. We need to stay together and work for Bengal.
Sourav: Agreed. Let's hope the new government works for all, and responsibly, given the pandemic….
Sanjay: I will be glued to the television throughout Sunday for results. 
Dipannita: All we want is, whoever comes to power, should work for all, keeping in focus the young generation that needs education and jobs.