Nothing in BJP poll manifesto on said groups
Bengal polls 2021: Yogi promises 'anti-Romeo squads' if party voted to power
The UP CM bragged that 'posters of rioters' were put up in his state and their properties confiscated, referring to the anti-CAA protests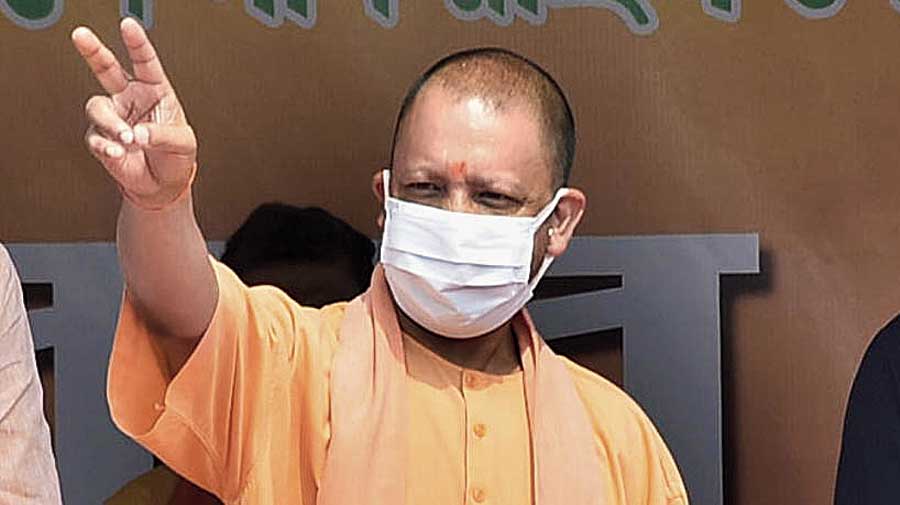 Yogi Adityanath at an election rally in Howrah on Thursday.
PTI
---
Calcutta
|
Published 09.04.21, 01:46 AM
|
---
The BJP takes pride in not naming a candidate for chief minister in Bengal but Uttar Pradesh chief minister Yogi Adityanath is already behaving like Bengal's chief minister-designate, spoiling to impose elements of his cultural nationalism on the state.
Adityanath, who has been flagging his pet themes such as the so-called "love jihad", "illegal" cow slaughter and cattle smuggling on the campaign trail in Bengal, went a step further on Thursday to promise anti-Romeo squads in the eastern state if the BJP was voted to power.
The Uttar Pradesh chief minister bragged that "posters of rioters" were put up in his state and their properties confiscated, referring to the protests against the Citizenship Amendment Act (CAA) in late 2019 and early 2020. If such repressive measures are enforced in Bengal, the consequences can be devastating for a state known for dissent and protest.
"There will be anti-Romeo squads for goons who roam about in front of the schools of sisters and daughters," Adityanath told an election rally in the Champdani Assembly constituency in Hooghly.
The Bengal BJP manifesto does not mention anything about the discredited squad being replicated in the state.
A brainchild of Adityanath, the Anti-Romeo Squad was a wing of the Uttar Pradesh police that was tasked with protecting women but ended up facing allegations of hounding, harassing and extorting money from couples and lovers spending time in parks.
Within two months of its formation in March 2017, the squad had booked more than 200 consenting pairs who were found walking or sitting together. In Lucknow, the squad was accused of harassing a father and his daughter at the gate of a mall.
Tejvir Singh, a sub-inspector who headed one such squad in Rampur, was allegedly caught by some children trying to outrage the modesty of a six-year-old child.
The Uttar Pradesh Anti-Romeo Squad was active for about eight months and then became defunct. In October 2018, Prashant Chaudhary and Sandeep Kumar Rana, two constables who were part of the defunct squad, were arrested for shooting at and killing Vivek Tiwari, an executive of Apple company, at 2am. Tiwari was shot while giving a lift to a female colleague in his SUV before returning home from a late-night party, held to mark the launch of a mobile phone.
A group of women activists had released a joint statement in April 2017 condemning the activities of the squad. "In many cases, these 'anti-Romeo squads' have become an even greater source of harassment and fear for women and men, which has even been acknowledged by the director-general of police, Uttar Pradesh…," the statement read.
According to the National Crime Records Bureau, 59,853 cases of crime against women were reported in Uttar Pradesh in 2019, the highest among all the states.
Adityanath's promise drew outrage and derision in Bengal.
Bratya Basu, minister and Trinamul Congress spokesperson, minced no words: "He is more of a fool, one you would find in a Shakespearean play. Such squads are just not possible in a civil society. They remind one of the Nazi troops."
Kaninika Ghosh (Bose), CPM women's wing leader, wanted to remind Adityanath of the "ill fate" of women in Uttar Pradesh.
"This man should just be the RSS poster boy and take care of his state first. His state ranks first on the list of crimes against women. One can't just say anything one wants to in Bengal," Kaninika said.
She added that in future, there would be "anti-RSS squads" in Bengal.
Adityanath took a jibe at Mamata Banerjee over the anti-CAA protests in the state. He said Trinamul workers supported the anti-CAA protests since Mamata considered the protesters her vote bank.
"In UP, posters of the rioters were put up and their property confiscated," the chief minister boasted, referring to a controversial crackdown that ran into allegations of torture during the height of the protests against the citizenship regime.
In his first public meeting in poll-bound Bengal in early March, Adityanath had said that cow slaughter and "love jihad" had increased in Bengal because of the Trinamul Congress's indulgence in appeasement politics.
"Incidents of love jihad are taking place in the state through fraud and deceit. There is a law against love jihad in Uttar Pradesh. But in West Bengal, where the state government is indulging in the politics of appeasement, it's neither curbing cattle smuggling nor the dangerous incidents of love jihad," Adityanath had said.