CM seeks to shred Modi-Shah's tactic to demoralise TMC
'Lovely dada' has a habit of going wrong: Mamata counters Shah
The Union home minister has been playing the psephologist, reeling off estimated seats his party would get after each phase of polling is over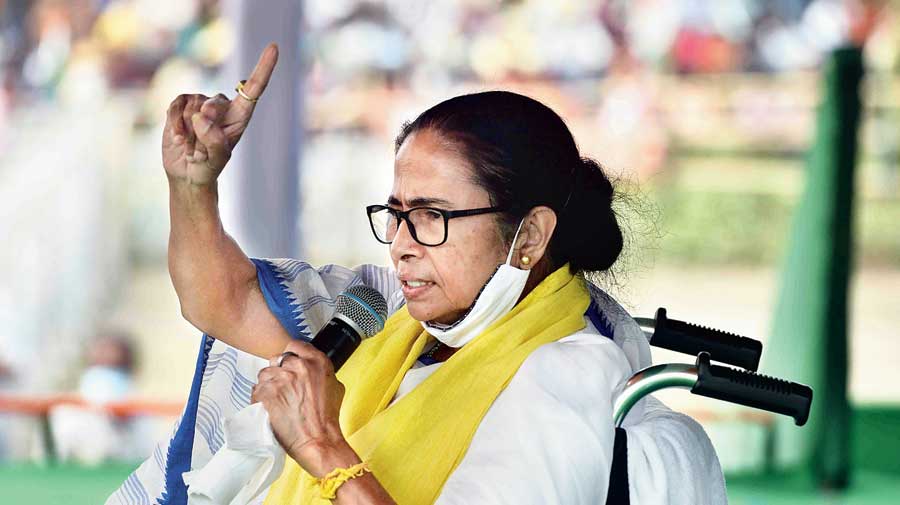 ---
|
Calcutta
|
Published 08.04.21, 02:12 AM
---
Mamata Banerjee on Wednesday sought to shred the tactic of Narendra Modi and Amit Shah to talk up the chances of the BJP and demoralise the Trinamul Congress by relentlessly claiming to have spotted signs of defeat in her.
Modi has been splitting hairs on Mamata's speeches instead of focusing on telling voters in Bengal how a BJP government would be different — considering many turncoats are among its candidates — and what such an administration would do differently.
Shah has been playing the psephologist, reeling off estimated seats his party would get after each phase of polling is over. On Wednesday, Shah forecast "63 to 68 seats" for the BJP in the 91 of Bengal's 294 Assembly seats that have gone to the polls so far.
In the evening, addressing a rally in Jadavpur, Mamata brought up the Union home minister's claim. She said the "lovely dada" had a habit of going wrong with his poll predictions and asserted that this time would be no different.
"That duopoly (Shah and Modi), that syndicate that tries to control the whole nation… the second one, the lovely dada (Shah) said here today that they would win 68 of the 91 seats…. Why so few? Why not 91, why not more than 91?" asked Mamata.
She then read out from her phone a list of "misses" by the Union home minister.
⦾ Bihar, 2015. "He had said they were getting a majority alone. They got 53 (out of 243) seats…."
⦾ Delhi, 2015. "He had claimed they were getting the majority, and got three (out of 70) seats.
⦾ Delhi, 2020. "He had claimed a massive majority, and got eight out of 70."
Amid loud cheers from the audience of thousands, Mamata continued.
⦾ Rajasthan, 2018. "He had said his party would get the majority. It got 73 (out of 199) seats….
⦾ Madhya Pradesh, 2018. He had said his party would get two-thirds majority. It did not cross the halfway mark (out of 231 seats)….
⦾ Chhattisgarh, 2018. "He had said they would get 65 (out of 81) seats. They got 15….
⦾ Jharkhand, 2019. "He had claimed full majority. His party won 25 out of the 81 seats….
⦾ Maharashtra, 2019. "He claimed two-thirds (of the 288 seats). They got barely a third."
In the Lok Sabha polls, Shah's forecast of 22 seats in Bengal for the BJP had more or less come true.
Sources in her party said Mamata's elaborate effort to discredit Shah's prediction was not only in order to keep it from damaging her party's chances in the crucial five phases that remain but also to contest the saffron ecosystem's attempts to peddle the perception that the battle for Bengal was already over with the BJP having won it.
"What Didi did from that dais today was vital for the morale of the rank and file, besides the supporters, going forward. There is still everything left to play for. There is a very clear path to victory for us. We cannot let shoulders droop right now," said a Trinamul source.
Mamata said she was in favour of civility and decency.
"So I am not going to make similarly absurd claims in response (to Shah)…. I am going to give a far more pragmatic assessment," said the Trinamul chief.
"They (the BJP) might get 25 to 30 of those (91 seats)… the rest (61) going our way. Those phases were in places where they had made gains in the Lok Sabha polls, won parliamentary seats there," she added, "But we haven't been sitting idle. Some of those gains we have already reversed."
In her address, the chief minister kept warning against the mistake of trusting the BJP, asserting that the Modi-Shah regime was worse than that of many a historical tyrant.
"Forget Donald Trump… more dangerous than (Adolf) Hitler. More dangerous than (Nicolae) Ceausescu…. Grave danger, 440 volts of fatal shock," Mamata said.