Bengal polls 2021: Urban bastion that has voted Trinamul and resisted BJP
The assortment includes areas such as Bhangar and Budge Budge in South 24-Parganas and Jadavpur and Tollygunge in the core of Calcutta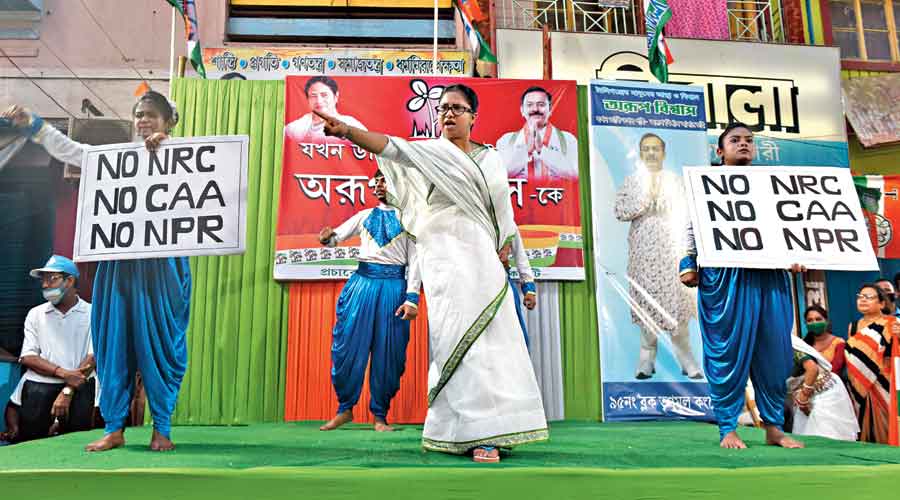 ---
|
Calcutta
|
Published 10.04.21, 12:06 AM
---
The Trinamul Congress is looking at 11 diverse seats in Calcutta and South 24-Parganas that vote on Saturday to boost its chances in the Assembly elections, the party's citadel having staved off the BJP even during its 2019 high noon.
The assortment of urban seats includes areas such as Bhangar and Budge Budge in South 24-Parganas and Jadavpur and Tollygunge in the core of Calcutta.
The 11 Assembly seats are part of three Lok Sabha constituencies — Jadavpur, Calcutta South and Diamond Harbour — that have, for years, been Trinamul bastions. Many key leaders of the party, including chief minister Mamata Banerjee, live in this area.
"It is a really diverse, cosmopolitan set, with one thing in common — support for us and opposition to the BJP and its polarisation tactics. That is unlikely to change," said Trinamul vice-president Saugata Roy, referring to the Sonarpur South, Sonarpur North, Bhangar, Jadavpur, Tollygunge, Kasba, Behala East, Behala West, Maheshtala, Budge Budge and Metiabruz Assembly seats.
Trinamul had in 2016 won 10 of the 11 seats, with the Left, aided by the Congress, having bagged Jadavpur. The challenge for the ruling party this time is to ensure it is able to hold sway over this cluster of strength. Even in 2019, when a saffron surge had swept the country and the BJP had pocketed an unprecedented 18 seats in Bengal, the party had not been able to penetrate this Trinamul bastion.
"Unless something goes horribly wrong, like a massive pro-BJP wave that we do not foresee, the BJP will be a distant third in all 11 constituencies, with the Sanyukta Morcha candidates coming second," said a senior Trinamul Rajya Sabha member, preferring anonymity.
"The BJP is dead scared of the drubbing it is likely to receive in all 31 seats in South 24-Paraganas. Voting here has been split into an unprecedented three phases, which allows ample time to heavyweights such as Narendra Modi and Amit Shah to campaign extensively," he added.
In the 2019 Lok Sabha polls, Trinamul had enjoyed handsome leads in all 11 Assembly segments, wresting the advantage back from the Left in Jadavpur.
A Bengal BJP source said on the condition of anonymity that his party expected no miracles from these 11 seats.
"Six of them have a substantial minority population…. In four-five others, there is a concentration of the urban elite, the intellectuals and the liberals who will still vote for anybody but us," he said.
"Despite that, maybe we can scrape through with Babul Supriyo in Tollygunge (pitted against incumbent Aroop Biswas). Indranil Khan might put up a good fight in Kasba (against incumbent Javed Khan). The two actors (Srabanti Chatterjee in Behala West and Payal Sarkar in Behala East) are a gamble," added the state unit functionary.
He conceded that the BJP did not have high hopes from South 24-Parganas as a whole, either.
"In the absence of a wave, which nobody can accurately predict, we will not be able to considerably dent Trinamul in South 24-Parganas. North 24-Parganas, where we secured leads in 11 (out of 33 Assembly segments) in 2019 and made considerable gains since, will be a much better story for us," the BJP leader said.
The third key player in the contest, perhaps more important than the BJP in these 11 seats, is the Left-Congress-ISF Sanyukta Morcha, which has set its sights on "at least three" constituencies.
"We are certainly winning Jadavpur and Bhangar. We are quite confident about Kasba as well. Don't rule us out in Budge Budge and Metiabruz," said a CPM state secretariat member.
"That's a pragmatic view. The official view would be we are winning all 11," he added.