Bengal polls 2021: Trinamul betters north tally vis-a-vis 2019 Lok Sabha result
TMC secured a majority in South Dinajpur, North Dinajpur and Malda, while the BJP retained its support in Cooch Behar, Alipurduar, Jalpaiguri and Darjeeling districts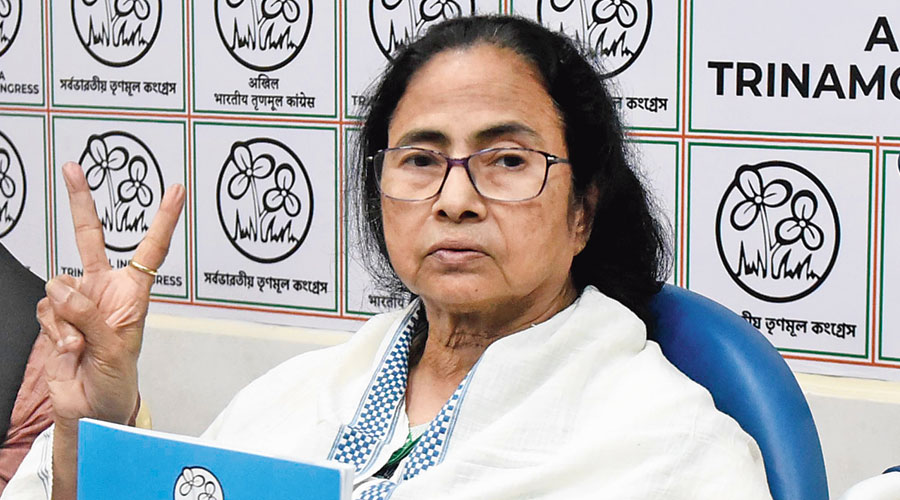 ---
Siliguri
|
Published 03.05.21, 01:39 AM
|
---
Mamata Banerjee indeed played a "speed breaker Didi" and could halt the saffron camp's chariot in north Bengal to a considerable extent, if not totally, and brought down the BJP's tally vis-à-vis the party's performance in the 2019 Lok Sabha polls and simultaneously made a clean sweep in three minority-dominated districts.
Prime Minister Narendra Modi had at a public rally here ahead of the last general election used the term "speed breaker" for Mamata to drive home the point that the Bengal chief minister was impeding the state's development.
"This adjective seems to be apt now….. Didi could stop the chariot of Narendra Modi and his coterie, even in north Bengal. We could erode its support base in three districts and increase the number of seats as compared to our leads in the Assembly segments in 2019," said Hemanta Sharma, a district coordinator of Trinamul in Malda.
In 2016, Trinamul had won 23 of 54 seats in north Bengal. Sixteen seats went to the Congress and the Left got nine MLAs. The BJP won from two segments, while the remaining four seats went to others.
In the 2019 Lok Sabha polls, the BJP won seven of eight Parliament seats in north Bengal and the party managed lead in 37 Assembly segments, followed by Trinamul in 13 and the Congress in four.
In the Assembly poll results announced on Sunday, the BJP retained its support in Cooch Behar, Alipurduar, Jalpaiguri and Darjeeling districts. "Trinamul, however, secured a majority in South Dinajpur, North Dinajpur and Malda, where it could not perform well in the 2016 Assembly polls and the 2019 Lok Sabha elections. This is where Trinamul managed to thwart the BJP from waving saffron flags all across north Bengal," said a political observer.
This time, the BJP won 30 seats, which include only eight of 27 seats in three districts where Trinamul made inroads. Altogether, Trinamul could win 23 seats, which is the same number of its 2016 results and almost double as compared to the number of Assembly segments where it could secure a lead in the 2019 Lok Sabha polls. Trinamul's ally won one hill seat this time.
Additional reporting by Soumya De Sarkar in Malda and Anirban Choudhury in Alipurduar