Bengal Elections 2021: TMC launches Rajbanshi vote song
Vote-er Gaan will be circulated in all districts of north Bengal and played in local markets, prominent crossings and popular locations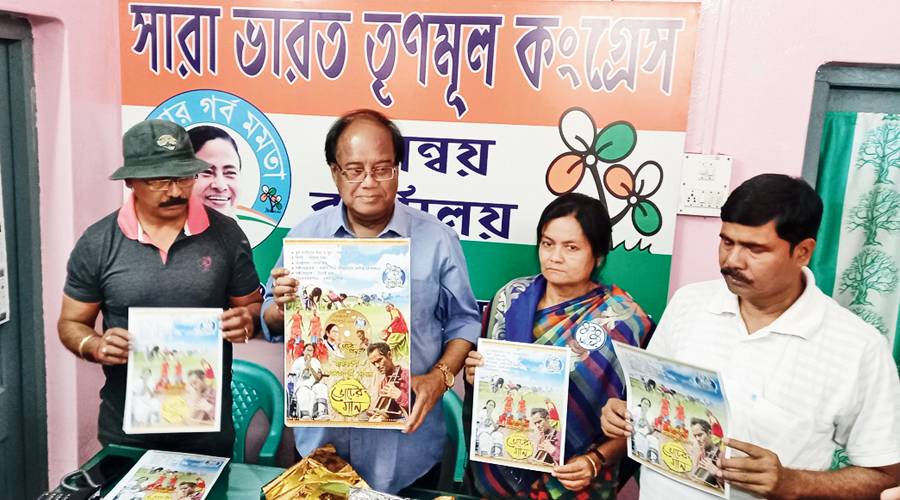 ---
---
District Trinamul leaders of Jalpaiguri released the Rajbanshi version of Vote-er Gaan (vote song), a song launched by the party across the state during the ongoing Assembly elections, here on Thursday.
Since the start of Trinamul's election campaign, party youth leader Debangshu Bhattacharya composed a Bengali song with the popular phrase "Khela Hobe" that has been picked up by party leaders, including Trinamul supremo Mamata Banerjee.
As the song was played throughout Bengal during Trinamul's campaign, Trinamul leaders of Jalpaiguri took the initiative to get it translated in Rajbanshi language to reach out to voters in the Rajbanshi-dominated belts of north Bengal where the community influences poll results in around half of the 54 Assembly seats.
The party roped in Parimal Burman, a Rajbanshi singer based in Mathabhanga of Cooch Behar and Tapan Roy, a known musician of the community from Dhupguri, and readied the two-minute-38-second-long song.
P.K. Barma, the Trinamul candidate of Jalpaiguri, along with some other party leaders, published the Rajbanshi version of the song.
"The song gives a message to voters of the state and speaks about development schemes initiated by the state government. We believe this song will be an effective campaign tool as we reach out to people, particularly the Rajbanshis," said Barma.
Vote-er Gaan will be circulated in all districts of north Bengal and played in local markets, prominent crossings and popular locations, said party sources.
Chandan Bhowmik, a district coordinator of Trinamul in Jalpaiguri who had taken the initiative, said they are getting the song translated and recorded in Nepali and Hindi languages.
"Gorkhas, tribals and different other communities dwell in Jalpaiguri district and in north Bengal as a whole. That is why we have planned to come up with different versions of the song so that voters can easily understand our message," said Bhowmik.