"Amar ma-bonera bolun, khela hobe toh (Tell me my mothers and sisters, is the game on?)"
Mamata Banerjee has been concluding almost all her campaign speeches with this question. The response invariably has been overwhelming, with the women in the audience responding enthusiastically: "Hyan Didi (yes, Didi)."
Trinamul poll strategists think that if the majority of women in Bengal respond to Mamata the way those attending her rallies have been, a third term as chief minister is certain.
The pulse of the people can be gauged from election rallies. However, there is a flip side. Such events are usually attended by people favourably disposed towards a political party and so the mood of the rally may not be the general mood of the electorate.
Although Trinamul's hypothesis, based on women's reaction at Mamata's rallies, may be inexact, the premise that women could be the deciding factor in the Bengal polls is logical.
Of Bengal's 7,32,94,980 voters, 3,59,27,084, or 49 per cent, are women. So, if women decisively favour a party, there is little doubt that it would have an edge over its rivals.
After the first three phases of the eight-leg elections, there is a general feeling in the Trinamul camp that a large section of women voters have sided with the party. In Nandigram, where the polls took place in a polarised environment, there were reports that scores of women voted for Mamata even as the male members of the family voted for the BJP's Suvendu Adhikari.
A political observer said Trinamul had multiple reasons to believe that women were with the party.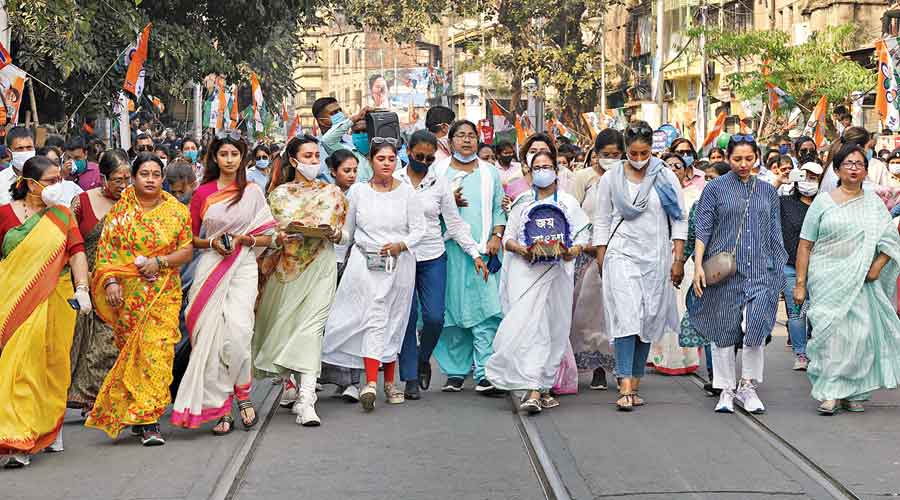 Mamata Banerjee leads a rally in Calcutta on International Women's Day on March 8 Telegraph picture
"First, the Trinamul-led government has launched several schemes for women and girls since 2012. Now it is time for the party to reap the dividends. Second, women tend to have an emotional attachment with Mamata, with the party successfully projecting her as the only woman chief minister in the country, whom BJP heavyweights are trying to bully," the observer said.
Prime Minister Narendra Modi's tone while referring to Mamata on campaign trail has been widely construed as being insulting and verging on harassment.
The foundation of the Trinamul government's women-centric schemes was laid in 2012 when the Kanyashree programme was launched.
Initially, all girl students aged between 13 and 18 years were being given Rs 500 annually to continue their studies. On attaining the age of 18, girls received a one-time grant of Rs 25,000.
"The amount has now been increased to Rs 1,000 annually. An annual grant of Rs 500 nine years ago had helped many girls in rural areas to continue their studies, defying pressure of early marriage. In the past nine years at least 15 lakh girls have benefited from the scheme and many of them have become voters now. Naturally, they will be sympathetic towards the chief minister," said a recently retired bureaucrat.
According to ballpark calculations, around 34 lakh girls have received or continue to receive Kanyashree benefits. At least 15 lakh of them have got the one-time grant of Rs 25,000, which helped them get admission in colleges.
Not only Kanyashree, free bicycles for students of Classes IX to XII have also been of immense help.
"In rural areas, parents often hesitate to give bicycles to girls. The scheme helped the girls to continue their studies, riding cycles to schools and colleges. At least 20 lakh girls have benefited from the scheme and the majority of them have become voters now," an official said.
Another "masterstroke", the official said, was the move to issue Swasthya Sathi cards in the name of the senior-most woman member of the family. The health insurance scheme provides free treatment up to Rs 5 lakh per family.
"This card gave a sense of recognition to women, especially rural women," said another official.
Trinamul's manifesto has promised to give Rs 500 to the matriarch of every family and Rs 1,000 to Scheduled Caste and Scheduled Tribe women every month.
"See, nobody thought about us this way. The amount (Rs 500 or Rs 1,000) is not that big at a time when the prices of essential commodities have gone up sharply. But it can help us fulfil our simple needs without asking for money from our husbands or sons," said Ratna Saha, a 58-year-old homemaker in Birbhum's Mallarpur.
The fact that Mamata has endeared herself to women voters became clear when the BJP also promised a slew of benefits for women in its manifesto. It has pledged free access to public transport to all women, free education for girls up to post-graduation level and 33 per cent reservation in government jobs for women.
Sections of women, particularly the educated and job aspirants, have found these promises encouraging.
"If this happens, it would be very good for women. We speak of equality, but we don't practise it. As girls face several barriers since they start going to school, reservation in jobs is what women need. I must say the proposal of job reservation for girls is a positive mindset," said Sikha Das, an economics graduate in Behala.
Political observers said the BJP's promises had drawn the attention of women in urban and semi-urban areas, but many think the proof lies in delivery.
The BJP, an observer said, has not appeared to be a woman-friendly party. Besides, the condition of women in several BJP-ruled states and the rising crimes against women have failed to evoke much confidence among the electorate in Bengal.
"In contrast, Mamata's schemes have benefited crores of women in the rural areas. It is said that success in Assembly polls mainly depend on what parties do in the rural areas. It appears that Trinamul has endeared itself to women in rural areas and that might help Mamata," the observer said.
A Left academic, however, disagreed with the narrative that women were aligning with Mamata.
"The BJP has managed to polarise the voters along religious lines.… When such polarisation takes place, it is difficult for women, especially those in rural areas, to defy the male members' diktat on whom to vote. Trinamul may be satisfied with the narrative that beneficiaries of women-centric schemes are voting for them, but the reality may be different," the academic said.