A group of eight women came out of the Khordda-Kanpur Primary School, a polling booth in Hooghly's Goghat constituency, around 2.30pm on Tuesday after casting their votes and had a brief conversation with a man standing around 150 meters away from the booth.
Syed Ashik Hossain, 30, a local Trinamul leader, seemed happy following the conversation and bid them a bye with a smiling face and the women left for their homes.
"Have all women voters already turned up?" Hossain then asked Trinamul colleague Bappadittya Roy.
Bappadittya, who was manning the party's camp office, pored over a list in front of him to count while murmuring that the length of the women's queue outside the booth was longer than the men's since morning.
"I saw 25-odd women in the queue still waiting... After that, 100-odd left. I think the trend is okay," Hossain said after Bappadittya handed him over a list that had a status report on women voting at the booth.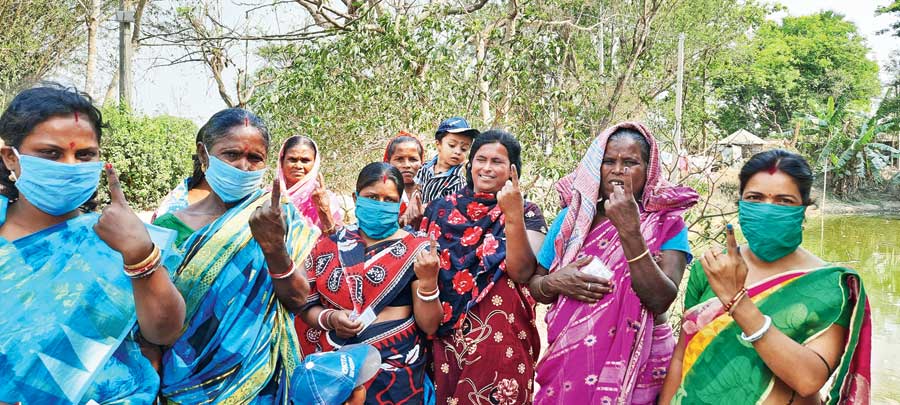 The eight women after casting votes at a booth at Khordda-Kanpur Primary School on Tuesday.
The duo then told this correspondent how they had adopted a strategy to ensure that all women voters in the booth cast their votes before 3pm. With their mission almost accomplished before the deadline, they seemed relieved as they took a tea break.
Archana Dhara, one of the eight women who were seen talking to Hossain, said she scurried to reach the booth as she had plans to be there by 12.30pm, but domestic chores got her delayed.
"I don't know about politics... I know there are a lot of problems with local leaders of Trinamul. But I can't stop supporting Didi," said Dhara, in her mid-twenties, while adding her family had been beneficiaries of Kanyashree and Rupashree projects.
According to her, while Rupashree helped her father organise her marriage with the Rs 25,000 grant, her sister's plan of studying beyond Class XII was aided by Kanyashree, which gave her Rs 1,000 annually and Rs 25,000 after she turned 18.
The booth where Dhara cast her votes has 1,255 voters, including 615 women.When the voting ended, 1107 votes were cast, out of which 540 were women, which means 48.7 per cent of the total votes were cast by women.
"This percentage is relatively high," said a poll official.
The queue of women was longer than male voters at many booths in districts like Hooghly, Howrah and South 24-Parganas, where 31 constituencies went to the polls on Tuesday.
At 9.30am, a booth in Suboypur of Arambagh had around 45 women while there were nine men in the queue.
Although the gender-wise break-up of voters was not available, Trinamul leaders claimed women had came out to vote in droves and the percentage was as high as over 48 per cent, which gave them a reason to be happy.
Halima Molla, who had to queue up for around 40 minutes under the scorching sun at her booth at Lalpur Primary School in Raidighi, said she was there to vote for Mamata. "As a woman, I think every woman would like to have a daughter like Mamata... She is so helpful, but also courageous," said Halima.