Bengal Assembly Polls 2021: Pre-Puja cash for farmers, says Modi
Prime Minister also asked govt officials to start listing eligible people so that the money could be disbursed immediately after the poll results are announced on May 2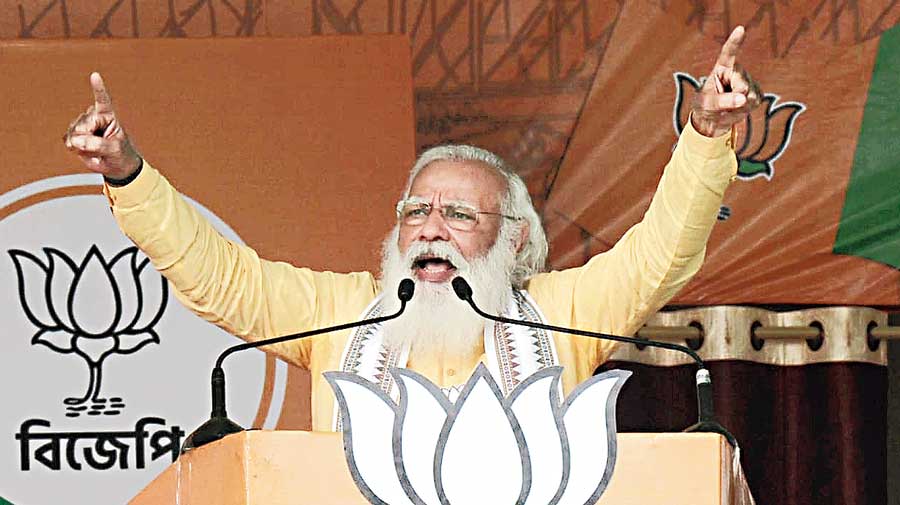 Modi speaks at Haripal on Saturday.
Amit Kumar Karmakar
---
Calcutta
|
Published 04.04.21, 12:46 AM
|
---
Prime Minister Narendra Modi on Saturday tried to reach out to farmers in Bengal with the promise that if the BJP was voted to power, the funds of the PM Kisan Samman Nidhi Yojana would be transferred to their accounts before Durga Puja.
Modi, speaking at a poll rally in the agrarian hub of Hooghly's Haripal, also asked government officials to start listing eligible farmers so that the money could be disbursed immediately after the poll results are announced on May 2.
"…When Bengal's BJP chief minister, Bengal's BJP government will take oath, I'll surely attend that ceremony. I'll come and tell the new chief minister that brother, I have to send this money from Delhi, please implement this fast in the first cabinet (meeting)…. And listen, every farmer of Bengal… will be getting the total arrears of Rs 18,000 in his bank account…. I'll say that before Durga Puja the money should reach the accounts of every farmer," Modi said.
At a rally in Haldia in East Midnapore in February, Modi had said that if the BJP wrested power in Bengal, the new government would implement PM Kisan in the first cabinet meeting and clear arrears of three years. On Saturday, he went a step ahead by setting a Durga Puja deadline.
The central scheme of providing Rs 6,000 annually to farmers was a point of conflict between the Union and state governments as the latter had refused to implement it initially, saying it had a similar scheme. Later, the state government asked the Centre to route the money through it, a plea Delhi rejected.
Modi's announcement served two purposes, state BJP sources said. First, the Prime Minister was in farmer-dominated Hooghly to win their trust at a time when peasants across the country are up against the Centre over the three contentious farm laws. Second, Modi and his party colleagues Amit Shah and J.P. Nadda are trying to create a perception that the BJP's victory is certain in Bengal. "If the PM refers to things like first cabinet meeting and disbursement of funds before Puja, the message that we have won is strongly communicated to our workers. Equally, we hope this demoralises Trinamul workers," a state BJP office-bearer said.
On the plight of farmers, Modi referred to Singur too. "...After using Singur for political gain, these people left it in darkness. Today, Singur neither has any industry, nor enough jobs and farmers are fed up with middlemen."
The Prime Minister addressed rallies in Haripal and Sonarpur on Saturday, and in both claimed that Mamata Banerjee's would lose in Nandigram. "What the results will be on May 2, Nandigram has given a glimpse…," he said in Haripal.
In Sonarpur, he said he had heard that "some intelligent people still left in Trinamul" had advised Mamata against contesting from a second seat, implying she would lose in both. "Didi, if you lose in both seats in Bengal, Trinamul's future as a political party in Bengal will be jeopardised," Modi said.
He also took a jibe at Trinamul MP Mahua Moitra who had tweeted that Mamata would contest from Varanasi — Modi's parliamentary constituency.
He didn't name Moitra, but said the decision meant two things — that Mamata had accepted defeat and was trying to look for some place outside Bengal. People of Varanasi will not call her an "outsider", he said.
Modi also dismissed Mamata's allegation that the BJP paid people to attend their rallies, saying Bengal's people "can't be bought".
Uttar Pradesh chief minister Yogi Adityanath addressed an almost-empty rally in South 24-Parganas' Falta on Saturday. BJP sources said almost all supporters of the district had gone to attend Modi's rally.
"It is not possible to arrange a lot of people for two big rallies in the same district on the same day," a district leader said.