Bengal Polls 2021: 'Outsiders' take boat rides to booth
With its present still moored firmly in its past of having had only '13 homes', which is what Teroghawr literally means, the village is still home to those 13 families who have less than 80 members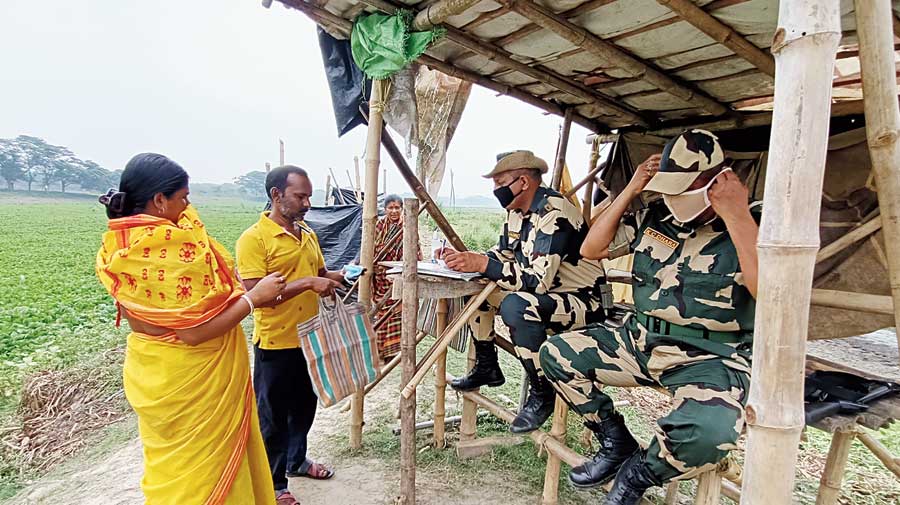 Residents of Teroghawr do the paperwork, which is a part of their daily routine after reaching the Indian mainland, and Teroghawr villager Uday Sarkar
Arkamoy Datta Majumdar
---
Bongaon
|
Published 23.04.21, 01:48 AM
|
---
At age 85, Narayan Halder looked weary as he got off his second consecutive boat ride across the river Ichhamati onto mainland India near Petrapole on Thursday morning.
Halder, despite his age and the raging second wave of the pandemic, chose to take two boat rides from his home in Teroghawr village to the Indian mainland to cast his vote. Even though he is someone used to being an underwhelmed participant of a repetitive process and has lived a life without witnessing much political action around him.
But Halder, one of less than 70 eligible voters in his village — officially a part of Bongaon's Trinamul-run Chhawghoria panchayat — certainly realises the irony of his fate.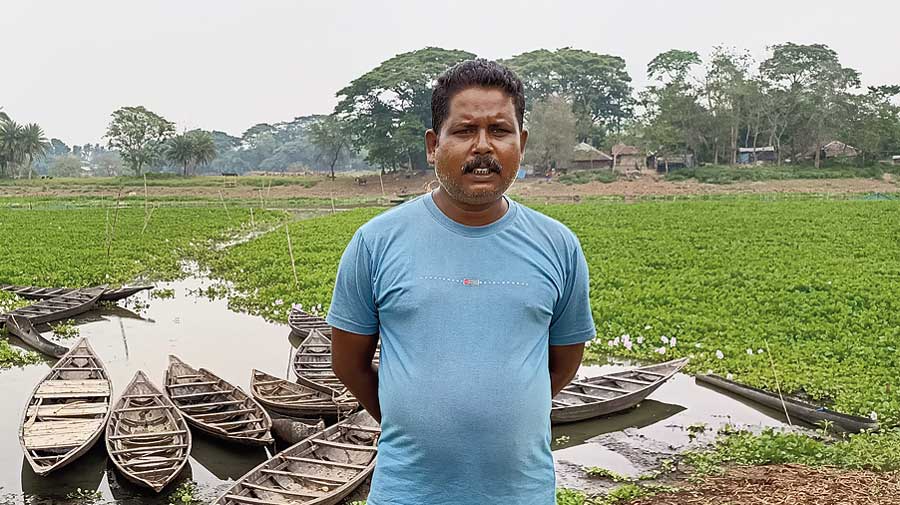 "Our lives are beholden to the Border Security Force outpost, really," he said pointing to his right just as a BSF jawan got off his outpost to adjust the octogenarian's mask for a tighter fit.
"You are going into the city now, you have to be careful," the BSF officer sternly told the silent but bemused Halder.
With its present still moored firmly in its past of having had only "13 homes", which is what Teroghawr literally means, the village is still home to those 13 families who have less than 80 members between them today.
During partition in 1947, they were designated to Indian territory, even though the Hindu-majority village, lying on a narrow strip of land crisscrossed by the river, is surrounded by Bangladesh on three sides.
Residents here, one year into the pandemic, are not deeply invested in the political discourse gripping the country. Their only acquaintance with the virus has been through the cell phone on which Teroghawr happens to enjoy cellular data coverage and the occasional sensitisation drives undertaken by the BSF and local panchayat.
"We are aware of the citizenship legislation, but we don't have very strong views on it. Our ancestors have been here for over a century and we have paperwork going back decades," said Uday Sarkar, another resident, admitting that they did enjoy the "solitude" the village enjoyed "by virtue of insignificance".
Sarkar added that people like him did not believe that there would be much change even if they get a certificate of citizenship. "We shall still remain outsiders in our own land," he said.
Ironically, at a time when both Trinamul and BJP — the saffron camp has parachuted almost all its central leaders to Bengal for campaigning — are desperately wooing the electorate, not a single candidate has stepped foot here in Teroghawr.
"We are voters of Bongaon North but there has not been any campaign in our locality, because we don't have many votes to offer," said Sarkar.
Echoing his octogenarian neighbour, Sarkar admitted that the BSF was the "only force of authority" in the lives of this village, neighboured by an even smaller village called Doghawria to the south.
"The downside is that we live like outsiders. Every time we come to the mainland, we have to leave our IDs with the BSF when we enter, and so do our guests when they come to our village," said Doghawria resident Biswajit Halder pensively.
However, he acknowledges paperwork was a small price to pay in comparison to being delisted in the NRC like in Assam. "I've heard that about 14 lakh Bengalis have been declared non-Indians in Assam," Biswajit said.
The BJP's 2019 citizenship thrust plays an outsized role in the psyche of the people in Assam and the Matuas, a community that dominates the electorate in Bongaon, as the fallout of the BJP's Lok Sabha victory in 2019. In 2021 Bengal, the issue continues to polarise certain communities amid the ongoing state polls.
A few days ago a panchayat member had come into these two villages to distribute booth slips, residents recall.
"Other than that, we really have nothing to do with political parties or with the government. We really only interact with the BSF. I voted as a civic duty though, because I don't have much to complain about," said octogenarian Halder, about to board a fishing boat to make the 20-minute journey back home from the mainland.
The relationship between the BSF and the villagers is respectful but distant at best.
"I think they realise we don't encounter too much red tape on a daily basis, so they make up for it at times by harassing us when we come home with too many groceries," joked Biswajit. "But they always let us go," he added as an afterthought.