'A wounded tigress is at her most dangerous'
Mamata Banerjee discharged from SSKM Hospital after 46 hours
A source said she was itching to get cracking and would be campaigning at full throttle from next week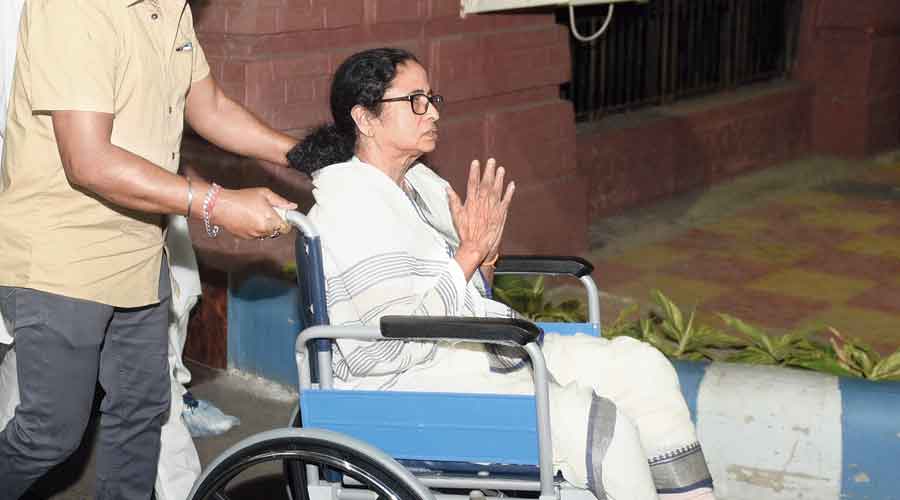 Mamata Banerjee being wheeled out of SSKM Hospital on Friday
Telegraph picture
---
Calcutta
|
Published 13.03.21, 01:58 AM
|
---
A wheelchair-bound Mamata Banerjee emerged from SSKM Hospital on Friday evening after about 46 hours under medical supervision, the sight perking up her party which had been battling nerves since her injury on Wednesday.
As the chief minister's personal security guards lifted her to the front seat of a hatchback, and the car set off for her Harish Chatterjee Street home, Trinamul leaders' relief was palpable.
"Didi's injury had halted all our political activities. Now that she is out of hospital, everything will pick up pace," a source close to the chief minister said.
Although Mamata has termed it a "soft and smiley election", Trinamul knows it faces the fight of its life, pitted against the might of the Centre and its multiple agencies, with its 66-year-old leader its sole beacon of hope.
So, when Mamata had to withdraw herself from campaigning after injuring her left foot, left arm and head during an outreach programme in Nandigram on Wednesday, a pall had descended on Bengal's ruling party.
Trinamul leaders feared it meant the end of their plan to answer the BJP's campaign blitzkrieg — to be led by Prime Minister Narendra Modi, home minister Amit Shah and a battery of other Union ministers — with 200-plus rallies by Mamata.
On Friday evening, the mood seemed to be lifting as word spread that Mamata, her left foot in a plaster cast, would resume electioneering from Sunday.
"We are all waiting for Didi's campaign to pick up. The moment it gathers momentum in south Bengal, we'll start reaping the benefit in north Bengal too," a senior Trinamul leader from north Bengal, who had come to Calcutta for a day to meet Mamata, said.
He couldn't meet the chief minister. But as he left SSKM Hospital to catch his train back home, the knowledge that his leader would be discharged in the evening had put a smile on his face.
Sources close to Mamata said that all through her time at her Woodburn Ward cabin, she had been acutely conscious that her party was holding its breath, waiting to hear when she might be able to hit the campaign trail again.
So, she overruled the doctors when they advised at least another 48 hours' stay, and got herself discharged by promising not to exert her injured leg.
As Mamata left the hospital, hands folded, she appeared frail and in pain. For once, she didn't wave to the assembled journalists as her car drove away, with her nephew and MP Abhishek Banerjee and party colleague Firhad Hakim in the back seat.
She hadn't lost her feistiness, though. A source close to her said Mamata had swatted away the suggestion that she return home in an ambulance.
"I can't," she apparently said, implying she couldn't be seen in an ambulance in the countdown to such a crucial election.
She hasn't any time to lose, with the BJP set to up the ante with Shah's arrival on Sunday, followed by three visits by Modi next week.
Sources said Mamata had been on the job even when she lay in her hospital bed, working through the pain.
It was from the hospital that she decided to reschedule the release of the party's poll manifesto on Sunday, coinciding with Nandigram Dibas, the day 14 people died in police firing in 2007 — one of the key events that catapulted her to power in 2011. The originally planned release on Thursday had to be put off because of her injury.
"She is the candidate from Nandigram, and so releasing the manifesto on March 14 is significant," a party source said.
"The manifesto will contain a separate set of promises for Nandigram, which will define her development narrative against BJP nominee Suvendu Adhikari."
A source said Mamata was itching to get cracking and would be campaigning at full throttle from next week.
"This weekend's programmes in Purulia, Bankura and Jhargram had to be postponed because of her injury. She will hold all the programmes as planned from Monday. The district leaders have been informed," he said.
Bengal will, however, see a different Mamata on the campaign trail — one confined to a wheelchair instead of rushing to meet the crowds or pacing up and down the dais with a cordless mike.
Trinamul leaders hope that the visuals of an injured Mamata would benefit the party at the booths.
"A wounded tigress is at her most dangerous. Wait for the results," a party insider said.