At mahapanchayat in Calcutta, a postgraduate student articulates fears swirling around her father's farm
Calls of Kisan Ekta Zindabad from the dais were echoed loudly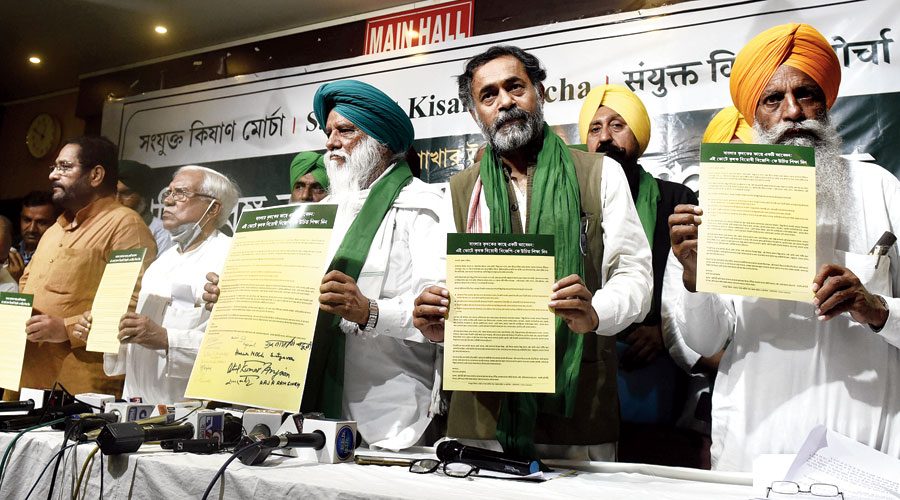 Among the leaders who took part in the mahapanchayat were Yogendra Yadav, a farm union leader and leader of Swaraj India, Samyukta Kisan Morcha leaders Balbir Singh Rajewal and Hannan Mollah and social activist Medha Patkar, among others.
Pictures by Sanat Kr Sinha
---
Calcutta
|
Published 13.03.21, 12:38 AM
|
---
Mahuya Chowdhury's father had a low but secure income from farming but the postgraduate student of English cannot tell how long that will prevail if the three farm laws enacted by the Centre, and opposed by hundreds of farmer unions, are implemented.
Mahuya's father's income from the farmlands bore the cost of her education. Mahuya has a younger sister who is in Class IV and whose education is a priority for the family.
On Friday, Mahuya was at the Ramlila Park in Moulali to lend support to the farmers' movement when several farmer leaders from Punjab who had been camping at Delhi's borders demanding the repeal of three laws came there to address a mahapanchayat.
"My father had to sell one quintal rice for Rs 1,200 a couple of months ago. The farmers never got a good price. But they enjoyed the independence to grow the crop of their choice. They could plan how to run the family. It is from my father's income that the cost of my education was borne," said the student of West Bengal State University. 
"If the new laws are implemented, the farmers will be dictated by a few corporate oligarchs. Farmers will not get the real value. There will be a few corporates as buyers and they will shoot down the prices. Farmers will be destroyed," Mahuya, a resident of North 24-Parganas' Bagda, said.
Mahuya apprehended that the government will reduce procurement from farmers and make mandis non-functional with time, effectively leaving farmers with no choice other than selling to a few corporate oligarchs who will then determine the prices of produce.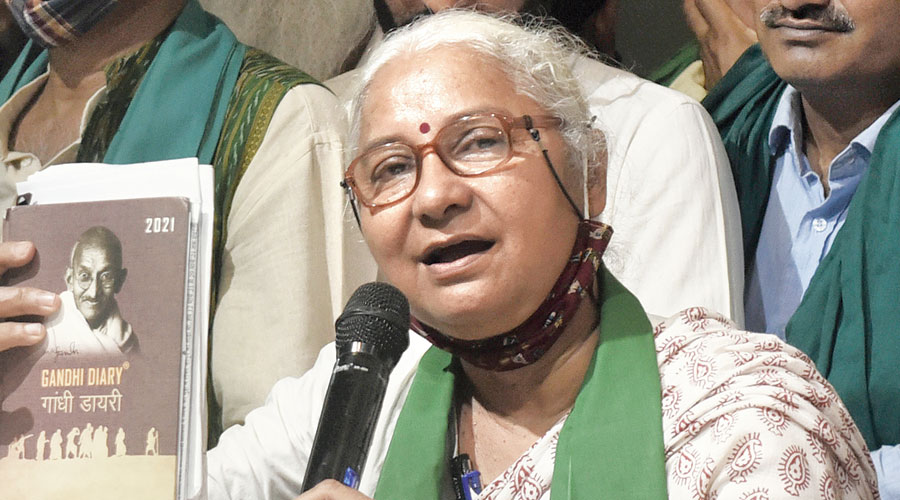 Mahuya's friend Sanjukta Datta, a BSc student at the West Bengal State University, was also present at the Ramlila Park on Friday. Sanjukta's family is not engaged in farming but she did not think that was necessary to feel for or support the farmers' movement.
Sanjukta was concerned that the government was going to put food security in the hands of some private corporations. 
"If the prices of food go beyond the ability of the poor they will die of hunger. The most basic demand of humans, food security, will be at stake if these laws are passed. One need not be from a farmer family to support the farmers movement," said Sanjukta.
The participants of the mahapanchayat were from all walks of life. There were farmers like Nani Das from Kirtipur gram panchayat in the Sashan police station area who had come to protest against the attempt to abolish minimum support price. Instead of expanding it, the government was eroding whatever security it gave to farmers, he said.
Professors, students, business owners and homemakers were also in the crowd.
Paramita Das, who teaches mathematics at a central government-run institute, said she would have gone to Singhu, Tikri and Ghazipur — the sites on Delhi's borders where the farmers are protesting — if she had time after work. "Often, I felt like leaving everything and going to Delhi. Since I could not go there, I thought I should not miss this mahapanchayat," said Das.
Among the speakers at the mahapanchayat were Balbir Singh Rajewal and Hannan Mollah, leaders of the Samyukta Kisan Morcha, an umbrella body of several farmer unions that is spearheading the protests against the farm laws. 
Rajewal addressed the audience: "My brothers and sisters in Bengal... We have come here to appeal to our brothers and sisters to not vote for the BJP. Please ensure that Modi does not get votes from here". "Today we are here to launch a new kind of campaign for the Bengal elections," Rajewal added.
Yogendra Yadav, a farm union leader and leader of Swaraj India, was among the speakers.  
Calls of Kisan Ekta Zindabad from the dais were echoed loudly from all corners of the ground. 
The front half of the ground, closer to the dais, was packed and there were people interspersed in the other half. Many had come with their families, including kids. "Attending rallies is not in our culture. We are not from a political family but the farm laws have brought us here. My uncle still manages our family land back in Punjab and we get our share of income. Hurting farmers' interest is like hurting my forefathers," said Harprit Singh, a resident of Bhowanipore.
The audience had a large number of women. Lovedeep Kaur, an entrepreneur, had come with her mother. Lovedeep's father, a farmer, divides his time between Calcutta and Punjab. "My father is in Punjab now. He was at the Singhu border for many days. He is now in Gurdaspur to look after the fields," said Lovedeep, a resident of Garcha. She has watched the leaders address gatherings through Facebook or Instagram live. On Friday,  she wanted to hear them in person.