Bengal BJP on Monday alleged that at least five supporters had been murdered by Trinamul workers as reports of political clashes poured in from across the state. Four Trinamul supporters were also allegedly killed in post-poll violence in south Bengal.
Till Monday evening, the number of political activists killed — across all parties — had crossed 10. Many more were beaten up. Many homes and shops were ransacked or torched.
Trinamul chief Mamata Banerjee publicly urged people to refrain from violence.
However, state BJP chief Dilip Ghosh accused her of not paying heed to the situation. The BJP, whose national president J.P. Nadda will arrive in Bengal on Tuesday, has decided on nationwide sit-ins on May 5, the day Mamata Banerjee will be sworn in, to protest against the violence in Bengal.
Ghosh told the media on Monday that five BJP supporters and one member of the Indian Secular Front were killed in clashes since Sunday.
"Violence is nothing new in Bengal. Post-poll violence is nothing new either. After the results, there is a little bit of excitement everywhere. But not even 24 hours have not passed since the results and six persons are killed. Thousands of houses have been burnt down or vandalised. We are getting reports from every Assembly (segment)," he said.
Ghosh alleged that despite these incidents, Mamata had shrugged off her responsibilities.
A BJP delegation met governor Jagdeep Dhankar to hand over a memorandum to him on post-poll violence. There, it said that five of their party workers as well as four others were killed. A letter explaining the situation and seeking redress was sent to Union home minister Amit Shah, Bengal's chief secretary and the Election Commission. Dhankar summoned Bengal's top police officials and asked them to restore law and order.
An hour before Ghosh spoke to journalists on this issue, Mamata held a news meet where she asked her supporters not to get involved in political violence.
"I would appeal…to all my brothers and sisters that Bengal is a peaceful place, cultural place and a place of brotherhood…Polls were done, there have been wins and losses…Sometimes the atmosphere got heated up, sometimes it cooled down…and we know that BJP has done a lot of atrocities, central forces have done a lot of atrocities. Yet I urge everyone to be peaceful and not indulge in any kind of violence. At the moment the biggest responsibility is…to combat Covid. I urge everyone to be peaceful and if you have a complaint against anyone, please let the police know officially," Mamata said.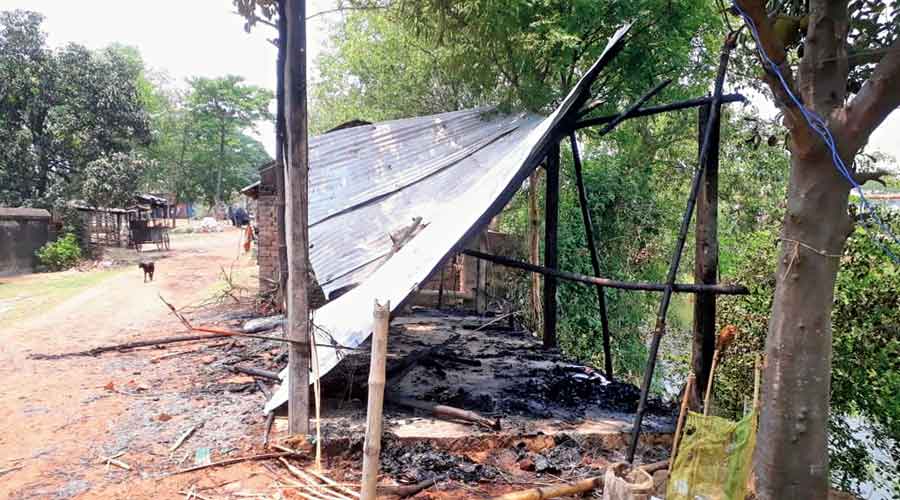 A vandalised BJP office at Galsi in East Burdwan Munshi Muklesur Rahaman
In Nadia's Gangnapur, BJP activists Uttam Ghosh was beaten to death by suspected Trinamul supporters in Vivekananda Pally area late on Sunday. Police and relatives said Ghosh was returning home from the party office when goons attacked him.
Local BJP leaders said Ghosh had worked hard to ensure victory of the Ranaghat South candidate Mukutmani Adhikari. The BJP submitted a deputation at the Gangnapur police station demanding immediate arrest of the accused.
Hasanur Rahaman, 40, an ISF activist, was killed in Ula-Kadambagachi village of Duttapukur in North 24-Parganas on Monday morning, when a group of Trinamul goons allegedly hurled at least three bombs at him. The incident ignited tension in the area that led to political clashes between Trinamul and the ISF.
In Calcutta's Kankurgachi, BJP activist Abhijit Sarkar was beaten to death by suspected Trinamul activists in Shitalatala Lane area on Sunday night.
A BJP activist was allegedly killed by goons with Trinamul links in Pratapnagar-Motiary area of Sonarpur in South 24-Parganas. BJP sources said Haran Adhikari, 38, had protested when some Trinamul supporters destroyed party flags after the BJP candidate lost. The goons attacked him with iron rods and stones. Adhikari was taken to Baruipur sub-divisional hospital, where the doctors declared him dead.
In Birbhum, a BJP worker Gourav Sarkar, 37, of Gopalnagar village in Illambazar, was dragged out of his home and allegedly beaten to death by Trinamul-backed goons.
In Nadia's Haringhata, suspected Trinamul supporters allegedly entered the residence of victorious BJP candidate of Chakdaha, Bankim Ghosh, located in ward 12 of Haringhata Municipality, and ransacked it on Sunday night.
In Burdwan, Birbhum and Bankura, many houses of CPM leaders and supporters were vandalised by alleged Trinamul goons on Monday.
A resort belonging to a BJP leader in Santiniketan was vandalised allegedly by Trinamul workers. BJP leaders claimed at least half a dozen BJP party offices and over a hundred houses belonged to the BJP workers were ransacked.
In Cooch behar, two young BJP workers were killed on Monday, allegedly by Trinamul supporters, one in the morning and one later.
In East Burdwan, the mother of a BJP worker was allegedly hacked to death allegedly by Trinamul backed goons in Nabagram village.
CPM leader Samik Lahiri issued an open appeal to Mamata: "Chief minister, will this free loot, violence and murder continue? Fascist forces couldn't form a government. Are you at peace? Houses of Pratikur and several other Sanjukta Morcha (supporters) are being openly looted. Homes of Sanjukta Morcha leaders and workers in Canning East are being demolished using JCBs. Party offices are being vandalised…"
Trinamul deaths
In East Burdwan, three Trinamul workers were killed in separate incidents. A Trinamul worker and resident of the district's Samaspur village Ganesh Malik, 61, was killed after armed BJP workers allegedly attacked him with iron rods. He was taken to the Burdwan Medical College and Hospital, where he died.
Two Trinamul workers — Sahajahan Sheikh, in his late 40s, and Bibhas Bag, 27, — were killed when a group of BJP workers allegedly attacked them in Nabogram village of Jamalpur block.
As tension mounted, hundreds of houses belonging to Trinamul and BJP supporters were ransacked in the clashes that followed.
In Hooghly, Trinamul worker Debu Pramanik, 50, a resident of Natibpur village of Khanakul was killed allegedly by BJP workers.
In Jagannathpur Tildanga village of Baduria, North 24-Parganas, Ataur Rahaman, an elderly Trinamul supporter — and father of a local Trinamul leader — was brutally beaten up by goons with suspected Congress links. Admitted to the Baduria hospital, Rahaman is said to be critical.