Bengal Assembly Elections 2021: Kafeel Khan endorses CPM duo
Dipsita is standing from Bally in Howrah and Aishe from Jamuria in West Burdwan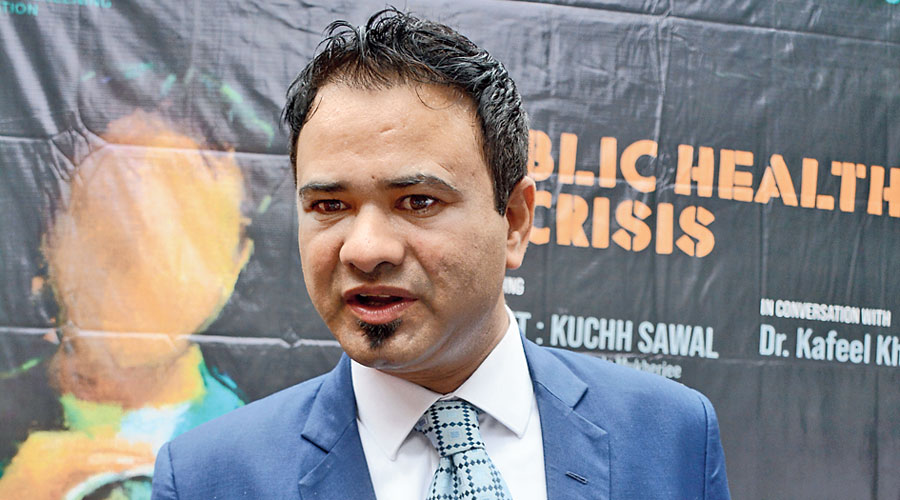 ---
Calcutta
|
Published 01.04.21, 01:32 AM
|
---
Kafeel Khan, the Gorakhpur doctor who was arrested twice by the Uttar Pradesh government and emerged as a symbol of resistance against state oppression, on Wednesday issued a video message to back two young CPM candidates in Bengal — Dipsita Dhar and Aishe Ghosh.
Dipsita is standing from Bally in Howrah and Aishe from Jamuria in West Burdwan.
"...At such a young age I've seen the zeal to take up the nation's responsibility in them. I've seen them working hard…It is my request that you elect them so that our nation develops…Come out of the politics of hatred, of violence, of caste and of religion and make them win," Khan said in the clip.
Speaking to this paper, Khan said he believed democratic institutions of the nation such as the Parliament and Assemblies needed strong voices for public representation, and Dipsita and Aishe had it in them to be those voices.
"I've known Dipsita for three-four years and Aishe for about a year and a half. I know the kind of work they have done in JNU…I'm not speaking for any party. I'm speaking for these individuals. We need people like them in the Assemblies, who are politically, socially, economically aware, who have plans for the betterment of the people," Khan said.
Khan shot to national prominence in 2017 when many child deaths happened at the BRD Medical College in UP's Gorakhpur, after the hospital's oxygen supply was disconnected on August 10 apparently over non-payment of dues. Khan, a lecturer at the department of paediatrics in this college, spent his own money to arrange for oxygen cylinders.
Hailed as a hero by the media, Khan was arrested on September 2, charged under several sections and removed as the nodal officer in charge of the encephalitis ward on charges of dereliction of duty and carrying out private practice. The toll because of lack of oxygen mounted to around 63.
Acquitted of all charges on September 27 2019, Khan was re-arrested on December 13 from Mumbai by a special task force of UP police under the National Securities Act in relation to an anti-CAA speech he had made at the Aligarh Muslim University. On September 1, 2020, Allahabad High Court dropped all NSA charges against him and he was released.
JNU students, including Dipsita who is a national joint secretary of the SFI, and Aishe the incumbent president of the varsity students' union, stood by Khan during his arrests and demanded justice for him. Aishe led an anti-CAA protest at Delhi's Jantar Mantar in February 2019 and demanded Khan release from there.
In November 2019, when JNU students protested against an alleged fee hike, Khan stood by them.
During the 2019 polls, Khan had campaigned for former JNU students' union president Kanhaiya Kumar and Shashi Tharoor. Kanhaiya contested and lost the Lok Sabha polls on a CPI ticket from Bihar's Begusarai and Tharoor is the Congress MP from Kerala's Thiruvananthapuram.
Asked if he would campaign for the two in Bengal, Khan said he was busy till April 6 in some legal work but was willing to campaign for the two once free.
"It was very nice of him to take this initiative for wishing us good luck. I've known him since he was first arrested in 2017. Individually and from the SFI we had staged several protests demanding his release. He has also expressed his wish to campaign for us," Dipsita told The Telegraph.