Farm leaders request north Bengal voters to not elect BJP to power
The region has 54 seats where polling begins on April 10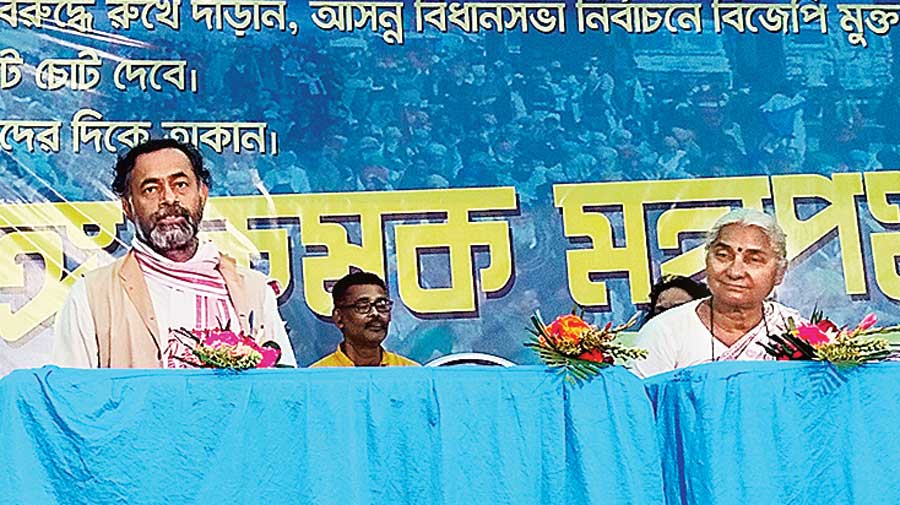 Yogendra Yadav and Medha Patkar at the programme in Siliguri on Wednesday.
Passang Yolmo
---
Raiganj, Siliguri
|
Published 08.04.21, 02:52 AM
|
---
Leaders of the Samyukta Kisan Morcha, which is spearheading the  movement against the new farm laws, have requested people of north Bengal not to vote for the BJP in the Assembly polls as the party's policies are against peasants, Adivasis and minorities.
A delegation of Yogendra Yadav, a founder member of Jai Kisan Andolan, and activist Medha Patkar reached Siliguri on Wednesday. They headed to Kaliaganj in North Dinajpur district where a "krishak mahapanchayat" was organised to tell farmers and others why they should not support the BJP. 
"We have been visiting north Bengal for years. Considering the rich diversity of population in these areas, we believe the principles on which the BJP work will never be in favour of common people, especially farmers, minorities and Adivasis. If they want to save their culture and heritage, they should stay away from the BJP. I appeal to them not to cast votes in favour of the BJP in the coming elections," said Yadav.
His appeal comes just before the commencement of Assembly elections in north Bengal. The region has 54 seats where polling will start on April 10.
A few days ago, another delegation of the Morcha had visited the region to send a similar message to the voters.
Over 3,000 people, including Trinamul leaders and supporters, were present at the "mahapanchayat" in Kaliaganj.
At the meeting, Yadav and the other speakers criticised the Narendra Modi government over the farm laws and urged the voters to thwart the BJP from winning seats in north Bengal. In the 2019 Lok Sabha polls, the BJP had won seven of the eight seats in north Bengal. 
"The Prime Minister finds time to call up Sourav Ganguly to know his well-being but he does not have time to pay respects to 350 farmers who lost their lives during the movement…. They simply want to divide people and so, people should not vote for them," said Yadav.