Bengal polls 2021: Dr Kafeel Khan appeals to not fall for fascists
He had in 2017 exposed the truth behind serial child deaths at the state-run Baba Raghav Das Medical College and Hospital in Gorakhpur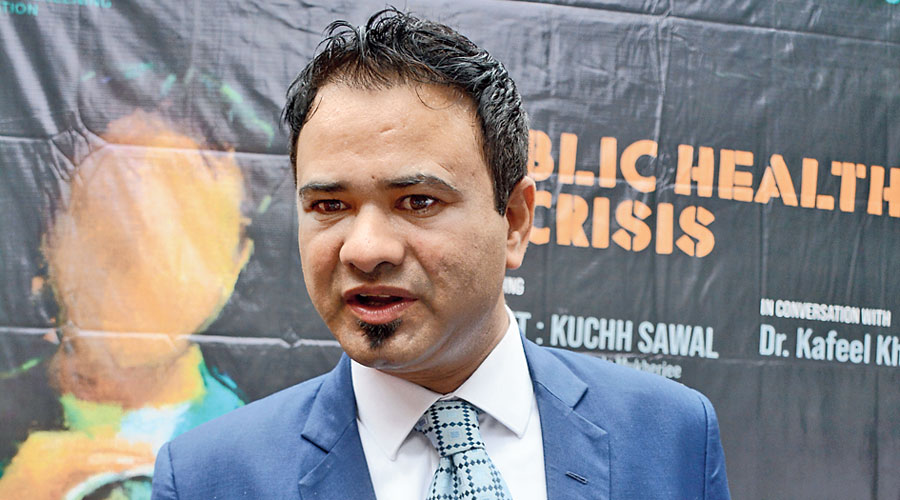 ---
Calcutta
|
Published 26.04.21, 01:43 AM
|
---
Kafeel Khan, a Gorakhpur doctor and whistleblower who was arrested twice by the Uttar Pradesh government and has emerged as a symbol of resistance against State oppression, on Sunday urged Bengal's voters not to fall prey to the "gimmicks of the fascists".
Speaking from Delhi, Khan sought to remind Bengal's people ahead of the last two phases of the Assembly polls how the BJP governments at the Centre and in Uttar Pradesh had failed to provide basic healthcare to citizens.
"In UP there is anarchy. There is no governance. I just want to tell the people of Bengal that their state is a pillar," Khan told The Telegraph.
"The Prime Minister, the home minister and all the RSS big shots want to destroy the last fort that is standing tall against the fascist regime. The people of Bengal must not fall prey to the false propaganda and gimmicks of the fascists."
Khan had in 2017 exposed the truth behind serial child deaths at the state-run Baba Raghav Das Medical College and Hospital in Gorakhpur, the hometown of chief minister Yogi Adityanath.
A private company had allegedly stopped its oxygen supply to the hospital over unpaid dues, and Khan had arranged for oxygen locally by paying out of his own pocket. 
Khan was, however, arrested a few days later – on September 2, 2017 -- charged under several penal code sections, and removed as the nodal officer in charge of the hospital's encephalitis ward. He was accused of dereliction of duty and engagement in private practice.
He was acquitted of all charges on September 27, 2019. But a special task force of the UP police re-arrested him in Mumbai on December 13 under the National Securities Act in connection with an anti-CAA speech he had made at Aligarh Muslim University.
On September 1, 2020, Allahabad High Court dropped all NSA charges against him and he was released.
Appealing to the "good conscience" of Bengal's electorate, Khan said the state is known for its people's intellect and achievements in literature and other fields of culture. He hoped the state's voters would send out the message to the nation that they would not succumb to "the BJP's falsehoods".
"Why were polls conducted in a single phase in Tamil Nadu, which has a population of 6 crore, whereas there are eight phases in Bengal?" he said.
"They did the same thing in UP during the 2019 Lok Sabha polls. They had the time (because of the heavily staggered voting) to manipulate (voters). The people of Bengal must have seen through this plan."
Khan's appeal to Bengal comes at a time hospitals in several parts of the country have reported oxygen shortages that have led to a spurt in the deaths of Covid patients.
"Health along with education and employment are the basic issues. I have done so many camps in Murshidabad, and also in Calcutta. I've asked people what they want and they've always mentioned these three things," Khan said.
"But instead of talking about that, everyone (among the BJP campaigners) is talking about shamshan-kabristan, Ali-Bajrangbali. The same chief minister who can't control crimes against women in Uttar Pradesh is boasting in Bengal that if the BJP comes to power, women will be safe."
Adityanath has been one of the BJP's star campaigners in Bengal, delivering his speeches with barely concealed communal overtones. He has declared that if the BJP is voted to power in Bengal, it will ensure women's security by forming "anti-Romeo squads" – a discredited and abandoned experiment in his own state.
Khan accused the Adityanath government of fudging figures to downplay the severity of the Covid situation in Uttar Pradesh.
He said that while the Adityanath government counted 224 Covid deaths in the northern state in the past 24 hours, around 457 bodies were cremated in Kanpur's crematoriums alone during the same period.
Khan's jibe at Adityanath comes a day after it was reported that the UP chief minister had, in a videoconference with select journalists on Saturday evening, appeared to attribute the charges of oxygen and medicine shortage in the state to a conspiracy.
He said government officials had been directed to act under the NSA and the Gangsters Act against "antisocial elements" involved in "black marketeering" medicine, "spreading rumours" and "trying to spoil the atmosphere".
However, Dr O.P. Yadav, district president of the Indian Medical Association in Agra, on Sunday said that 10 hospitals in Agra city had had to discharge all their Covid patients on Saturday because they had no oxygen left.
"People are dying and these people are still lying to us," Khan said.