Bengal Polls 2021: Congress slips in Murshidabad, Trinamul gains
The TMC also feels that that it will benefit from the BJP's polarisation tactics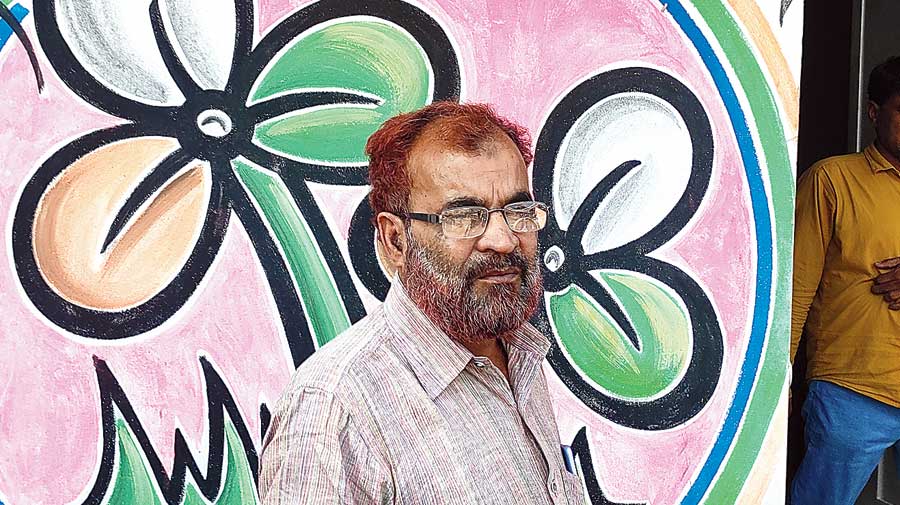 Samser Ali Biswas, who has shifted allegiance to Trinamul from Congress
Telegraph picture
---
Behrampore
|
Published 26.04.21, 01:09 AM
|
---
The Congress may have been in decline in many parts of the country but in Murshidabad, a minority-dominated district on the India-Bangladesh border, it has continued to enjoy support. Until now, that is.
Ahead of the contest for Murshidabad's 22 Assembly seats, which will go to the polls in the last two phases on April 26 and 29, there is a buzz that voters are planning something of a silent revolt against the Congress and its local veteran, five-time MP Adhir Ranjan Chowdhury. 
If that happens, the 2021 elections could further impact the party's dwindling fortunes in Bengal. The beneficiary, of course, will be Trinamul.
"We are against the BJP. That is for obvious reasons. But we have had enough of waiting for the Congress to take any decisive action against the saffron party," says Samser Ali Biswas, 56, a ration dealer from Hariharpara's Jhajha village. 
Although Hariharpara is still a Congress stronghold, people like Biswas are looking to buck the trend. 
The reason behind this silent movement, several residents told this correspondent, is the fear of being ruled by the BJP.
As per the 2011 census, Muslims make up around 68 per cent of Murshidabad's population.
"Our refrain now is that we are with Didi, for 2021. Not Trinamul, but Didi," says one of Samser's neighbours.
"We are a little fed up with Adhir's constant tirades against Didi instead of against the BJP. We need to do whatever possible to ensure that the BJP does not rule us," Samser weighs in. People in Hariharpara, reflecting a district-wide trend, feel that the Sanyukta Morcha, the fledgling coalition of the Congress, Left and the ISF, does not hold much promise. They concur with Mamata Banerjee's allegation that the ISF is actually a BJP front to split the Muslim votes.
"The very day the BJP published its manifesto, Narendra Modi and Amit Shah asserted that they would enforce the new citizenship law in their first cabinet meeting. That was the last straw for me and I decided that I would do my bit in opposing the party," says Samser, who has been campaigning for Trinamul candidate Niamat Sheikh.
In Behrampore's Nagrajol village, Rohim Sheikh, 28, is an unemployed graduate. Accustomed to cultivating his family land part-time for little or no income, his fortunes now reflect a change from his childhood when he claims his family would visit Adhir's home and vice versa.
"We have been a Congress family for generations. But not anymore. They are not a formidable force in opposing the BJP and that is much more important for us," says the Beldanga constituency voter.
In the same village, senior citizen Saifuddin Sheikh has been ill for a few months and has been advised rest. He was once a Congress worker who had rubbed shoulders with Adhir.
Saifuddin, too, appears to have had a change of heart. 
Murshidabad has, historically, been no stranger to political trend-setting. In 1977 when the Left Front came to power in Bengal riding the anti-Indira Gandhi sentiment, Murshidabad gave six out of 19 seats to the Congress.
Even in 2011, when Trinamul dethroned the Left, Murshidabad had been unimpressed, giving just one seat to Mamata's party. 
In the 2016 Assembly polls too, Murshidabad accounted for only four of the 211 seats Trinamul won across the state. 
In the 2019 Lok Sabha polls, however, Trinamul made headway here by securing two of three seats in the district — Murshidabad and Jangipur.
BJP leaders in Murshidabad are aware of their demographic limitations but are trying to put up a brave face.
"Victory in six to seven seats in the district is our conservative goal and we will stand by it," BJP district general secretary Shakharaf Sarkar says. 
Trinamul feels it will benefit from the BJP's polarisation tactics. "We will get a larger vote share in Murshidabad because of the BJP's communalism," says district Trinamul chief and MP Abu Taher Khan.