Bengal Elections 2021: Brickbats hit tail of Mithun Chakraborty road show
The saffron party claimed that Trinamul goons were behind the attack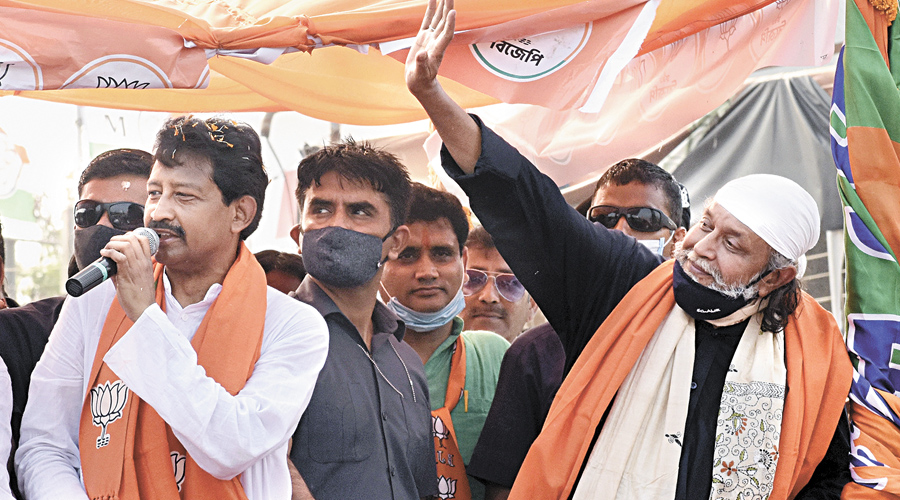 ---
Calcutta
|
Published 09.04.21, 01:44 AM
|
---
A car trailing a road show of the BJP's star campaigner, actor Mithun Chakraborty, was allegedly attacked with brickbats in Howrah's Domjur on Thursday. 
The saffron party claimed that Trinamul goons were behind the attack.
Chakraborty, who joined the BJP last month, on Thursday was at Bankra in Domjur to campaign for Trinamul turncoat Rajib Banerjee, who before he joined the BJP was the state forest minister.
The BJP leadership claimed that a vehicle carrying some BJP supporters who were following the rally near its tail was attacked with brickbats.
"There was a lot of excitement in Bankra. People wanted a glimpse of Mithunda and shower blessings upon Rajibda. Suddenly, some goons started pelting brickbats at a vehicle in the rally," a BJP leader, present at the spot, said. "We suspect Trinamul."
The vehicle, a van, was damaged in the sudden attack but no one was injured, the BJP leader added.
A local Trinamul leader denied the charge. "Ever since Rajib Banerjee left Trinamul for the BJP, people are angry and this attack was an outburst of that. Our party had nothing to do with it," he said.
Immediately after the incident, police and combat forces reached the spot and the security of the area was tightened. 
The rally went unhindered since the vehicle carrying Chakraborty and Banerjee was much ahead of the van that faced the brickbats.
Chakraborty, who was with the Left and Trinamul earlier in his political career, has been campaigning for many candidates of his new party across the state and attracting huge crowds with one-liners from his film hits.
Srabanti rally 
Another rally that Chakraborty was supposed to attend but did not on Thursday — in Calcutta — had been denied permission by the police. This rally was supposed to be in support of the BJP candidate of Behala West, actress Srabanti Chatterjee.
BJP sources claimed that they had made an online application for the permission of the road show on Wednesday afternoon, but the police denied permission in the evening. 
On Thursday morning, actress Chatterjee's followers gathered in front of the Parnashree police station in protest. Chatterjee, who also spoke to the police, claimed she was told that permission was denied because another political party had planned an event at the same time. But Chatterjee took out her rally without permission and claimed her rivals were scared.
Thursday was the last day of campaign for both Domjur and Behala West seats.