Welfare fund for all refugees pledged by Shah
He preferred to woo Matuas with a bouquet of 'assurances' as he was well aware that the support of the community would play a key role in grabbing power in Bengal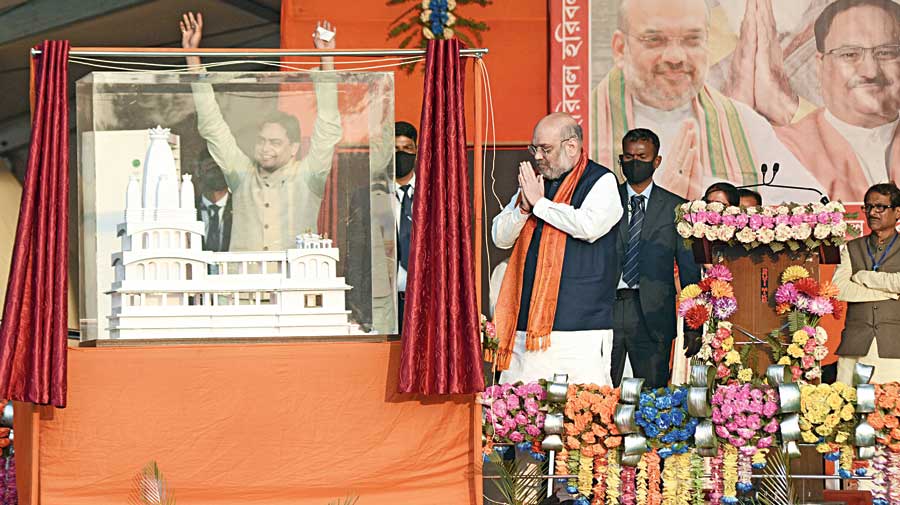 ---
Thakurnagar (North 24 Parganas)
|
Published 12.02.21, 03:44 AM
|
---
Union home minister Amit Shah on Thursday promised that a BJP government in Bengal would constitute the "Mukhyamantri Saranarthi Kalyan Yojona (Chief Minister's Refugee Welfare Scheme)" for all refugees, launch a scheme for Matuas's education and employment and provide monthly pension to Matua community heads.
With no clarifications on the controversial citizenship matrix, Shah preferred to woo Matuas with a bouquet of "assurances" as he was well aware that the support of the community would play a key role in grabbing power in Bengal.
While laying stress on education of the next generation of Matuas, Shah reminded the crowd about the contribution of their guru and social reformer Harichand-Guruchand Thakur to the community.
Apart from the Mukhyamantri Saranarthi Kalyan Yojona for all refugees, Shah also announced that if the BJP was voted to power, it would provide monthly pension to Matua Dalapatis, a small group of community heads, so that they could survive with honour in their old age.
Another commitment was a scheme for undergraduate and postgraduate students belonging to the Matua community and their employment.
Announcing a list of pre-poll promises, Shah said the BJP within a week of coming to power in the state would send a proposal to rename the Thakurnagar railway station as "Shridham Thakurnagar" and promote the holy abode of the Matuas as a tourist spot.
He also promised to improve infrastructure of the Harichand-Guruchand temple in Thakurnagar, while proposing to build a new temple in the memory of the two community gurus. Shah unveiled a model of the proposed temple amid huge applause.
Pallab Dhara, a young Matua who came from Burdwan, said: "The proposals if implemented will be good because they are intended at social and economic development of the young generation of Matuas."
Sarvabharatiya Matua Mahasangh chief Mamatabala Thakur, leader of the rival faction of Matuas and former Trinamul MP, said: "Amit Shah has clearly tried to hijack the development initiatives that Mamata Banerjee has already implemented."
"She has already constituted Matua Development Board for overall development of the community. At the same time, Amit Shah is trying to take credit by proposing to rename the Thakurnagar railway station, which I as an MP had made at least four years ago. The BJP is trying repackage our endeavours," Mamatabala said.
All India Matua Mahasangha chief and BJP MP Santanu Thakur said: "Amit Shah has spoken about the comprehensive development of the community, which includes education and jobs for youths. The proposals cover a boarder spectrum, while nobody knows what Trinamul has offered for us in the name of the board."