Watershed: 24x7 water in Asansol
Facility only for households and not street taps or bulk commercial consumers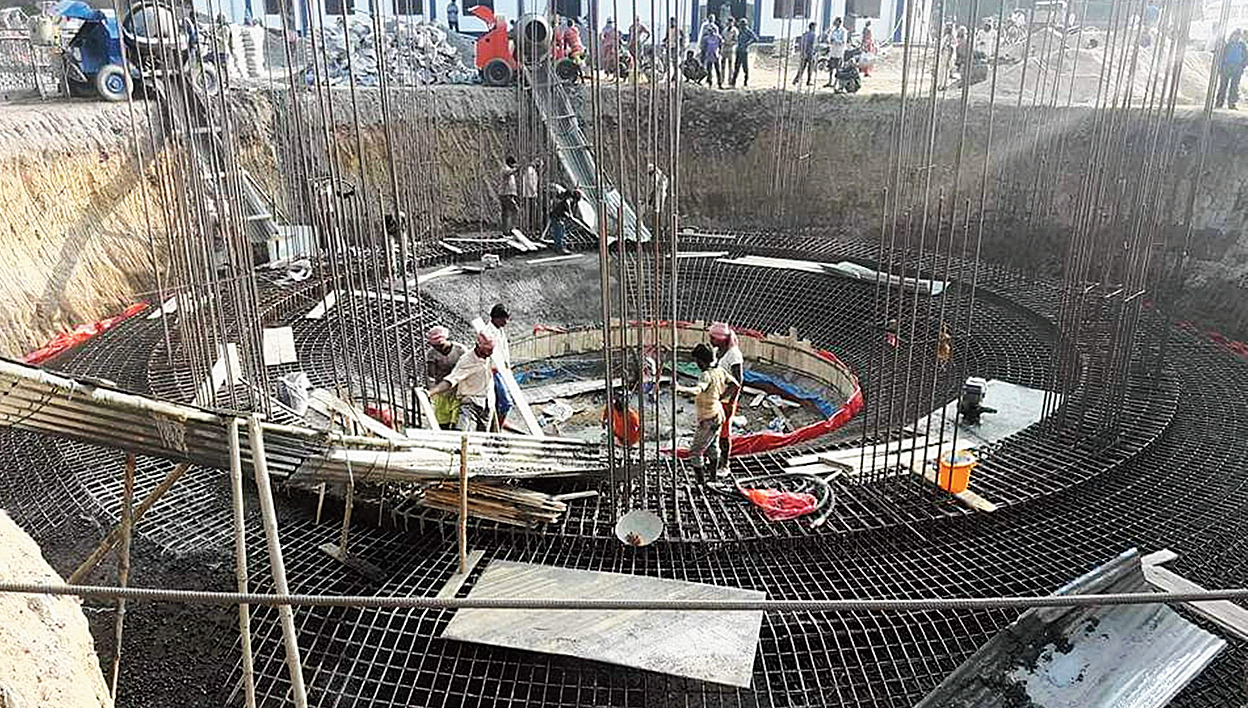 One of the 14 reservoirs being built at Kulti, near Asansol.
Picture by Santosh Kumar Mandal
---
Asansol
|
Published 27.12.18, 08:21 PM
|
---
The Asansol Municipal Corporation has taken up a Rs 40-crore project to supply drinking water 24x7 to 35,000 homes in the town and nearby areas, including Kulti, Jamuria and Raniganj.
Fourteen overhead reservoirs with a 2-lakh gallon capacity and three underground reservoirs of 5-6 lakh gallon capacity will come up in the next two years. New pipelines and water meters will be installed in households to monitor the use of water and check misuse.
"We have already spent Rs 28 crore on the project, which started eight months ago. We have set a January 1, 2020, deadline for the first phase," said Asansol mayor Jitendra Kumar Tiwari.
As of now, the corporation supplies drinking water once a day for two hours to 13 lakh people, 90 per cent of the population in the civic body's area.
The facility will not be available in street taps or for 1,000-odd bulk commercial consumers. "We will supply the drinking water 24x7 only to the households," said an engineer at the civic body.
Sources in the Calcutta Municipal Corporation said it supplied water in households for four to 18 hours a day. "The localities close to the Tala or Garden Reach water treatment plants in Calcutta get water for around 18 hours in a day," said a source.
The Asansol civic authorities have already spent Rs 28 crore from its development funds.
Civic authorities said they are now producing 20 million gallons of water per day — sourcing water from the Damodar, Barakar and Ajoy rivers — from its 10 treatment plants in Asansol, Raniganj, Jamuria and Kulti. The demand for drinking water is 16 million gallons per day in the civic area.
The corporation has decided to charge consumers who use more than 135 litres of water per head in a day.
"We will provide 135 litres of water per capita daily. That will be free of cost. Those consuming more than that will have to pay. We will install water meters in the households to monitor the use and to check misuse," said an engineer at the civic body, who said the rates for the overuse are yet to be fixed.