Water supply, traffic ease: New mayor of Siliguri Gautam Deb's focus
Deb said he had asked the official of the state PHE department to submit a detailed project report for a comprehensive drinking water scheme for the SMC area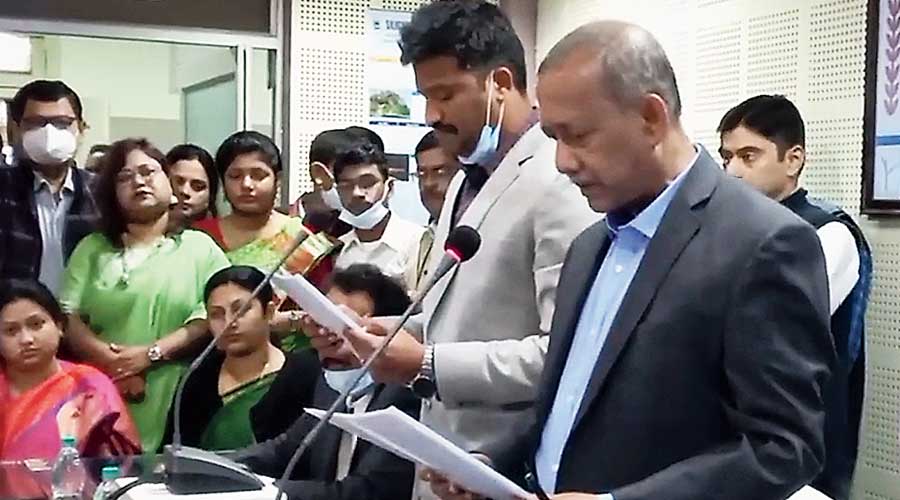 New mayor Gautam Deb takes oath on Tuesday.
Picture by Passang Yolmo
---
Siliguri
|
Published 23.02.22, 03:15 AM
|
---
A comprehensive drinking water project for Siliguri and better traffic management are some of the priorities, the new mayor of Siliguri Gautam Deb said immediately after assuming chair.
Deb said he had asked the official of the state PHE department to submit a detailed project report for a comprehensive drinking water scheme for the SMC area.
"I expect to receive the report within the next couple of days following which it will be handed to the state urban development agency for its implementation," said Deb.
The initial cost of the drinking water project was pegged at around Rs 470 crore. "However, the figure might change after the final DPR is prepared," said Deb.
Sources said that it is likely to take three years to complete the project.
Deb also held a meeting with Siliguri commissioner of police, Gaurav Sharma, to work out traffic related issues in town. S. Ponnambalam, the DM of Darjeeling, who administered the oath of office to the newly elected councillors, was present at the meeting.
Deb admitted that ensuring hassle-free traffic in Siliguri was one of the "major" challenges for him.
 "We have received some good suggestions from the mayor for better traffic management of the city," police commissioner Sharma said after the meeting.
Some of the issues listed by the senior police officer included increasing manpower, installing new traffic guards, re-orientating the signalling system, improving road marking and its layout and introducing an improved CCTV camera network.
Apart from Deb, Trinamul veteran Pratul Chakraborty was also elected chairman of the SMC at a meeting which was presided by Kamal Agarwal, the councillor of ward 10.
The mayor and other councillors later attended a civic reception programme at Rabindra Mancha at Siliguri's Baghajatin Park.
Sabina Yeasmin, the state minister for the north Bengal development department, was  present at the function.
Speaking at the function, the new Siliguri mayor promised to provide administrative support to residents of 14 added wards of the SMC, which fall in Jalpaiguri district. The rest of the wards fall in Darjeeling district.
"I would like to provide administrative support to the residents of 14 added wards of the SMC, who have to rush to Jalpaiguri, located about 45km from here (Siliguri), for any administrative work and land  rights to the people who do not possess land," Deb added.
The new mayor also raised the delimitation issue with regard to these added wards, which start from wards 31 to 44.
"The total area of the 14 added wards of the SMC is 27sqkm. The area of the remaining 33 wards is 15sqkm. Comparing both the areas of the SMC, one can easily imagine how unscientifically it (delimitation) was done," he added.
SMC sources said a tentative land has already been identified near Tinbatti More of the city to be developed as an administrative block for residents of the added wards.