Waste spurs plastic bar
The Plastic Waste Management Rules, 2016, advise use of plastic bags with a minimum density of 50 microns, but thinner ones remain in use across the city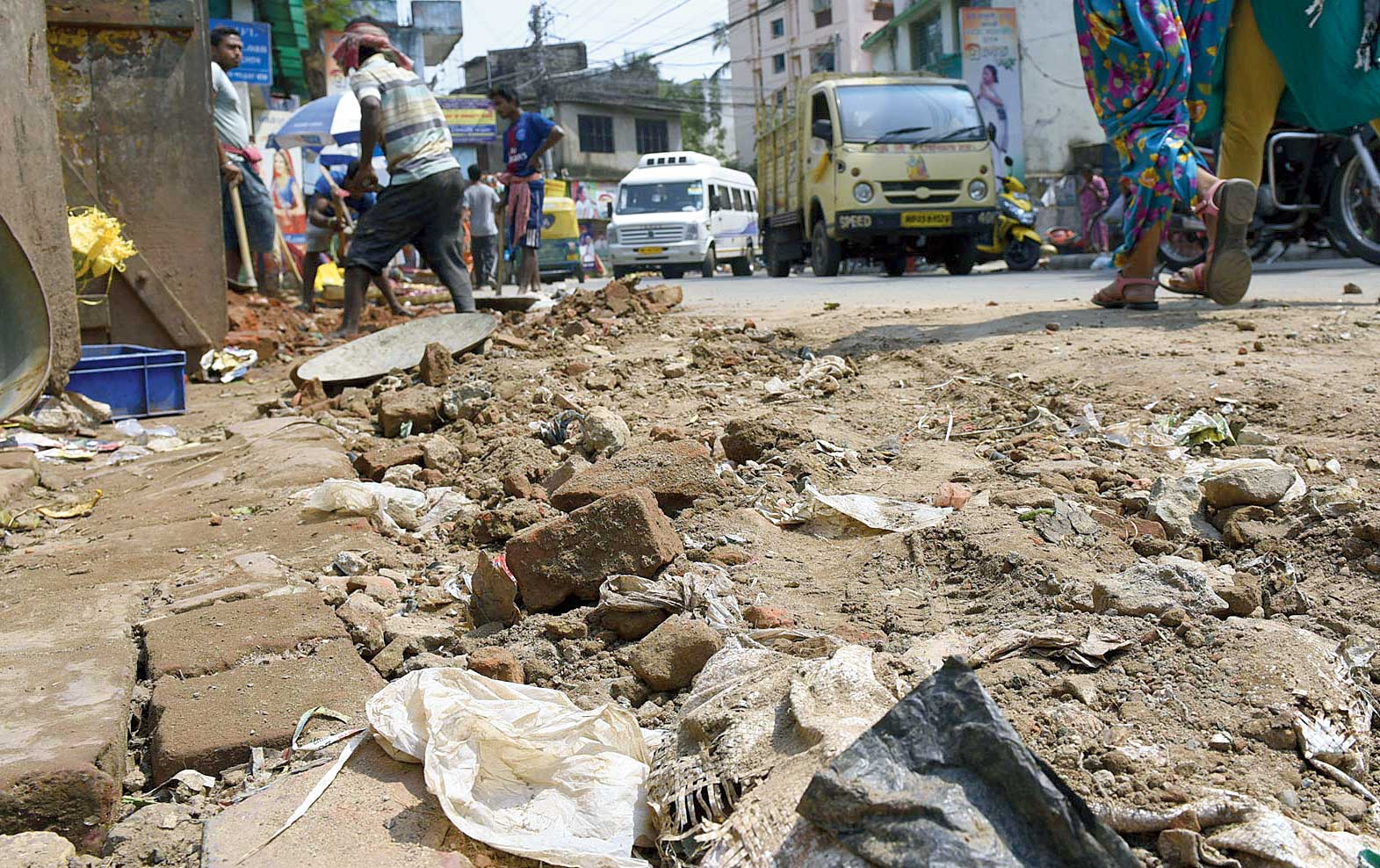 ---
|
Calcutta
|
Published 12.03.19, 06:53 AM
---
Single-use plastic bags have been banned at Haltu market in Kasba after a heap of plastic trash emerged while digging up a portion of a road in the neighbourhood for the construction of a pavement. A small step in a small pocket of the city that could well bear a lesson for all.
The curb came into force at the initiative of the councillor of Ward 107, Sushanta Ghosh. The Plastic Waste Management Rules, 2016, advise use of plastic bags with a minimum density of 50 microns, but thinner ones remain in use across the city.
"I was taken aback when I learnt that a pile of plastic bags was found while digging the ground. It seems that years ago, some waste had been dumped at the spot to raise the level of the road and that is how the plastic bags remained underground," said councillor Ghosh, who went around Haltu market last Tuesday, appealing to shop owners to stop using single-use plastic bags.
Ghosh admitted that some shop owners continue to stock single-use plastic bags, but hoped that with time everyone would comply.
When Metro visited the market last week, several shop owners had already switched to thicker plastic bags.
A resident who went to Haltu market to buy milk was surprised when a shop owner refused to give him a plastic bag and asked to bring a bag from home from the next day. "The shop owner said he cannot afford to buy thicker plastic bags as they are costly. So, he has decided to ask customers to bring their own bags instead," the resident said.
Shop owners said a kilogram of thick plastic bags costs between Rs 120 to Rs 150. "The single-use plastic bags cost the same but since they are thinner, there are nearly double the number of packets in a kilogram," said Sanjib Saha, a shop owner at Haltu market.
Some shop owners who have switched to thick plastic bags are using them judiciously, only giving them to customers who spend more than a certain sum at the shop, to save cost.
One seller said the customers were happy with the move but wanted the same rule in all shops. "Some sellers, specially hawkers sitting just outside the market, are still giving out single-use plastic bags. So when we are asking customers to bring their own bags, some are demanding plastic bags citing the hawkers. If this continues, we will lose business. The authorities must ensure that all shops follow the same set of rules," he said.
Lack of awareness is another problem. A vegetable vendor was seen using a 40-micron bag that he thought was thicker.
A waste management expert, who teaches at IIT Kharagpur, said the plastic bags used by grocers and vegetable, fish or meat vendors to pack their wares are usually 20 to 30 microns thick and hence suitable for one-time use only. These are often used by domestic users to dispose of garbage. But thin plastic bags tend to clog drains and also pose a risk to animals and birds that scavenge in garbage dumps.
Brajesh Dubey, a teacher in the civil engineering department at IIT Kharagpur, said a ban on single-use plastic bags was welcome but it was only a temporary solution.
"Thicker plastic bags are recyclable but for that the plastic bags need to reach a recycling unit. Waste segregation at source is the need of the hour," he said.
Waste segregation at source would ensure that recyclable items such as plastic bags would be collected separately from wet waste and sent to recycling units.
Plastic manufacturers attending a meeting with the mayor and urban development minister Firhad Hakim on Wednesday had said that they would appeal to the pollution control board to increase the minimum thickness of plastic bags to 100 microns in Bengal.