Ward quota upsets Malda TMC leaders
The BJP has started fanning the dissent within Trinamul and set its door ajar for leaders of other parties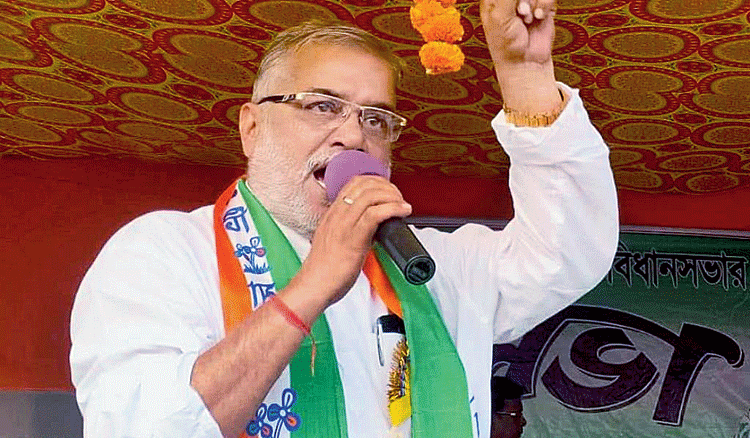 Narendranath Tiwary, the Trinamul councillor of Englishbazar municipality
Telegraph picture
---
Malda
|
Published 09.02.20, 07:00 PM
|
---
Dissent has been brewing in the Malda district Trinamul Congress since draft lists of reservation of seats in two civic bodies have been published.
The BJP has started fanning the dissent within Trinamul and set its door ajar for leaders of other parties.
District BJP president Gobinda Mandal has even claimed that a number of senior Trinamul leaders are in touch with the saffron party.
Narendranath Tiwary, a former chairman of Englishbazar municipality, is the most dissatisfied person with the reservation list as it has been found that his seat has been reserved for a Scheduled Caste candidate and his spouse Anju Tiwary's seat has been reserved for a Scheduled Caste women.
"I wonder how we have been victims of reservation list together. I sense a conspiracy behind it. I have already informed Trinamul leaders of all statures in the district and the state about the issue. Even my problem has been communicated to Firhad Hakim, the state municipal affairs minister, and Suvendu Adhikari, who is the party's observer in the district. However, as no visible step has been taken from any end so far, I have filed a suit challenging the draft reservation," Tiwary said.
Few other Trinamul councillors, whose seats have been reserved, also sounded disgruntled.
"How some seats remain unreserved for years is not clear to us. While a section of party councillors get through the reservation procedure safely, few others are axed in the name of reservation as it appears," said another Trinamul councillor, whose seat has been reserved for women candidates.
Some of the dissident councillors have also expressed doubt whether Trinamul would be able to retain the seats in their absence.
Mausam Noor, the district Trinamul president of Malda, however, believes that the dissidence would not last for long.
"I understand that they are upset. They nurtured their wards for long. I would personally speak to them and resolve the issues," Noor said.
Mandal, the district BJP chief, on the contrary, hinted that his party would include the dissident Trinamul leaders, offering them suitable positions if they are intend to join the BJP.
"We are keeping a watch over the situation," he said.