Vultures' date with wild set
Rajabhatkhawa birds to be released in Buxa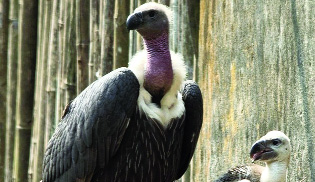 ---
---
The forest department will soon release vultures born in captivity in the wild.
The Bombay Natural History Society, which started the Rajabhatkhawa vulture breeding centre along with the forest department, has billed it as the first-of-its-kind attempt in the world.
White-backed, long-billed and slender-billed vultures born at the vulture breeding centre in Rajabhatkhawa under Buxa Tiger Reserve.
Vibhu Prakash, the principal scientist of the Bombay Natural History Society, told Metro over the phone from Mumbai: "For the first time in the world, three species of vultures born in captivity will be released in the wild. We have already started preparations for the release. We have to ensure that there is no diclofenac within 100sqkm of the place where the vultures are released."
Diclofenac, a drug used for pain relief, is considered to be the main reason behind the extinction of vultures.
Vultures are exposed to diclofenac when they eat carcass of animals that have been treated with the drug.
To begin with, the foresters plan to release Himalayan griffons, which are similar to vultures but not critically endangered, in the Buxa forest. Satellite transmitters will be tied around the necks of the griffons, which were also born in captivity, to monitor their movements and study how they behave in the wild.
Subhankar Sengupta, the field director of the the Buxa Tiger Reserve and member secretary of the Rajabhatkhawa facility, said a special vulture release aviary was being built to facilitate the release of the big birds. "Prior to the release of the vultures, we will hold a national seminar in north Bengal in February to generate awareness among people about the possible harms the endangered species might face" he said.
Forest sources said the chief wildlife wardens from Gujarat, Odisha, Haryana and Telangana would attend the seminar since those states also had vulture breeding centres.
Senior officials of the Medical Council of India and the state animal husbandry department are expected to take part in the seminar.
The Rajabhatkhawa facility is the second such centre in the country after the one in Pinjore, Haryana.
The Rajabhatkhawa centre currently has 85 white-backed, 27 long-billed and 18 slender-billed vultures.
The slender-billed vultures were born in captivity at Rajabhatkhawa for the first time in the world.