Visva-Bharati to preserve Tagore trees
Article shows author planted five trees on his birthday in 1925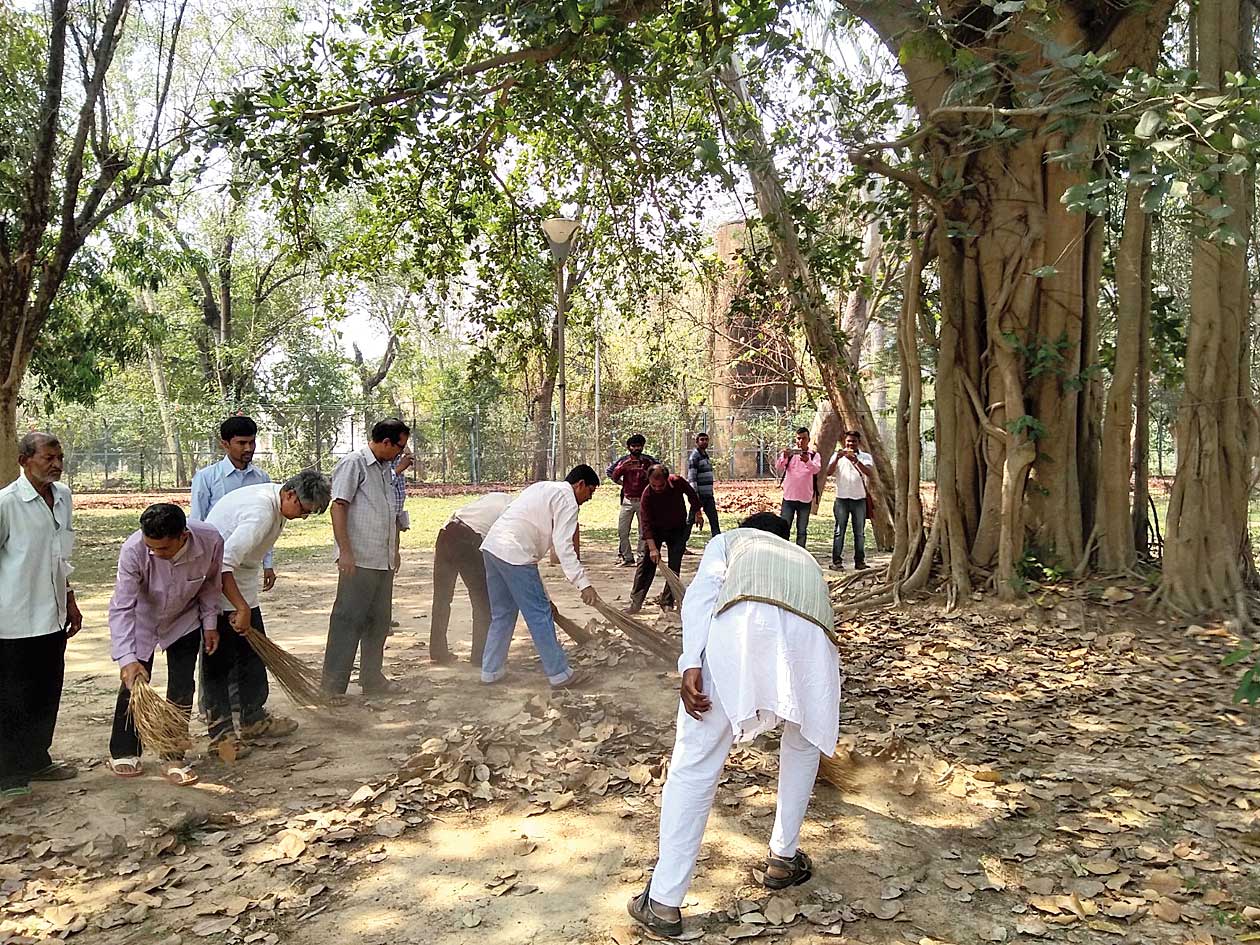 ---
---
Visva-Bharati has decided to preserve five trees which were planted by Rabindranath Tagore in 1925, on his birthday, in the Uttarayan complex on the varsity campus here.
The varsity officials said that the university stumbled upon the information from an article by Bidhusekhar Shastri, a Sanskrit scholar and teacher at Visva-Bharati during that time in a Bengali periodical.
On Sunday, the university employees cleaned the area where the trees — nearly 94-years-old —would be preserved in the Uttarayan complex. An official said a signboard stating the history of the trees would be set up near the spot and benches would be placed under the trees for visitors.
Amal Pal, the officiating director of Rabindra Bhavana, said: "Recently we found an article published in Prabashi magazine in 1925 where our former teacher and Sanskrit scholar Bidhusekhar Shastri wrote that Tagore planted 'Panchabati' (five trees) — Pipul, Banyan, Ashok, Bel and Amlaki trees on his birthday. In his article, Shastri also wrote that the trees were planted on the north-eastern side of the Uttaryan complex. We have found the trees and cleaned their bases. In future, we will try to find out more trees planted by Tagore on the campus."
Rabindra Bhavana officials said they have come to know from the article by Shastri that Tagore wore dhoti and chadar following Shastri's advice.
According to Pal, Shastri had asked Tagore to wear dhoti and chadar and he obeyed him. After chanting a Sanskrit shloka written by Shastri, Tagore planted those trees.
A photograph where Tagore is found on his birthday wearing dhoti and chadar is with Visva-Bharati. "We think that the photograph is of his birthday celebration in 1925. We were surprised seeing Tagore wearing dhoti and chadar. Tagore's birthday falls in the month of May," said Pal.
Visva-Bharati officials said they had planned to set up benches under the five trees where the visitors will take rest. "We will set up benches and put up boards with description and history of the trees. We hope it will be a new attraction for visitors in the Uttarayan complex." Nilanjan Banerjee, the special officer of Rabindra Bhavana said.