Visva Bharati-Mamata spat hits new low
Central varsity statement asks Bengal chief minister not to provoke students, 'see through eyes and not ears'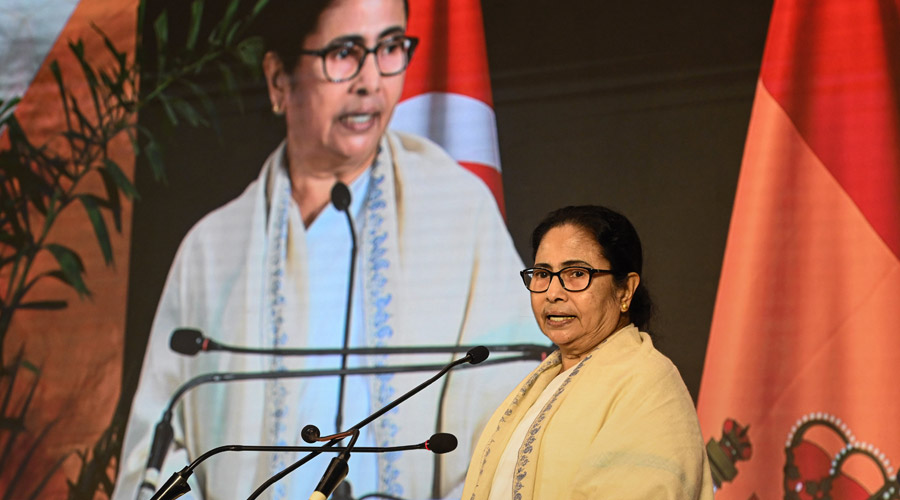 Mamata Banerjee
File picture
---
Calcutta
|
Published 02.02.23, 08:10 AM
|
---
The spat between Mamata Banerjee and Visva Bharati vice chancellor Bidyut Chakrabarty just hit a new nadir.
In an unprecedented attack on chief minister Mamata Banerjee, Visva Bharati authorities accused Banerjee of "seeing through her ears" and "provoking a section of students and teachers to tread a wrong path".
The public statement from Visva Bharati came barely hours after the chief minister announced on Wednesday that she would be writing to Prime Minister Narendra Modi about "autocratic moves and attempts by the university authorities to saffronize the campus".
The statement, written in Bangla on the institution's letterhead and signed by the varsity's chief public relation officer, Mahua Banerjee, read: "Visva Bharati is the only central university (of Bengal). We would be better off without your blessings since we are in a habit of walking the path shown by the Prime Minister. Do most of the state-run universities currently maintain their desired standards?... We urge you to not provoke students and teachers who desire your patronage into treading the wrong path. Build your opinion based on facts. See through your eyes and not through your ears. Voice your opinion only then because you mustn't forget that you are the chief minister of West Bengal. It's also your duty to preserve the dignity of the people of this state."
Speaking at a public meeting earlier in the day, the chief minister said: "The students, teachers and non-teaching staff are in tears today. The authorities should be ashamed. I will not take this lying down. I have already planned my course of action. They even constructed boundary walls before the house of Rabindranath's ancestor. I will write to the Prime Minister."
Banerjee, who is camped at Bolpur since 30 January and has been attending scheduled political and administrative programmes within and outside Birbhum, had accused the university of "saffronizing" Tagore's cherished campus even as she handed over property documents to Professor Amartya Sen and rubbished Visva Bharati's claim that the Nobel laureate was illegally occupying university land.
She had also met a section of aggrieved students and teachers at the government circuit house, Rangabitan, on Tuesday and listened to their allegations against the university authorities.
Sources at the university told The Telegraph Online that although the university statement was signed by one of its officers, it echoed the opinion of its VC, Professor Bidyut Chakrabarty.
In a point-by-point rebuttal of Banerjee's allegations, the statement meted out a sharp criticism of the chief minister's comments for "basing them on false and distorted information" which were communicated to her by a minor fraction of the institution's stakeholders.
Besides rubbishing the chief minister's claims about victimizing students and teachers, the university statement also came up with a sharp retort to her allegation of putting up boundary walls. "The entire Bolpur town has been covered with security measures for her. Does her residence on Harish Chatterjee Street not have a boundary wall? The process of building boundaries started at least three decades ago. No ashramik protested then. And when peace gets disturbed within the campus now, is it wrong to build boundary walls? When the party cadres who receive blessings of the chief minister brought down the heritage gate in August, 2020, no ashramik protested then. In reality, they are jealous because their control over the place has been taken away."
Overtly sarcastic about the arrests of TMC leaders Partha Chatterjee and Anubrata Mondal and former North Bengal University VC Subiresh Bhattacharya, but without naming any of them, the statement added: "Today your minister and vice chancellor are behind bars. How did that happen? That's because you took decisions based on information fed to you by your flatterers. Your favourite disciple without whom you could never imagine Birbhum is also in jail. No one knows when he will be free. You could have saved your face had you been alerted on time. You would understand this if you were a people's chief minister in the true sense of the word. But if you love to remain in the company of adulators, then more dangers await you."
Although no responses were received from Banerjee at the time of filing of this report, reactions from the TMC were made available. In a late evening tweet, party spokesperson Kunal Ghosh wrote: "When a Visva Bharati press release claims it 'follows the path shown by the Prime Minister' and not the path shown by Rabindranath Tagore, it is evident that this is a chit prepared inside a BJP camp. It's natural that such a chit would not carry any sense of balance, reality, courtesy and taste."
Supporting Visva Bharati's stand on the chief minister, BJP national vice president Dilip Ghosh said: "Why is she trying to interfere in the university's internal matters? She should rather focus on the state universities which are in a pathetic state. The Trinamul has long been trying to arm-twist Visva Bharati. She should why she has failed to manage the state's education sector rather than trying to exert her influence in domains beyond her jurisdiction."