I will stand by Visva-Bharati community, vows Mamata Banerjee
Students, Tagore descendants and sacked professor meet chief minister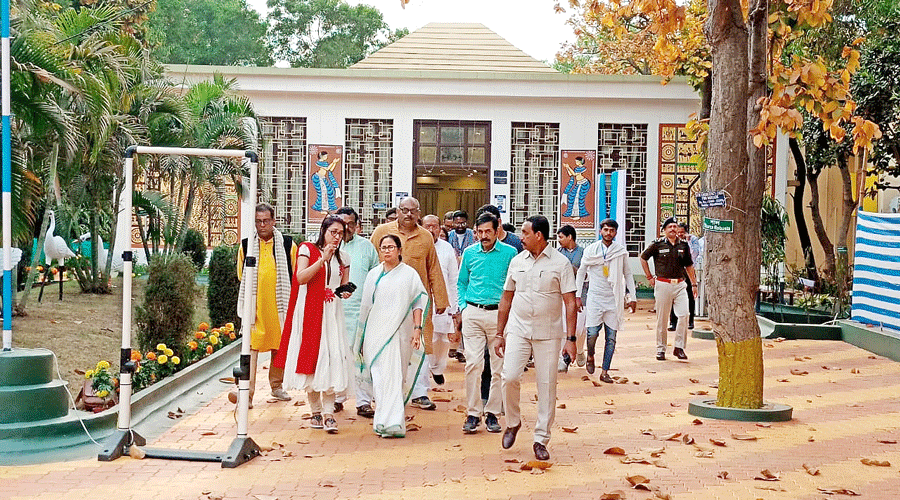 Mamata Banerjee comes out after a meeting with Visva-Bharati students in Santiniketan on Tuesday.
Amarnath Dutta
---
Bolpur
|
Published 01.02.23, 03:35 AM
|
---
Mamata Banerjee on Tuesday promised to stand by the Visva-Bharati community at a time students, teachers and local people were allegedly being tortured by the university authorities. 
On Monday, the chief minister had pledged her support for Nobel laureate economist Amartya Sen following the varsity's allegation that he was occupying a plot illegally on the campus.
The twin pledges in a span of 24 hours marked Mamata's attempts to win over the hearts of the campus community, which has been vocal against VisvaBharati vice-chancellor Bidyut Chakrabarty.  
"I think it is the duty of all of us beyond any differences to save Visva-Bharti and ensure that the ideology of Rabindranath Tagore prevails in Santiniketan at a time students, teachers and local people at this place of international significance are facing torture (by the varsity authorities)," Mamata told reporters after her meeting with a group of 13 students, members of the Tagore family and Sudipta Bhattacharyya, whose services as an economics professor had been terminated recently.
The meeting took place at Ranga Bitan, where the chief minister was staying during her three-day trip to Birbhum. 
"One should remember that Visva-Bharati is a place of international significance. We are proud this place exists in Bengal. However, from whatever I heard directly from the students and members of the Tagore family, I can only say that unexpected things are happening at this place," she added.
During Mamata's onehour session with the campus community, Trinamul Congress MPs and MLAs were present. Sources said the students had narrated to the chief minister how Visva-Bharati was rampantly suspending students, terminating faculties and taking punitive actions against its employees, especially those who were raising their voices against Chakrabarty.
The chief minister, a source said, was livid after learning about alleged attempts to "saffronise" the central university whose chancellor is the Prime Minister. 
"I would not interfere in any internal affairs (of Visva-Bharati). But if anyone thinks that he would use his power to bulldoze the students, teachers, employees (of the varsity) and old-timers (in Santiniketan), I would stand by the community even if there is no one to support them," said Mamata. 
Sources in Trinamul said Mamata's decision to stand by the Visva-Bharati community was significant as it sent out a message that she would not let the authorities run the varsity's administration on the whims of people picked up by political bosses in Delhi.
"Didi has great respect for Tagore and she always asked us not to interfere in Visva-Bharati. Her comments during the meeting were enough to indicate that she would not tolerate vindictive measures against students, teachers and old-timers. Tagore family members Supriya Tagore and his son Sudripta complained to the chief minister about how the varsity authorities were putting up walls to block a common road used by thousands of people in the area," said a Trinamul leader who was present at the meeting. 
Mamata not only vowed to extend her help to the campus community but also instructed Trinamul leaders to take care of the people of the abode of peace. 
"She asked me to raise the issue related to VisvaBharati in the Parliament to seek the attention of the Union education ministry," said Birbhum MP Satabdi Roy.
Mamata also asked minister and Bolpur MLA Chandranath Sinha to take care of the legal cases faced by the students and extend all kinds of help to them. 
"Didi said those who had been suspended for years by Visva-Bharati may apply for admission to any state university and she would personally take care of this," said Minakshi Bhattacharya, a Visva-Bharati student who met Mamata on Tuesday evening. 
Supriya Tagore and his son Sudripta met the chief minister se parately to explain to her how VC Chakrabarty and his administration were obstructing civic amenities. 
"Visva-Bharati recently tried to put up a wall on a road to disconnect us from the mainland. It is nothing but harassment for thousands of people, who have been using the road since the time of Tagore. She (Mamata) assured us that her government would take all possible steps to prevent the authorities from taking such measures. We are really happy," said Sudripta Tagore.
Supriyo thanked Mamata for her support for Amartya Sen. Mamata had on Monday handed over land-related documents to Sen and said the Sen family was not an illegal encroacher. 
Visva-Bharati on Tuesday issued a press release, reiterating its charge against Sen and criticised what Mamata had said about the land documents.