'VIP' tribal couple of Naxalbari get home
Deb hands over home to family visited by shah to help Trinamul corner BJP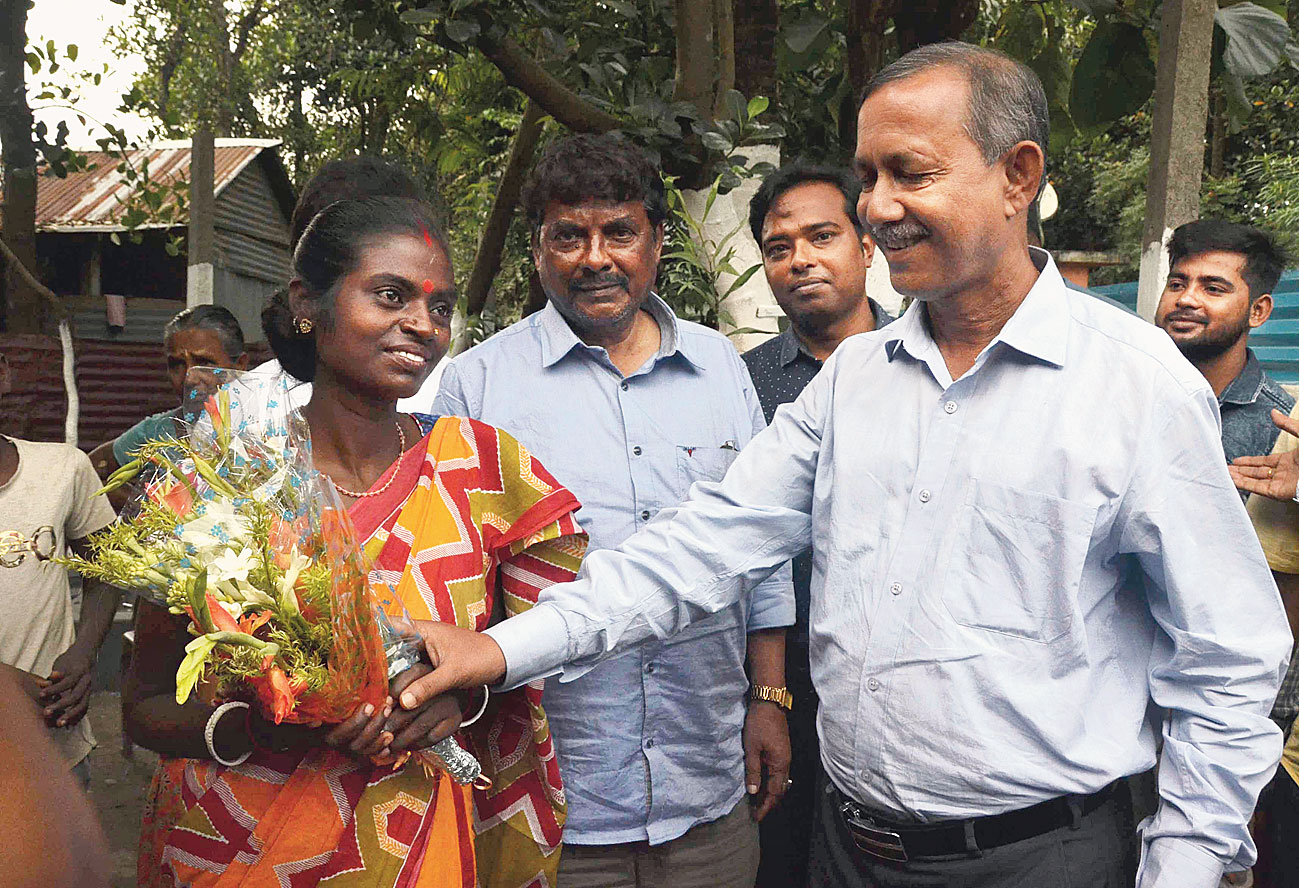 ---
|
Siliguri
|
Published 10.10.18, 06:43 PM
---
Bengal tourism minister Gautam Deb on Wednesday handed over a house to Raju and Geeta Mahali, a tribal couple of Dakshin Kotiajote village in Naxalbari block whom BJP president Amit Shah had called on in April last year.
After Shah's visit, Deb soon visited the couple and handed over Trinamul flags to the duo, saying they had willingly joined the party.
In May this year, Deb met Raju and Geeta again and handed over a cheque for Rs 1.30 lakh to the couple for construction of a house under Geetanjali scheme of the state government.
"We have built the house for them under Geetanjali scheme, along with drainage and boundary wall and other facilities like electricity and cooking gas connections. There are some more such families who require similar facilities. I will talk to the minister of the state housing department in this regard so that they can also be brought under the scheme," Deb said after formally opening the house of the Mahali family.
The move, Trinamul insiders said, was to drive home the point that the BJP president might have visited their house, but it was the state government and Trinamul which had worked for the socio-economic uplift of the couple.
"The BJP leaders came and left after having lunch at the couple's home. It was just a political strategy to try and garner support. But eventually, it was the state and Trinamul which took the initiative to help the couple. We will surely highlight it in our political campaigns in the days to come," said a Trinamul leader of Naxalbari.
Another section of Trinamul leaders said they would take up political activities and had chalked out strategies to prevent the BJP from making inroads into the foothills of Darjeeling district. The BJP has suffered a setback in the Darjeeling hills in the past one year with the Binay Tamang faction of the Gorkha Janmukti Morcha finding toehold there.