Villain in folk songs: No jobs under MGNREGA
Bhadu singers put up shows on their plight at villages of East Burdwan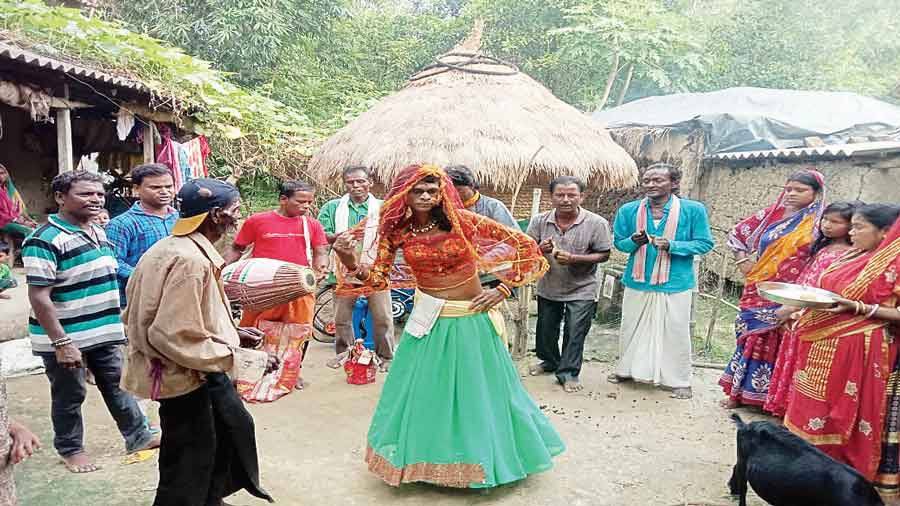 Folk singers of East Burdwan's Khandoghosh perform in Bamuniari village on Sunday.
Munshi Muklesur Rahaman
---
Calcutta
|
Published 19.09.22, 01:58 AM
|
---
A group of Bhadu folk singers from East Burdwan's Khandoghosh are highlighting their poverty and unemployment through their songs by travelling across 40 villages in this district. 
The "villain" of their song-and-dance show is the large-scale unemployment precipitated by the suspension of the Mahatma Gandhi National Rural Employment Guarantee Act's 100-day job scheme in rural Bengal. Bhadu singers, who sing songs addressed to, and cradling, a clay idol of Bhadu, a much-loved princess who cared for farmers and labourers, are a familiar sight in most central Bengal districts including Birbhum, East and West Burdwan, Purulia and Bankura in the Bengali month of Bhadro that falls between August and September.
These folk singers usually are from families of farm-labourers and roam in villages with songs on agriculture, life and the livelihoods of marginal farmers and the poor.
Folk singers said that this year they penned a tune on the crisis in rural areas in absence of the 100 days' scheme as they found that the issue was of "paramount importance" in recent rural discourse. 
"E bochhore ovab jabe an go Bhadur Maa, e bochhore ovab jabe na..100 diner taka, hoye gelo faka, jantle chaile sabai boley amra jani na, e bochhore ovab jabe na,"  sang a singer..The rough translation in English is: Poverty won't leave us this year, poverty will not leave. The money for 100-day job did not come, and everyone (officials and members of gram panchayats) says they don't know about it (money). Poverty won't leave us this year.
"The 100 days work was the source of additional income for people like us and lakhs more in the rural areas. The scheme has been stopped for many months now, leaving us in crisis. We have tried to depict the enormity of poverty among people who have been forced to survive without the government scheme," said Biswajit Majhi, a resident of Barisali village and a job-card holder under the scheme. Majhi penned the songs jointly with Kartik Santra.
The duo are agricultural workers and folk singers for the past 10 years. There are seven more who are part of the folk team roaming in 40 remote villages of East Burdwan. Sources said the Centre stopped sending funds to Bengal under the MGNREGA alleging irregularities and embezzlement in the state's use of the funds. 
Chief minister Mamata Banerjee had attacked the Union government multiple times, accusing the ruling BJP of trying to "paralyse" the rural economy by stopping funds under the MGNREGA.
Mamata had also written at least two letters to Prime Minister Narendra Modi seeking the release of funds. Sources said the Central government had sent multiple teams to Bengal that found irregularities under the scheme. The state has been asked to recover the money that was embezzled or misused.
Folk singers also pointed to the recovery of cash from the house of Arpita Mukherjee, a close aide to former minister Partha Chatterjee and contrasted it to their own poverty. "Crores of cash are kept inside houses of powerful people while we don't have money to buy new clothes for Puja," said one of the folk singers.
Binod Ghosh, a leader of the CPM-backed Kisan Sabha in Burdwan, said the folk singers were showing people "the real picture"."The folk singers are representative of poor people and when such issues come up in songs, the government should hear them out," said Ghosh.