Elephants off wedding guest lists in Bankura districts
Villagers approach foresters for protection, team deployed with equipments to drive away jumbos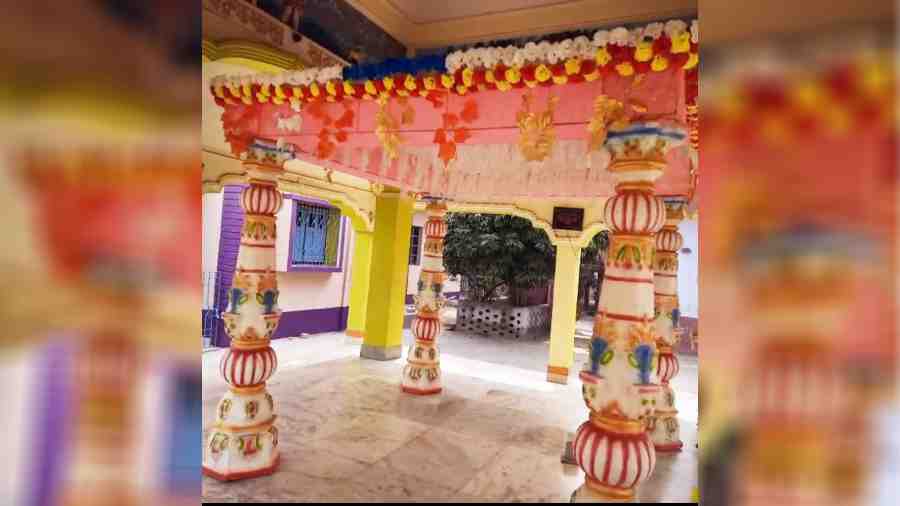 One of the wedding venues at Kodma village in Bankura's Beliatore, which was given protection by foresters from elephants
---
Calcutta
|
Published 18.01.23, 05:06 AM
|
---
Bankura villagers who are planning weddings are letting foresters know that they don't want any surprise trunk calls during the celebrations.
The forest department has deployed a team of its staff with equipment to drive away elephants at two upcoming wedding ceremonies in a Bankura village after a herd roaming in the area triggered concerns.
Sources said the decision was taken after one of the two families approached the local forest department in Bakura's Beliatore, seeking protection from the elephants on Tuesday night.
"We received an application in writing from one of the families having a wedding ceremony, seeking protection from the elephants. As the herd of elephants is in the area, we sent a team of foresters along with proper materials, like firecrackers, drums, searchlights, and torches to guard the pandals," said a senior forest official in Bankura.
Sources said Swarup Mondal, an uncle of a bride from Bankura's Kodma village, wrote to the forest range officer of Beliatore on January 14, requesting for teams to drive away elephants as there were two wedding ceremonies in the village.
Mondal wrote the letter on behalf of both families who have wedding ceremonies, fearing that the elephants, which killed two people last week, could ruin the celebrations.
"There would be a gathering of around 350-400 people in each of the ceremonies and many people are coming here from outside the district. You can easily assess the impact if a herd of elephants approaches the wedding venues. It would be a disaster if elephants attacked people during the wedding ceremonies. So, after discussing it with the elders I wrote to the forest department," said Mondal.
Senior foresters in Kolkata admitted that such an arrangement is a good example of how the department is battling human-elephant conflicts in the Jungle Mahal. Right now, there are around 180 elephants in separate herds in the four districts.
"This is the wedding season and we get several appeals for protection from villagers afraid of elephant attacks during the celebrations. Most appeals are verbal, but a few are in writing as well. So, during such a wedding season, we keep a close vigil on the area by deploying our teams," said a forest official.
The rising number of incidents of loss of lives and livelihood by elephants has become a regular phenomenon in the Jungle Mahal districts of Bankura, Jhargram, West Midnapore and Purulia.
In the past six months, at least two dozen people were killed in those areas and many crops were damaged.
Sanatan Kharwal, 45, a resident of a village in Jhargram's Jamboni was killed by a tusker on Monday evening when he was in his courtyard.
The state government officials reached a cheque of compensation to his family on Tuesday.
Last week, an elephant killed two persons, including a septuagenarian who was asleep at her home, in Borjora of the Bankura district.