Village of tiles in dire straits
Buyers shrink during pandemic, monthly income down to a fraction of pre-Covid time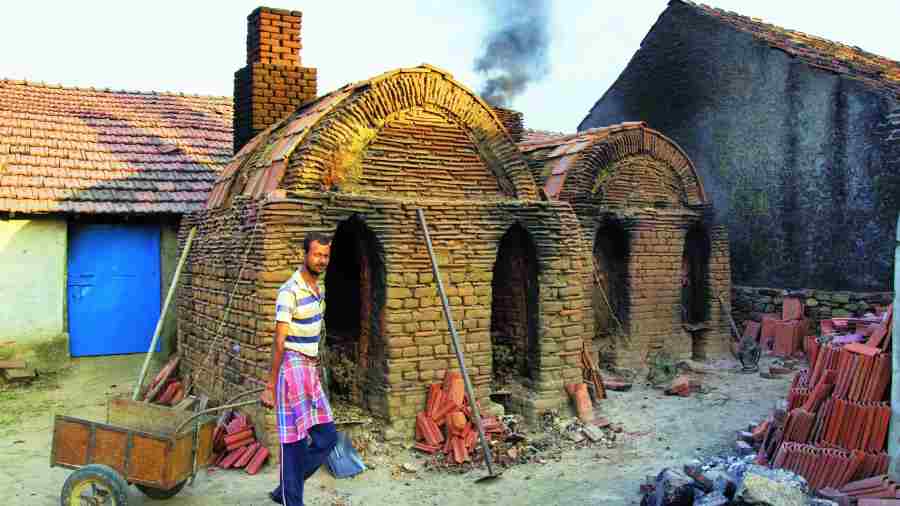 A villager stands in front of a tiled hut at Murlu in Bankura district.
Picture by Subhanjan Bhaumik
---
Calcutta
|
Published 07.11.22, 12:48 AM
|
---
The future of as many as 200 artisan families involved in making designer tiles in Bankura's Murlu village —  a traditional hub of the manufacturing clay tiles used for roofs  — looks uncertain in the absence of any institutional support for this century-old industry.
Murlu, a village in Bankura's Saltora. around 220km from Calcutta, used to be a supplier of tiles for mud houses in rural Bengal, Odisha and Jharkhand for well over a century.
The village has been popular as talir gram (a village of tiles).
After traditional roof tiles were replaced by modern asbestos, aluminium or galvanised iron sheets, Murlu artisans adapted to changing market realities and started making designer tiles, but the pandemic-induced slowdown cost them dear.
"In the absence of institutional support for the last three years, artisans are in penury," said a school teacher in the village, who did not wish to be identified.
Several artisans said that the future looks bleak for them as they are losing market share every month.
Many of the 30-odd units, which together employ around 1,500 people, are contemplating closure. After the market for ordinary mud tiles shrunk, the state and central governments joined hands in 2018 to set up a workshop with modern machinery to facilitate the process of tiles making for 30-odd tile-producing units.
The Rs 2 crore workshop started functioning under the Murlu Clay Tiles Cluster Industrial Co-Operative Society Limited platform, which had already been set up by local artisans in 2009.
However, the workshop — fitted with automatic machinery that helped the process of preparing the raw materials, mixing and baking, faster — had to be closed within three months of the Covid-19 outbreak as artisans could not pay their electricity bills due to lack of business in the wake of the lockdown.
"We communicated with the administration repeatedly but no steps were taken to restart the workshop. We were asked to form a new committee. We also sent compliance reports to the authorities concerned. But we are yet to get a reply," said Manik Chandra Kumbhakar, one of the functionaries of the cooperative society.
With the workshop not functioning, the average monthly income of the artisans has dipped substantially, from Rs 18,000 in pre-Covid days to barely Rs 4,000 in recent months.
"The demand for our designer tiles increased when the workshop was on. Modern machinery was helping us to produce better products. We lost the market once the workshop got closed and we are not getting any help from the government,"  said an artisan.