Vigil beefed up in Jungle Mahal ahead of CPI (Maoist) events
Several posters had been seized in various pockets, including Belpahari and Lalgarh, in the past few months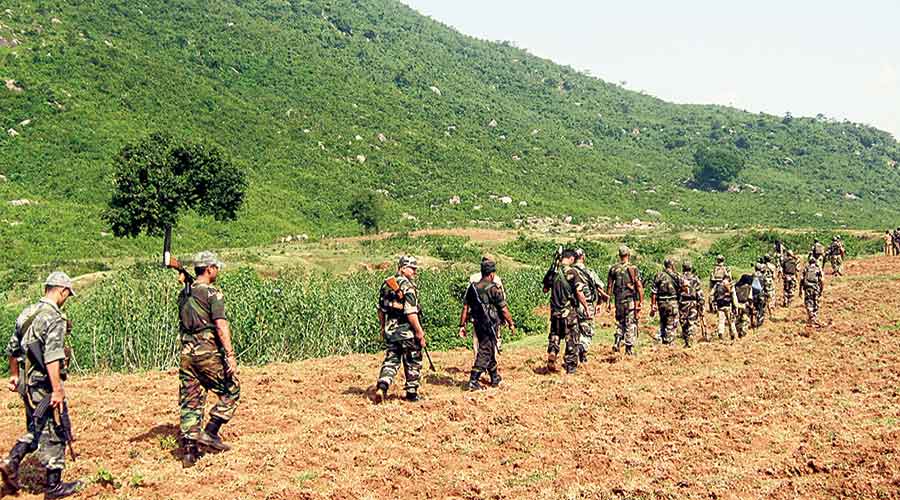 Paramilitary personnel patrol the Ayodhya hills.
File picture
---
Bolpur(Birbhum)
|
Published 18.09.20, 04:28 AM
|
---
Police and paramilitary forces have started combing operations and raids in Jungle Mahal districts ahead of the CPI (Maoist)'s weeklong programmes from September 21 as part of its foundation day celebration.
Sources said vigil had been intensified in pockets known for Maoist influence in the districts of Jhargram, Bankura, Purulia and West Midnapore as there had been intelligence reports that the Left extremist groups had been trying to regroup for the past two months.
CPI (Maoist) — a party that believes in overthrowing the government through people's war — was founded on September 21, 2004, through a merger of Communist Party of India (MarxistLeninist), People's War (People's War Group) and the Maoist Communist Centre of India. 
Till 2012, the Maoists used to increase activities in their strongholds on the occasion of their foundation day week but the banned outfit's operations had been on the wane since then. The decreasing activities almost coincided with the Trinamul Congress coming to power in Bengal in 2011.
"Police and paramilitary forces have been deployed in Jungle Mahal areas. Our forces are always aware of any kind of suspected activities. We are collecting intelligence inputs regularly," said a senior police officer in Jhargram and added that the police were always on the alert during the foundation day celebrations of Maoists.
"This year, it is important as there have been quite a few incidents of Maoist activities in the Jungle Mahal districts. We have raised the level of alert this year," said a police officer in Purulia.
Sources said several Maoist posters had been seized in various pockets of the Jungle Mahal, including Belpahari and Lalgarh, in the past few months. The sudden reappearance of Maoist activities has alarmed state police and sleuths.
"We have already started patrolling and combing operations in the Jungle Mahal areas of our districts. We are always connected with intelligence inputs. However, we are yet to receive any specific report," said Bankura district police chief Koteswara Rao.
S. Selvamurugan, the Purulia district police chief, said: "We can't disclose everything on our strategy for security questions. But we have taken every measure to keep a close vigil in our areas." 
Sources in the state home department said Maoist activities were causing concern for the Bengal government with reports that the banned outfit was trying to regroup in the Jungle Mahal by crossing over from neighbouring Jharkhand. As the state is headed for Assembly election next year, there are chances that the Maoists would try to make their presence felt through subversive activities, said an intelligence source.
"We have already got inputs of Maoists holding secret meetings and they have started the process of regrouping. The activities have been reported in the pockets of Jharkhand bordering areas. We have inputs that they would try to utilise the foundation day occasion this year," said a source in the state intelligence department.
According to intelligence reports, on September 3, some tourists noticed a group of seven suspected Maoists, including three women, near Dhangikusum village in Belpahari. The suspected Maoists were reportedly carrying firearms and had their faces covered. Virendra, directorgeneral of police, visited Jhargram on September 5 to take stock of the ground situation.
However, a police officer in Jhargram claimed that it had been staged.
The Union home ministry had sent three battalions of the Central Reserve Paramilitary Force (CRPF) to the Jungle Mahal and informed the state government that more teams would arrive soon. Sources said the measures were a result of rising activities of the Maoists. 
Sources said Maoist activities had been reported in Purulia's Ayodhya hills and pockets of West Midnapore also.
A source in the CRPF said: "They have already started combing operations in the Ayodhya hills and areas bordering Jharkhand as there is a chance that Maoist cadres might try to cross over from the neighbouring state to regroup with their counterparts in Bengal."