Video helps ease Nadia porter's burden
Sanstha steps in, tricycle becomes tea stall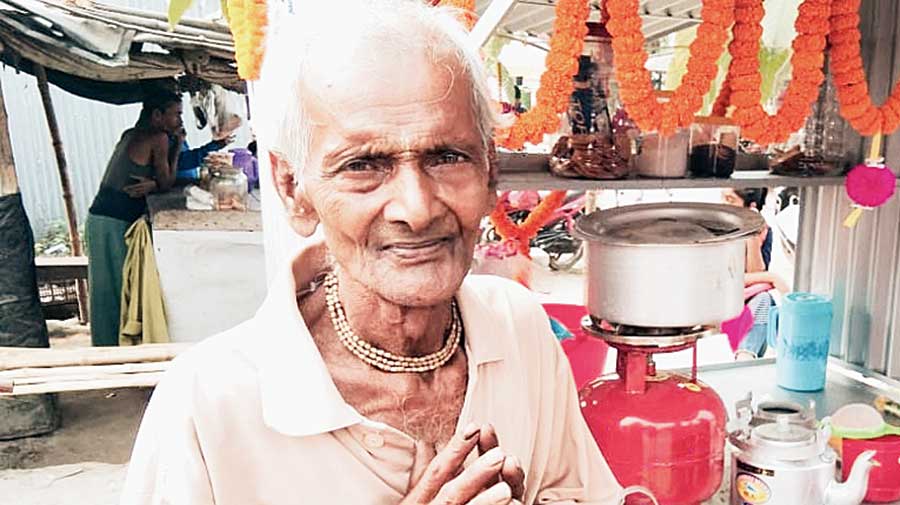 Bishu Sarkar with his mobile tea stall.
Pranab Debnath
---
Nadia
|
Published 21.11.20, 03:10 AM
|
---
A viral video of an old man tugging sacks full of rice and food grains on his tricycle van has stirred a social organisation to arrange an alternative livelihood for Bishu Sarkar, a resident of Jugpur in Nadia's Nakashipara.
Sarkar, 72, who was struggling to stay afloat despite his ill health, had been delivering sacks of rice and food grains from the main market at Jugpur, near Bethuadahari, to retail shops. Before going out on his tricycle van to deliver the consignments, Sarkar had to carry the heavy bags on his back to load them onto his vehicle. He would earn around Rs 200 per day. A video of Sarkar struggling to carry a sack on his back to load it onto his van was shot by a resident of Jugpur last month and uploaded on social media. The video prompted members of the Chapra Manab Kalyan Sanstha to come forward in the aid of the old man.
"After speaking to him, we realised that at 72 he was not in a position to continue his job as a porter-cum-delivery person anymore. As he needed to earn a living, we thought of an alternative job that does not involve too much physical labour. We asked him if could make tea and once he gave his nod, we offered to convert his tricycle into a mobile kiosk," said Devdulal Biswas, secretary of the Chapra-based organisation who, along with other members, handed over the customised tricycle van to Sarkar on Friday.
"I never expected such a gesture. Today, it appears that I can survive a bit longer," said Sarkar in an emotional tone who took over the tricycle van that had been converted into a mobile tea kiosk at a cost of Rs 20,000.
The kiosk has been equipped with an LPG cylinder, oven, utensils and cups.
Local sources said Sarkar had two sons who live elsewhere and do not take care of their parents.
"It often hurt us to see Bishu da toiling hard to carry heavy loads just for a living. But ill-health was not permitting him to undertake the job anymore. His problem had aggravated because of the lockdown as he had no work. Even in his worst times, Bishu da never sought help from anyone," said a trader at Jugpur market.
Biswas said: "We offered Bishu da our support only to ease his physical labour and ensure that he lived with dignity. We are happy that he agreed to accept our support. He will run the shop at the Jugpur market where he has toiled all his life."
"We have arranged all necessary utensils so that he can also go beyond selling tea and add bread toasts, fried eggs and other snacks to the menu. For a start, we expect him to earn around Rs 150 every day," said a member of the organisation.
Local resident Dhiren Biswas said: "The organisation has done a splendid job. This will help the man to live without stress further in life."