VHP files complaint on raid
The complaint levels charges of ransack and molestation among others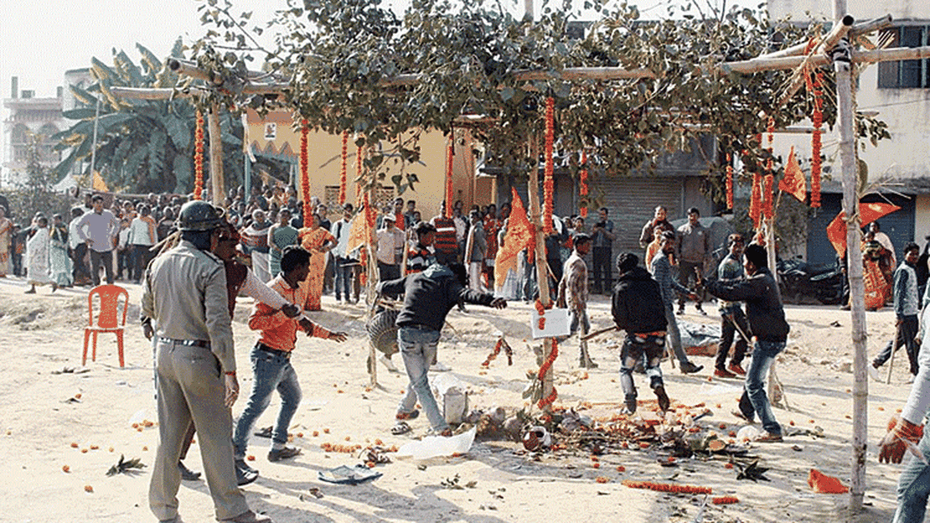 ---
|
Malda
|
Published 03.02.20, 08:29 PM
---
The Vishwa Hindu Parishad has filed a police complaint against four Jharkhand Disham Party leaders in connection with a raid on a mass marriage ceremony in Malda on Sunday.
VHP leaders told newspersons here on Monday that they had held the marriages in consonance with the rituals and practices of tribals, a point raised by the JDP after the violence on Sunday.
On Sunday, JDP supporters had ransacked the venue of the mass marriage under Old Malda police station limits. The VHP had arranged the wedding of 130 brides and grooms.
The complaint levels charges of ransack and molestation among others.
Mohan Hansda, a JDP leader, alleged that the VHP and its associates had long been trying to interfere in tribal customs and traditions.
"We protested the VHP moves. But the VHP and its branch organisations paid no heed to our sentiments," he said.
"JDP supporters protested against the marriage yesterday (Sunday) by blocking a road for a while and then some of them rushed to the venue out of rage and protested there too," Hansda added.
He hinted that the JDP would keep protesting against any attempt that would target the tribal culture and traditions.
Achitananda Kar, the central secretary of the VHP who reached Malda on Monday, rejected the charges. "Our only objective was to help the financially weaker couples, mostly from tribal communities, to get their marriages solemnised. Other charges are false and baseless," said Kar.
He claimed the tribal couples had voluntarily participated in the mass marriage. "It was apprehended that some JDP activists would try to disrupt the programme. Police knew it well. But no preventive measures were taken by the police. We have filed a complaint and will wait to see what steps the police take against the attackers," he added.
On Sunday, there was confusion after the violence as to whether all the couples could get married. But the VHP claimed on Monday that the marriages had ended before the attack. "We were performing a yajna (a final ritual) when the JDP supporters raided the venue," said a VHP leader.