Vendetta whiff as Delhi sits on East-West
Bid to blame protests suspected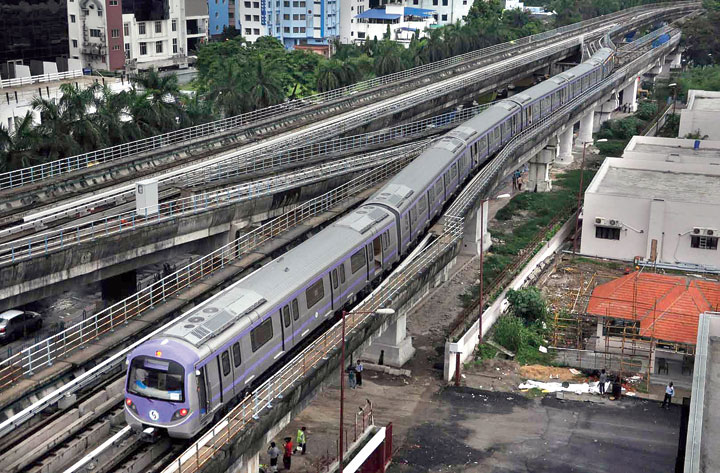 An East-West Metro rake
Telegraph picture
---
Salt Lake
|
Published 14.01.20, 08:53 PM
|
---
Unexplained silence from the railway ministry on commissioning the first phase of East-West Metro in Salt Lake has fuelled suspicion whether the Centre is using it as a tool to get even with Bengal over the ongoing protests against the amended citizenship act.
Phase I of East-West Metro connects Salt Lake Sector V to Salt Lake stadium.
In the first week of December itself, Metro Railway had formally informed the railway ministry in Delhi that Phase I of East-West Metro was ready for commissioning.
More than a month has passed but there has been no communication from the ministry on this, sources said.
Railway ministry officials have privately blamed the delay on protests against the Citizenship (Amendment) Act (CAA) and the National Register of Citizens (NRC). Railway sources said the ministry was averse to launching an infrastructure project in a city that had been witnessing daily protests against a central legislation.
But the purported yardstick was not applied when the Prime Minister himself had visited Calcutta last weekend to rename Calcutta Port after Hindutva icon Syama Prasad Mookerjee.
Junior railway minister Babul Supriyo had said last week that the East-West Metro project could not be commissioned unless the state government ensured there would be no damage from "violent protests". Some railway officials cited violence at some railway stations in the state.
The protests in the city have, however, been peaceful. On Saturday, the Prime Minister was greeted with demonstrations that stretched into the next day but police did not report any violence.
The Prime Minister attended multiple events in the city and in Howrah. None was disrupted.
A railway official asked: "There are railway security personnel to protect railway properties. If there is violence, even now the stations and the tracks can come under attack. How can this be an excuse for not commissioning a project?"
Some suspect the delay is a ploy by central authorities to give the protests a bad name and project them as anti-development.
Another official said before the anti-CAA protests began, the ministry would regularly seek updates on the progress of East-West Metro and expressed eagerness to know when the project would be commissioned.
"East-West Metro has the country's only underwater transportation tunnel. But all of a sudden, everyone has become quiet," he said.
Having waited for the ministry's green signal for a few weeks, the Metro authorities have resumed trial run.
A 5km stretch of the project that will eventually connect Sector V with Howrah Maidan through the Hooghly is also ready.
The East-West corridor will run on technology a lot more advanced than that of the existing north-south Metro. The 90-odd employees, including drivers, who are engaged to run East-West Metro, have had to undergo extensive training and trial to get acquainted with the modern system.
"The trial had been stopped because the system was ready for commissioning. But after waiting for a few weeks, when there has been no communication from the ministry, Metro Railway decided to resume the trial lest those involved in daily operations forget their recently acquired skills," a railway official said. "The trial will continue till the commissioning of the project."