VC not late, he has four offices: Visva-Bharati
Bidyut Chakrabarty comes to office after lunch after carrying out 'all confidential work' from his residential office, clarifies Visva-Bharati PRO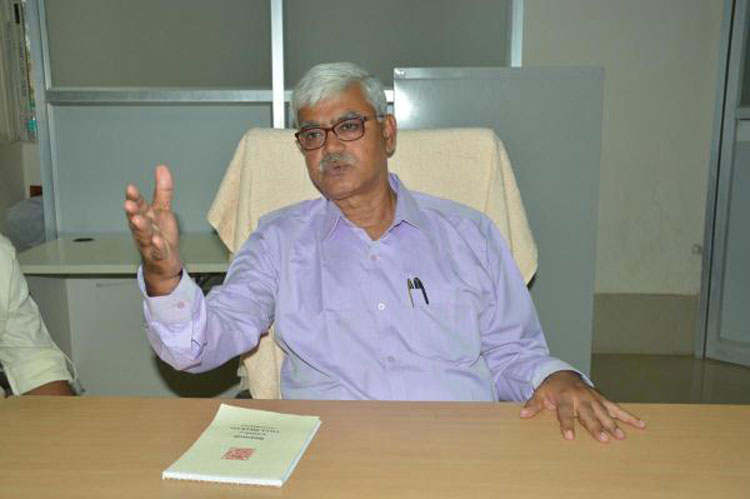 ---
---
The public relations officer of Visva-Bharati, Anirban Sircar, has told The Telegraph that vice-chancellor Bidyut Chakrabarty has four offices and he comes to his office in the central administrative block after lunch after carrying out "all confidential work" from his residential office in Purbita.
Purbita is name of the bungalow of the vice-chancellor.
The PRO said this in connection with a report that this newspaper published on Thursday.
The report said the Visva-Bharati's association of non-teaching employees had written a letter to Chancellor and Prime Minister Narendra Modi, complaining that Chakrabarty attends office "after 2.30pm" while he himself had issued a circular asking staff to report by 9.30am.
On Thursday, Sircar said: "Our vice-chancellor has four offices, two in Santiniketan, one in Sriniketan and another in Calcutta. The office time of the vice-chancellor starts at 8am at his Purbita office, from where he carries out all confidential affairs and also makes phone calls that are confidential in nature. He comes to the central office after lunch to meet people and examine those files which do not run the risk of ruining the university's reputation."
Sircar added: "The vice-chancellor's office at the central administrative building has no privacy and whatever he discusses or writes in the files go out immediately. Hence he avoids doing confidential work to serve the university better. He doesn't go to his Sriniketan office often, so is true with regard to the Calcutta office."
Sircar also contested the claim of the Karmi Sabha that the mention of Chakraborty on the plaque near Shyamali went against the "tradition".