Varsity shut, students to leave hostels
The order also barred visitors from entering the campus till March 31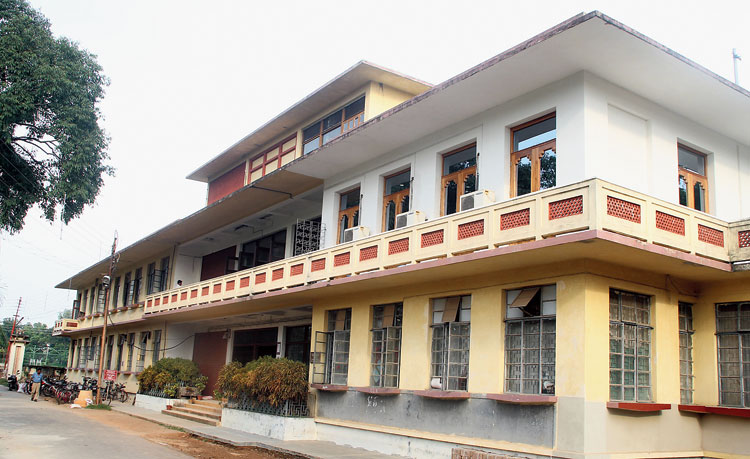 ---
---
Visva-Bharati has decided to close the university, hostels and also its two schools till March 31 and postpone all academic activities, including its own Class X board exams, from Saturday following an advisory from the Centre in view of the novel coronavirus outbreak.
The decision was taken at a meeting of the university authorities and the heads of various departments.
"However, all offices will remain open," said a senior varsity official.
In the evening, officiating registrar Debasish Dutta issued a notification based on a University Grants Commission order of March 5: "All the classes of the university will remain suspended till 31st March, 2020. No function/programme of the university including seminar, workshop conference etc. shall be organised till March 31. Entire ashrama area would be sealed till further order and the last one is all hostels would be closed till further order."
The order also barred visitors from entering the campus till March 31.
All students, other than foreigners, have been asked to leave the hostels.
"The students should be given adequate time to leave their hostels as it is very
difficult to get train tickets, particularly for those who live in north Bengal and other states," said Somnath Sow, an SFI leader at Visva-Bharati.
Visva-Bharati runs two schools — Patha Bhavana and Siksha Satra — under its own board that offers certificates equivalent to those given after Madhyamik and higher secondary examinations.
The Class X school certificate exams began on Thursday and were scheduled to continue till March 27.
However, in a fresh notification Visva-Bharati said all examinations remained cancelled till further orders.
"All theory examinations of the school certificate
examination 2020 which was scheduled up to March 30
shall stand cancelled with immediate effect (i.e from 14.03.2020) until further notification," the notice issued by the joint registrar (examination) stated.