Varsities to showcase replicas of Tagore boats
Read more below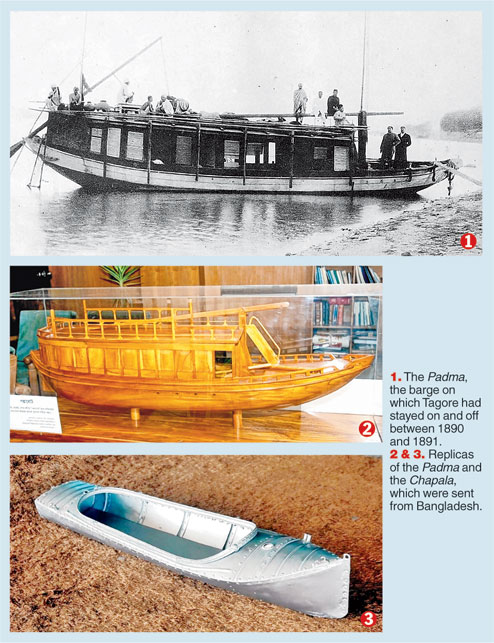 ---
Published 21.06.12, 12:00 AM
|
---
Replicas of two boats made famous by Rabindranath Tagore will be formally handed over to Rabindra Bharati University and Visva-Bharati by a delegation from Bangladesh on July 17.
The Padma, along with the Kuthibari in Silaidaha in Bangladesh's Kusthia district, is intrinsic to Tagore's creative output, agree scholars. The poet is known to have used the houseboat regularly as a retreat in between his managerial duties at the family estate intermittently for a decade from 1890.
The original barge got destroyed over time and as part of the poet's 150th birth anniversary celebrations, the Bangladesh government has made a 40-foot wooden reproduction of the Padma, complete with its dinghy, Chapala.
"The Padma boat was really a bajra — a houseboat with living and dining spaces," said scholar Swapan Majumdar, former director of Rabindra Bhavana and head of the comparative literature department at Jadavpur University.
"Between 1890 and 1891, Tagore had stayed on this boat on and off and had received guests like Acharya Jagadish Chandra Bose, Lokendranath Palit and Surendranath Tagore. It was a prolific period of his life, when he wrote most of the stories of Galpo Guchho and numerous poems, including Sonar Tari. Sitting at his desk on the Padma, he wrote essays, letters and edited journals. It was here that Tagore began his English translation of Gitanjali and even Malini was written in this period."
The Chapala, he added, "was a dinghy attached to the Padma. The poet used it to travel into narrow strips of water where the barge couldn't go."
At the opening session of the Indo-Bangla celebrations to inaugurate Tagore's 150th birth anniversary last year, a photograph of the Padma had been handed over to Vice-President Hamid Ansari. A replica boat was installed in the pond beside the Kuthibari museum in December 2011.
Chinmoy Guha, the vice-chancellor of Rabindra Bharati University, confirmed that smaller replicas would be finally handed over on July 17. "Santiniketan has got replicas of both the Padma and the Chapala. But at RBU, only a replica of the Padma has arrived. Made of rare Teak Chamblee wood, the boat, measuring roughly 4 feet by 1.5 feet, has already reached our Ritchie Road address but we don't want to unpack it before we take precautions for preservation and display. After all, these are not just showpieces, but replicas of the original boats which have been important components of Tagore's evolution. And their presence at Jorasanko — where Tagore was born, lived and died, a building that can be called the cradle of Bengal's Renaissance — is a historical event. It is not certain where the boat will be displayed at RBU but we may choose the Bichitra Bhavan (at Jorasanko)," Guha said.
The cultural ministers of both countries are expected to be present during the handing-over ceremony.
Nilanjan Banerjee, who once worked at the Tagore museum in Santiniketan, told Metro that he had initiated the process of receiving the boat replicas by writing to the Bangladeshi Prime Minister, Sheikh Hasina, in January 2010. "I am very happy to know that the boats have arrived," he said.